Estimated read time: 3-4 minutes
This archived news story is available only for your personal, non-commercial use. Information in the story may be outdated or superseded by additional information. Reading or replaying the story in its archived form does not constitute a republication of the story.
MT. PLEASANT, Sanpete County — Geometry is a language many of us have trouble understanding, but imagine trying to comprehend it when you can't understand a word the teacher's speaking.
It was about a year ago that Sonita Alizadah first set foot in America, and began learning the language, mainly though pictures. She likens her experience to being deaf.
"You know, what do you call them?" she asked with a smile. "They speak with their hands."
Sonita attends Wasatch Academy, a small school in the small town of Mt. Pleasant in central Utah.
"I love it!" she said. "Especially Wasatch, because Wasatch is the first real school for me. I have never been in a real school before."
Sonita came here from Iran, but that country isn't her home. Her family fled there from Afghanistan when she was a child.
"I don't have any happy story, except shooting in the night, and a picture of Taliban in my mind," she said.
Sonita had a cleaning job in Iran, which she likens to child labor.
"Life wasn't easy because I was a refugee who didn't have any papers or ID," she said.
Sundance documentary
Her life in Iran is the subject of a documentary showing at the Sundance Film Festival. The film bears her name, "Sonita." One of its central events is when she receives a visit from her mother, who still lives in Afghanistan.
"My family decided to sell me," Sonita said.
In Afghanistan, forced marriage is common. Sonita says it's a tradition. Her mother wanted to sell her for $9,000, planning to use the money to buy a bride for Sonita's brother.
"Forced marriage is like going to death for me," she said.
Sonita isn't your typical girl from Afghanistan. In fact, she's not your typical girl from Iran, either. She's gained quite a bit of notoriety all on her own through her music. Sonita's a rapper — she first learned of rap music when she saw Eminem on television.
"I couldn't understand him, what he was saying, but I realized I can tell something like him," she said. "I can say my story like him, very fast."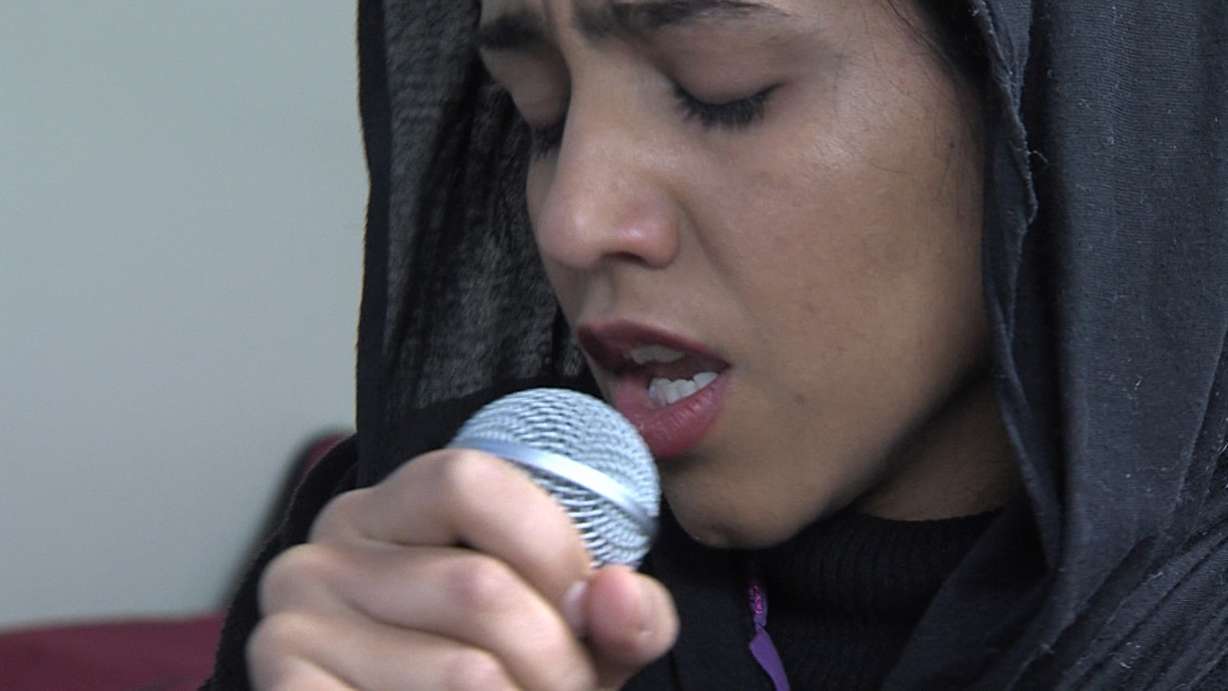 'It's against human rights'
Sonita made a music video, titled "Brides for Sale," about the topic of forced marriage. The video won a contest, which helped her get a scholarship to Wasatch Academy, where she's able to learn and focus on her music. Her goal? Attacking the idea of forced marriage.
"People say it's a tradition and they have to do it," Sonita said. "But I think it's against children's rights. It's against human rights."
Despite what happened, Sonita says she loves her mother and understands that forced marriage is simply part of the culture her mother was raised in. However, they did have a bit of a falling out when Sonita came to Utah — she initially said she was taking a trip to Kabul, then called home from America.
"She was angry, but now she said, 'You did good job,'" Sonita said, recounting discussions with her mother about moving to America. "She said, 'If you would ask me, I wouldn't let you. I wouldn't let you go.' And now, everything is okay."
Sonita has plans to go to college in America and hopes to become a lawyer. She'd likely be allowed to stay in the U.S., but she's devoting her life to something larger than herself.
"For me, helping women in Afghanistan is the most important thing, and I have to be there to help them," she said. "I want to do something for my country."
×
Photos
Related links
Most recent Utah stories