Estimated read time: 7-8 minutes

This archived news story is available only for your personal, non-commercial use. Information in the story may be outdated or superseded by additional information. Reading or replaying the story in its archived form does not constitute a republication of the story.

HOLLADAY — A veteran Unified police officer was shot and killed Sunday while searching for a man who had just been in a serious car accident, sparking a shootout moments later that left the suspected gunman dead and a second officer wounded.

Officer Doug Barney, 44, died after being shot once in the head while pursuing a man who police say had a "propensity for possession of weapons" and had walked away from the nearby crash scene. Barney served 18 years as a police officer — including a dozen years battling cancer — and was remembered by fellow officers as a loving husband and father of three.

"Today a husband and father left his wife and three children, put on a badge, and promised to return home soon. On behalf of Utah residents from across the state, our hearts are broken for the family of officer Doug Barney who gave the ultimate sacrifice today while in the line of duty," Utah Gov. Gary Herbert said Sunday, adding his condolences to a flood of social media posts mourning the officer.

Unified police officer Jon Richey, 51, was hospitalized in serious condition and underwent surgery Sunday afternoon. He was shot three times, but police said Sunday night his condition was improving. Richey is a 30-year law enforcement veteran.
Timeline of shootings
The deadly encounter, which played out in a matter of minutes at three separate scenes in the Holladay neighborhood, began at 9:51 a.m. when officers responded to a traffic accident near 2160 E. 4500 South.
Witnesses said an injured man and woman got out of a car involved in the crash and walked away from the scene. Barney spotted the man, later identified as Cory Lee Henderson, 31, a few blocks from the accident near 4200 S. Lynne Lane (2050 East).
"It appears that an individual fired what appears to be a single round at officer Barney, striking him in the head," an emotional Salt Lake County Sheriff Jim Winder said, outlining the course of events.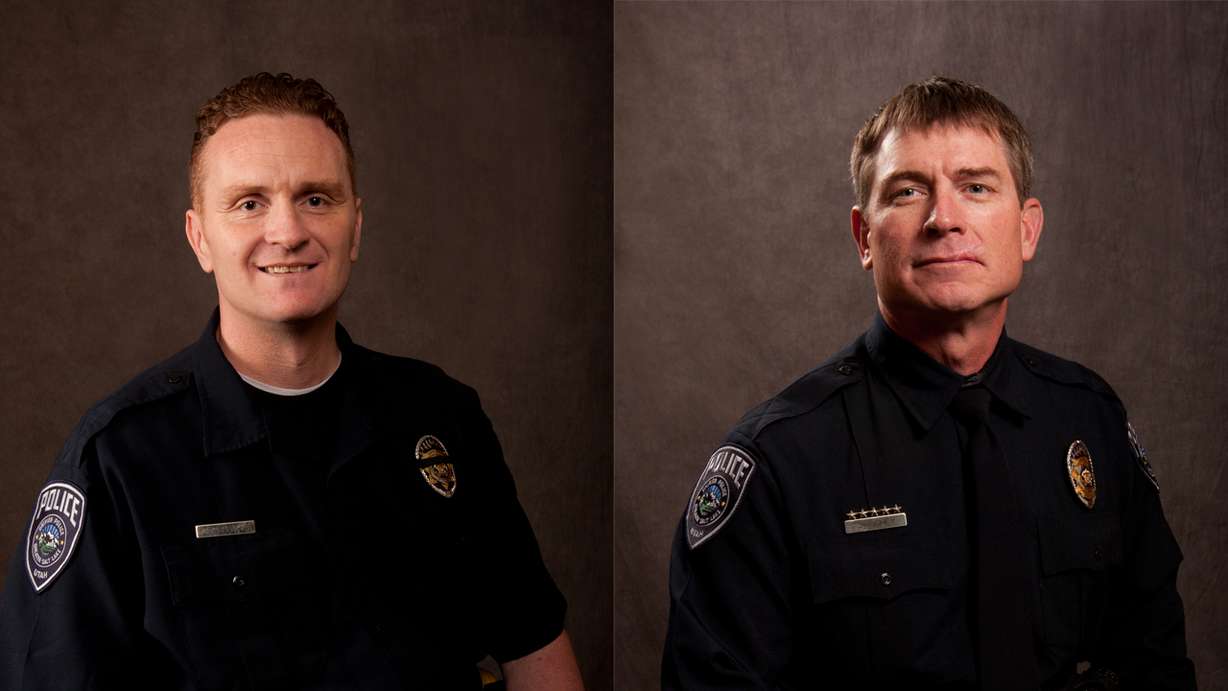 The call went out of an "officer down." Minutes later, just after 10 a.m., officers spotted the gunman walking near 2167 E. 4500 South, and "as soon as officers came into contact with that individual, gunfire erupted" between Henderson and officers, Winder said.
During that encounter, Henderson was shot multiple times and killed. Richey was shot three times, twice in the legs and once in the torso, the sheriff said.
"He was conscious and alert when I was at the hospital and spoke to him. He seems to be doing very well," Winder said of Richey.
Barney was taken to Intermountain Medical Center, where he was pronounced dead at 1:12 p.m.
Witness accounts
Throughout the day and into the afternoon Sunday, investigators combed the area looking for the woman involved in the traffic accident, whom Winder called a "person of interest." That search was later scaled back and Winder indicated police were following leads as to her whereabouts, emphasizing that she did not seem to pose an active threat to the public.
According to witnesses who saw her leave the scene, the woman stumbled and fell as she walked away from the crash, apparently injured. The only description given of the woman is that she is Caucasian with blonde hair, and that she abandoned a green coat at the crash site.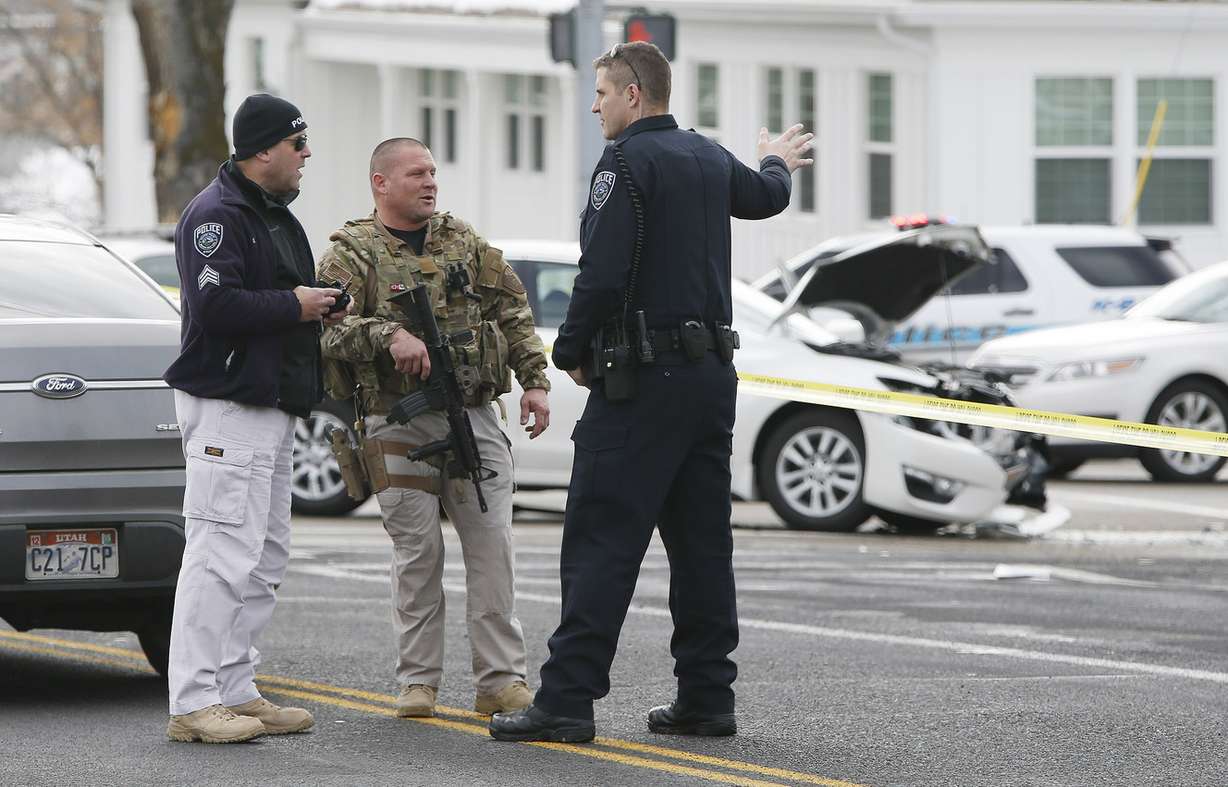 The accident appears to have occurred when a black BMW, with Henderson and an unidentified woman inside, ran a red light and struck a white sedan, Unified Police Lt. Lex Bell said. The accident remains under investigation, including efforts to determine whether Henderson or the woman who was with him was driving.
John Kriesel, a doctor at University Hospital, was at a gas station Sunday morning when he saw what he called a "violent wreck." "Just as I turned, I saw a car spinning through the intersection," he said.
Kriesel hurried to the white car to offer medical help, finding that the woman behind the wheel was crying and unable to open the car door.
"Eventually … we got that door open, then I rushed over to the other car to see if those people were OK and when I got there, there was nobody there," Kriesel said. "Then another guy had come down the street and said, 'They took off! They just jumped out of the car and took off and they went down that way.'"
Additional officers arrived minutes later, making it quickly clear to Kriesel that something was wrong.
The woman in the white car sustained minor injuries in the crash, Bell said.
One resident, who asked not to be identified, was home Sunday morning when he heard a single gunshot ring out, the first sign that something was happening in the quiet Holladay cul-de-sac.
The man said he rushed to a window where he saw an officer lying shot in his neighbor's driveway, flanked by other officers with their guns drawn. Moments later, he heard what he believes was the final confrontation between the gunman and officers.
"As they were tending to the officer, the other officers went in pursuit around the side of the home in the cul-de-sac. Within about 30 or 45 seconds after, that's when we heard the hail of gunfire," the man said.
He estimated he heard more than 20 shots — "just one right after another."
As the man continued to watch, the officers in the driveway worked to keep the wounded officer coherent.
"They were trying to keep the officer alert who had been shot. They were talking to him by name, and they were just saying, 'Keep breathing, stay with us, keep breathing, stay with me Doug,'" the man said.
He estimated only five seconds passed between the moment he heard the gunshot and spotted the wounded officer out the window. At that point, there were already three or four police vehicles in the cul-de-sac, he said. He never saw the person or people whom police were pursuing.
"They were already after him," the man said. "It wasn't like there was just one single cop car and one cop there."
---
It doesn't matter which patch you wear, or what name is on your badge, we all in law enforcement lost a great officer today, and so did the community which they serve.
–Interim Salt Lake Police Chief Mike Brown
---
The shootings will be investigated by the Salt Lake Police Department, Winder said. Interim Salt Lake Police Chief Mike Brown shared his sorrow for Barney's death and Richey's injuries, asking the public to call police with any information they may have about the woman involved in the car crash with Henderson.
"It doesn't matter which patch you wear, or what name is on your badge, we all in law enforcement lost a great officer today, and so did the community which they serve," Brown said.
Cory Henderson
Winder said Henderson was being sought by metro gang investigators as recently as Saturday and was wanted on state and federal warrants. His criminal history, Winder said, "from my standpoint certainly indicates a propensity for possession of weapons."
Henderson, of Salt Lake City, has a history of drug, weapons, assault and theft charges, according to state court records. He was convicted of possession of controlled substances or drug paraphernalia in 2009, 2010, 2013 and 2014. He was sent to prison for possession of a firearm by a restricted person in 2014 and returned to prison for parole violations between Nov. 5 and Dec. 8, 2015.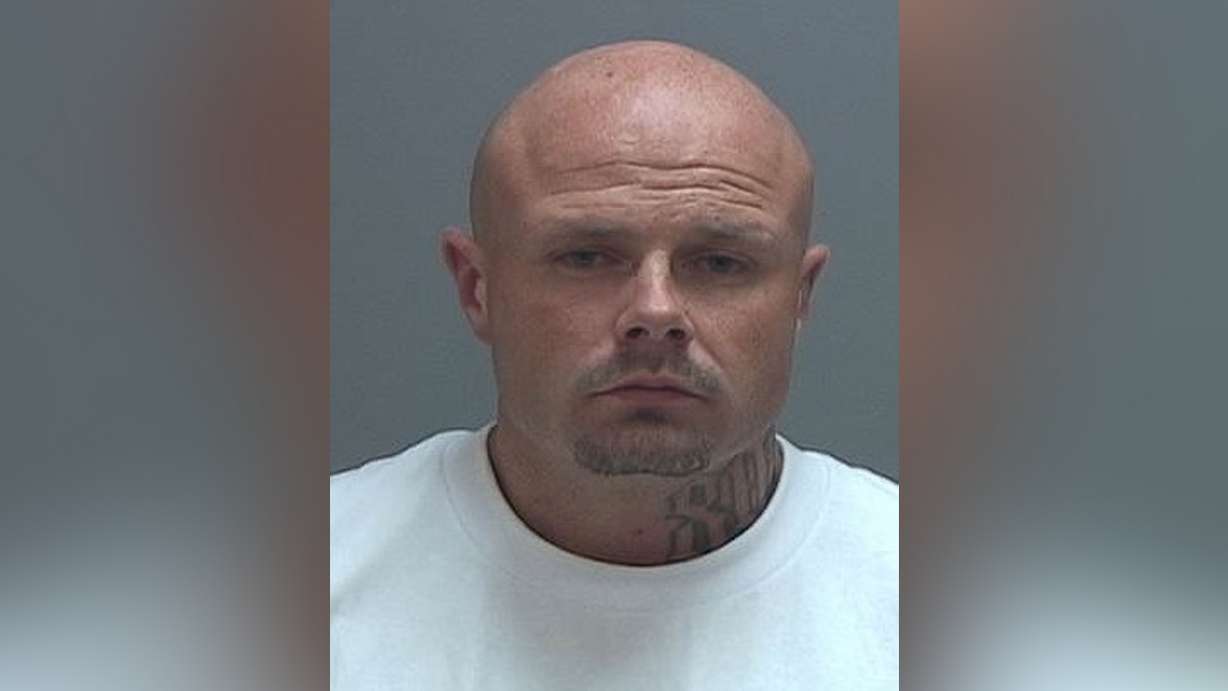 Henderson's mother, Peggy Holladay, told the Deseret News that her son had recently run away from a halfway house.
Henderson's brother, Jaiden Snyder, and Holladay appeared briefly at the scene of the shootings Sunday afternoon where Holladay collapsed in tears.
Shortly after, police say Holladay drove recklessly through the police perimeter surrounding the crash site, then got out of her car and "began to physically assault officers."
When officers attempted to restrain Holladay, police say Snyder, 18, shouted for them to leave his mother alone, bringing himself into the fray. When an officer grabbed his wrist, Snyder "immediately pulled away and punched a police officer straight in the face," according to a Salt Lake County Jail report.
The officer then deployed a Taser, striking Snyder in the chest but failing to stun him. Other officers joined in to restrain Snyder, who then head-butted an officer as he was being taken to a police vehicle, the report states.
Snyder was booked into jail for investigation of assault against a police officer, interference with an arresting officer, failure to stop at the command of law enforcement, disorderly conduct, and threats of violence. Bail has been set at $7,510.
Holladay was not booked into jail. Winder indicated she was cited and released.
"This is a tragedy on multiple levels," the sheriff said.
Contributing: Sandra Yi, Nicole Vowell
---
*KSL.com does not assure that the money deposited to the account will be applied for the benefit of the persons named as beneficiaries. If you are considering a deposit to the account, you should consult your own advisors and otherwise proceed at your own risk.
×
Photos
Most recent Utah stories