Estimated read time: 9-10 minutes
This archived news story is available only for your personal, non-commercial use. Information in the story may be outdated or superseded by additional information. Reading or replaying the story in its archived form does not constitute a republication of the story.
SALT LAKE CITY — Video released Friday depicting part of a fatal confrontation between a shovel-wielding man and a Salt Lake police officer apparently wasn't the only video shot during the 2015 incident.
On Tuesday, Salt Lake County District Attorney Sim Gill revealed that he has a recording from another cellphone that had never been shared with the public.
But that video, coupled with Friday's video that raised new questions about the police shooting, did not change Gill's original determination that the shooting was legally justified.
"It is the conclusion of the Salt Lake County District Attorney's Office that in light of this new video, there is no substantive change to our conclusion that we reached a year ago," Gill announced Tuesday.
He chided police, however, for not collecting the video a year ago and turning it over to his office.
Gill agreed to re-examine the 2015 shooting death of James Dudley Barker by Salt Lake police officer Matthew Taylor in light of questions that were raised Friday by police reform activist and former Davis County Sheriff William "Dub" Lawrence because of a video recording showing Taylor crouching over Barker, who is on the ground and not moving.
Gill saw that video for the first time on Friday.
Lawrence said he believes the video shows Taylor shooting Barker three times at close range after he was already handcuffed. He says popping noises recorded on the video are gunshots. An eyewitness recorded the video with a cellphone from about two houses away.
But on Tuesday, Gill revealed that he, too, had video of the same incident recorded by a bystander from a different angle.
"What this video will clearly demonstrate to you is that (Barker was not shot at that time), that officer Taylor's gun remained in his holster, and that when we look at it from (the new angle), what is being suggested never transpired," he said.
Gill said his office worked through the weekend, syncing the video he had with the video released on Friday. He showed the two videos, side-by-side, on Tuesday.
"I can clearly see the gun is holstered, and that there's a pop pop pop we hear in the video that is given to us. I don't know what that is. But I can definitively say it is not the fire from a service revolver," he said while showing the videos to reporters.
Gill said the autopsy report from the Utah State Medical Examiner's Office indicates Barker was shot three times. He was hit once under his chin, once in the upper left side of his chest, and once on his side.
"In order for the second and third gunshot wounds to occur, you would either have to lift the body by kneeling on it and put the gun underneath it, or transfer the gun to the left hand while pulling the body up and firing," Gill said.
Barker was shot and killed on Jan. 8, 2015. He was standing on a porch with a shovel, allegedly looking for snow shoveling jobs in the neighborhood. Taylor questioned him after other neighbors had called with suspicions about Barker's activities.
In a matter of minutes, Barker became very angry and aggressive with Taylor. The officer's body camera was recording as Barker hit Taylor several times with his shovel, breaking the officer's right arm and left foot. Taylor said Barker kept attacking him and grabbed his holster or gun at least twice before he was able to push Barker back and fire from a few feet away. The body camera was disabled by the shovel before the shots were fired.
After Barker was shot, Taylor applied two sets of handcuffs as the man lay on the ground.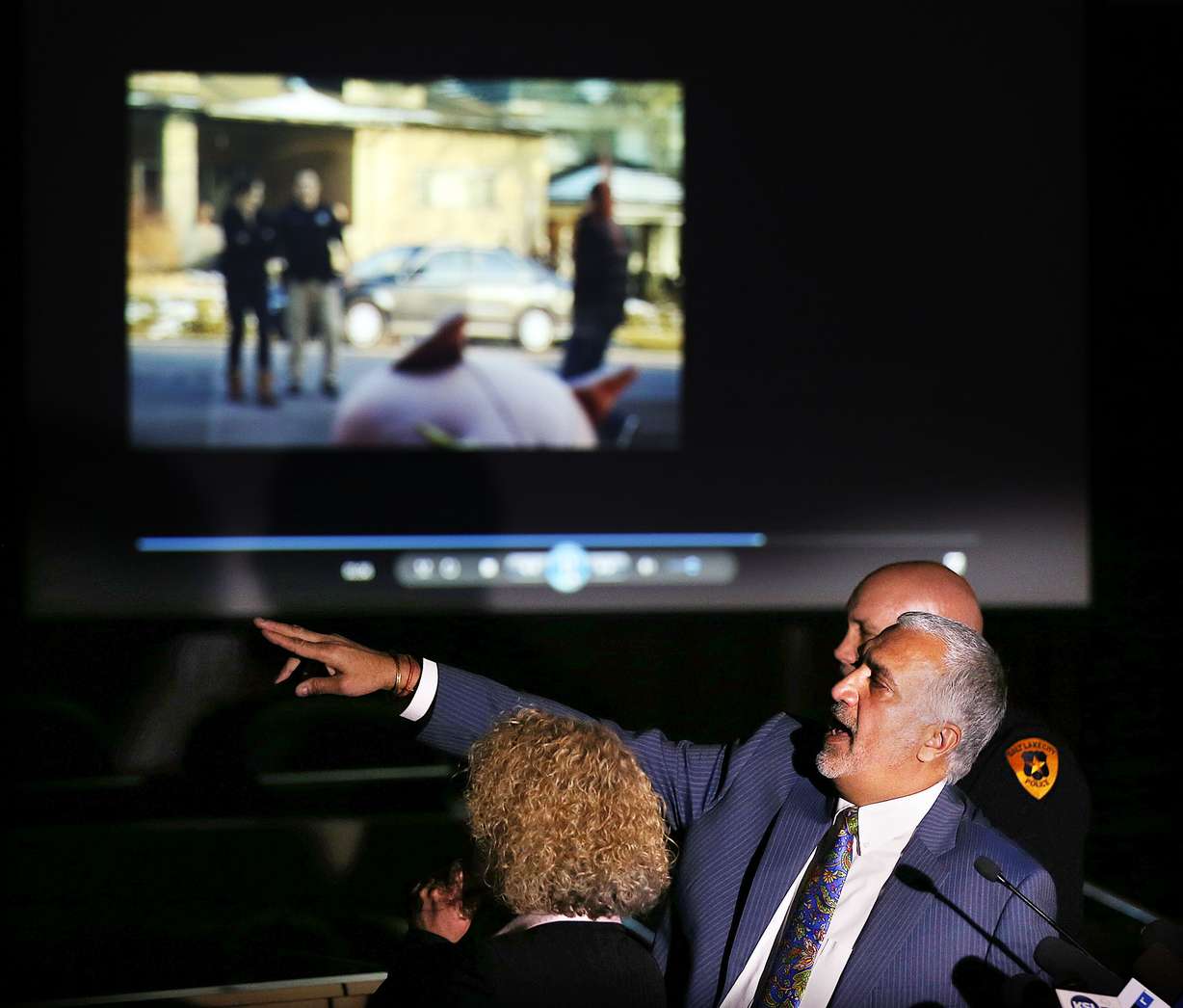 'Search for truth'
Standing next to Gill on Tuesday in support of his decision was Salt Lake Mayor Jackie Biskupski and interim Police Chief Mike Brown.
"What followed was not a cover-up or an investigation with a predetermined outcome. It was the search for truth. And it continues to be the search for truth," Biskupski said. "None of us are here today to say, 'We were right and you were wrong.' A life was lost and every effort to answer questions and to find truth must be taken. And I believe Sim and his team have done that."
Questions were asked Tuesday about both of the cellphone videos that were just made public. Salt Lake police knew about the first video a year ago, Brown said.
"A judgment was made at that time that we did not need to collect that tape because it showed a situation, a shooting (that was over)," he said. "Hindsight is 20/20. We've rectified that situation, and as we conduct investigations into the future. Every bit of information, everything is important and will be collected."
Brown said a detective assigned to do follow-up investigation actually attempted a year ago to collect that video. He tried to contact the owner of the video, but when the owner didn't call back, no other attempts were made to contact that person, the chief said.
Gill said he had a "very frank" discussion with Brown about evidence collecting. It's up to the district attorney's office to determine the relevance of evidence — not the police department, he told the chief. Gill said it is a message he plans to share with all of the valley's police chiefs.
As for his own video that he released for the first time Tuesday, Gill said the video was not relevant to his conclusion last year that the shooting was justified because it depicts what happened after the shooting was already over.
"The video was not relevant to the decision," he said. "It did not shed any substantive light or analysis to our review."
Related:
Witness questions
Questions were also asked Tuesday about statements made by Richard Grow after the release of Friday's video. Grow, who lives in the area where Barker was shot, witnessed the shooting. While he told KSL that the video released Friday does not show Taylor shooting Barker, he questioned whether officers had been forthcoming with district attorney investigators. Specifically, Grow questioned the officer's account of how close Taylor was to Barker when he shot him.
Gill said he met with Grow on Monday and reviewed the testimony he gave to investigators last year verbatim. In the end, he said Grow disagreed with the wording of Gill's final summary that was released to the public in March, but agreed with the factual series of events.
Grow agreed with Gill's summary of their meeting. He said Tuesday that while he still believes Taylor wasn't completely truthful with his account of the incident, the officer didn't embellish his story enough to make the shooting unjustified.
"Our emphasis to Mr. Grow was, share with us what you see and what you witnessed, not what you interpret … as to other people," Gill said.
His job as district attorney, he added, is to review all witness statements and "juxtapose it to see which features can be agreed upon and which inconsistencies do not take away from the core material that I need to rely upon."
While some details differed between eyewitnesses, "No witnesses said that at any time did officer Taylor shoot Mr. Barker while he was handcuffed and on the ground," Gill said.
'Frayed' community
Brown said after the video was released on Friday, he was forced to place Taylor back on administrative leave — something that was hard on the officer and his family.
Tuesday, both Gill and Biskupski noted that they appreciated the public's concern and acknowledged their right to question authority. "At the same time, I want to caution that as we make such inquiries, let's be careful about the allegations that we do make, because this officer deserved better," Gill said.
"The portrayal of officer Taylor in such a bad light last Friday without a thorough review of evidence, unnecessarily frayed our community," Biskupski said.
"Moving forward, we must work in good faith. We cannot circle the wagons against each other in an effort to improve our justice system," she said, while calling such attitudes "heartless" that help only a few people with special interests.
The mayor said she would work with Brown in the coming weeks to improve transparency within the police department.
"Justice cannot grow in a vacuum, and it will wither in an echo chamber," Biskupski said.
'Better' training
Attorney and former Salt Lake City Mayor Rocky Anderson, who represents the Barker family, said he also saw the video for the first time on Friday. Although he never made a judgment about what it was showing, it was something that needed to be reviewed.
Anderson questioned why Salt Lake police never collected the first video a year ago, and why Gill never publicly released his own video.
"I think that's very strange, especially when it shows a police officer with a dead body on the ground telling witnesses to go away and walking all over, picking things up at a crime scene rather than preserving the integrity of a crime scene," he said.
Both of the videos are relevant to the community for providing insight, Anderson said. And re-examining this case, and any case like it, is important in cities where there have been several high-profile officer-involved shootings.
"We really need far better training, policies and an expectation that our police handle these situations in a way that they don't end up in such a tragic situation," he said.
Sitting in the audience of Tuesday's press conference were the relatives of some the victims of Salt Lake's recent fatal shootings, including the older sister of Siale Angilau, who was shot and killed inside the federal courthouse in 2014 by a U.S. marshal after he allegedly tried to attack a testifying witness.
But rather than carry a sign that protested the recent shootings, as one man did, Colina Tausinga said she attended the press conference to educate herself.
"It's about understanding and not holding on to the anger. Coming to things and educating yourself is going to give you a better experience as to what's really going on," she said. "I'm here to educate myself to figure out what we can do, what to fix, what's going on with the authority of the community."
Tausinga said not all of her questions were answered by Gill Tuesday, and she still believes her brother was wrongfully killed. However, she said the fight for positive changes in the community can be achieved through understanding and communication, and weeding out the "bad apples" in law enforcement.
Contributing: Brianna Bodily, Sandra Yi, Mike Anderson
×
Photos
Related stories