Estimated read time: 3-4 minutes
This archived news story is available only for your personal, non-commercial use. Information in the story may be outdated or superseded by additional information. Reading or replaying the story in its archived form does not constitute a republication of the story.
PROVO — The past week was filled with plenty of talk about BYU and potentially future opponent Utah — how the two split up and will take at least a year to see other programs on the basketball court.
None of that will be recycled in this space. If you want more, you can read some comments on the series here. Or here. Or even see what other people said about it here.
It turns out, the Cougars (12-5, 3-1) have other things to worry about — like Thursday night's matchup against West Coast Conference rival Gonzaga at 7 p.m. MST.
And there's plenty to say about the Zags (13-3, 5-0 WCC) — starting with their attempt to rid themselves of last season's home loss to BYU that propelled the Cougars into the NCAA Tournament.
The Zags have a litany of players who can hurt BYU, including WCC leading scorer Kyle Wiltjer and his 21.5 points per game — or Domantas Sabonis, who ranks ninth in the country with 11.0 rebounds per game.
None of that scares senior guard Chase Fischer, one of just three BYU players with on-court experience from last year's 73-70 win over the then-No. 3 Zags in Spokane, Washington.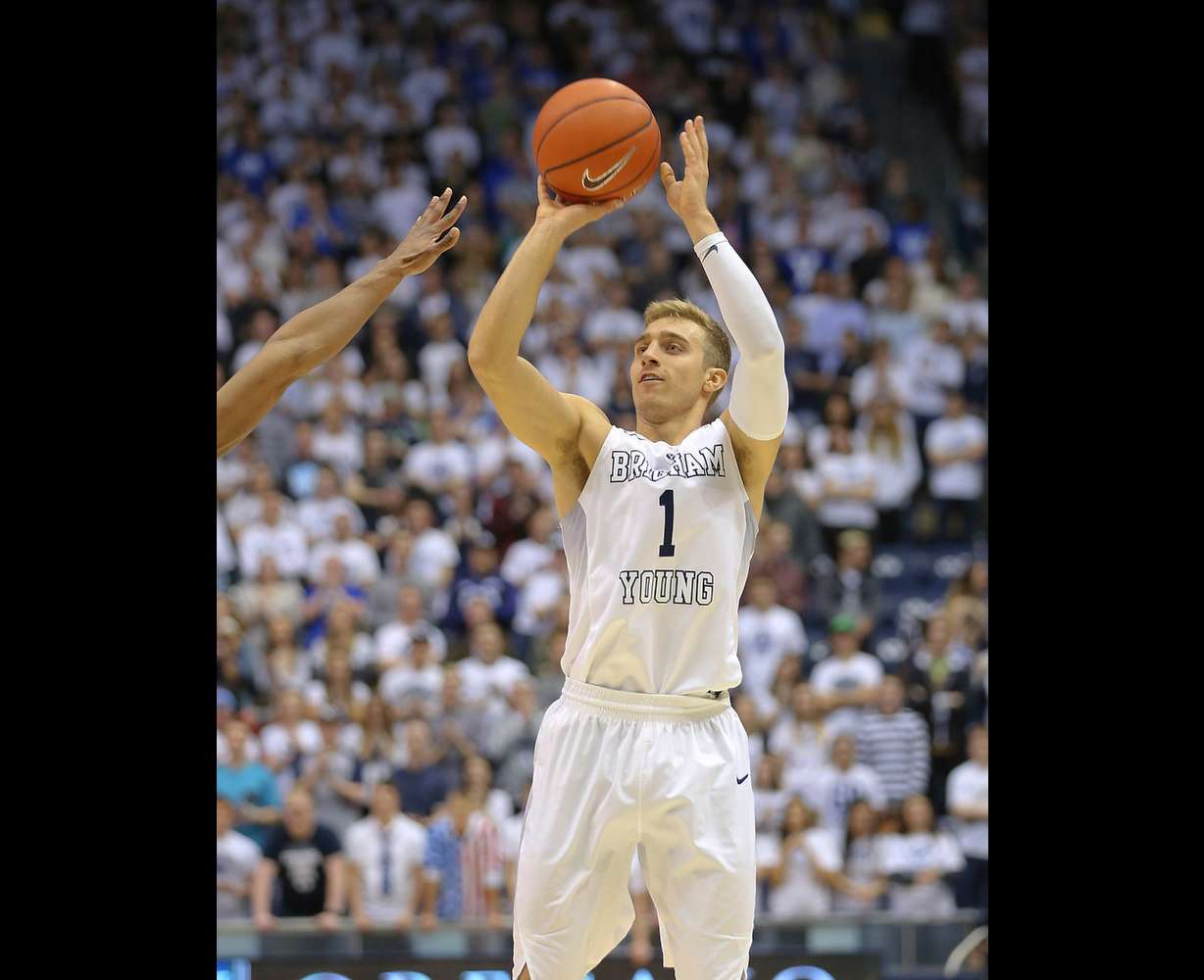 "I'm excited," Fischer said after his team's 102-92 victory over USF. "It's a really crazy environment, and I'm sure they have a bad taste in their mouths from last year. But I'm excited. I love playing on the road, and I think it will be good."
The other eight eligible players on the roster? They'll find out what playing in The Kennel is like soon enough, Fischer added.
"It'll be a little shock to our younger guys, because the atmosphere is so crazy, and they are always a really good team," Fischer said of Gonzaga. "I think some of us have a lot of confidence going in there. But this week, we'll have to get mentally prepared for that and the emotions that go into it."
Whether false bravado or not, Fischer's enthusiasm has spread to at least one of the freshmen on the team.
"I'm very excited. It sounds fun to me," freshman Zac Seljaas said. "Just like Chase, I like playing on the road and going in and making the crowd mad. There's nothing better."
The former Bountiful High star is converting on 58 percent of his 3-point attempts — down from recent weeks after hitting just 40 percent against Santa Clara. Seljaas is averaging 8.8 points and 2.3 rebounds in 16.6 minutes for the Cougars.
Not bad for a guy who wasn't sure how much playing time he'd receive in his one full season at BYU before departing for a two-year mission for the LDS Church.
Seljaas seemed to admit his recent run of form caught even him by surprise. Much of his focus has been on filing paperwork to serve a mission — but his teammates are also helping him realize that he is doing the right thing for the next two years.
"It's easier with the confidence I have from my teammates to be able to do it," Seljaas said. "But I didn't think I would be here this year."
Seljaas has matched up well with fellow trey bombers Fischer and Nick Emery on the outside, making reliable targets for point guard Kyle Collinsworth, who ranks fourth in the nation with 7.5 assists per game. Collinsworth, who earned his ninth career triple-double last week against Santa Clara, was named WCC Player of the Week on Monday.
BYU's 39.6 3-point shooting ranks No. 24 in the nation — making it easier for youngsters like Seljaas to lean on his teammates.
"I have trust in these guys, and by following their example, I feel like we can go in and play our game," he said.
×
Photos
Related stories
Most recent Sports stories