Estimated read time: 2-3 minutes
This archived news story is available only for your personal, non-commercial use. Information in the story may be outdated or superseded by additional information. Reading or replaying the story in its archived form does not constitute a republication of the story.
SALT LAKE CITY — Salt Lake Police Sgt. Robin Heiden knew the city was having a problem with cars being stolen that were left warming up and unattended.
But she had no idea how bad it was until Monday.
"I seriously wouldn't have believed it if I hadn't gone out and seen it for myself," she said.
Monday morning, Heiden and 49 other officers blanketed the city looking for vehicles that were left running and unattended. In 2 1/2 hours, from 6:30 a.m. until 9 a.m., they discovered more than 600 vehicles left running.
"I think every single one of us was shocked. I don't think we realized how many people were leaving their cars unattended. It was nonstop from the moment we started," Heiden said.
Heiden said she not only found cars left warming up in driveways, but at one convenience store she found two vehicles left running outside the store. One of the cars had children inside.
"I opened the door and there were two kids in the back seat — an infant and maybe a 3-year-old. Dad was just getting a quick cup of coffee. He said he didn't want to take the kids out just to run in," she said.
Heiden said with each vehicle found left warming up, officers talked to the owners. Almost everyone told police the same thing: "I just barely ran into my house" or "I was just gone for a second."
But Heiden said most car owners were glad that officers reminded them about the problem. No one was given a ticket for leaving their vehicle running and unattended on Monday.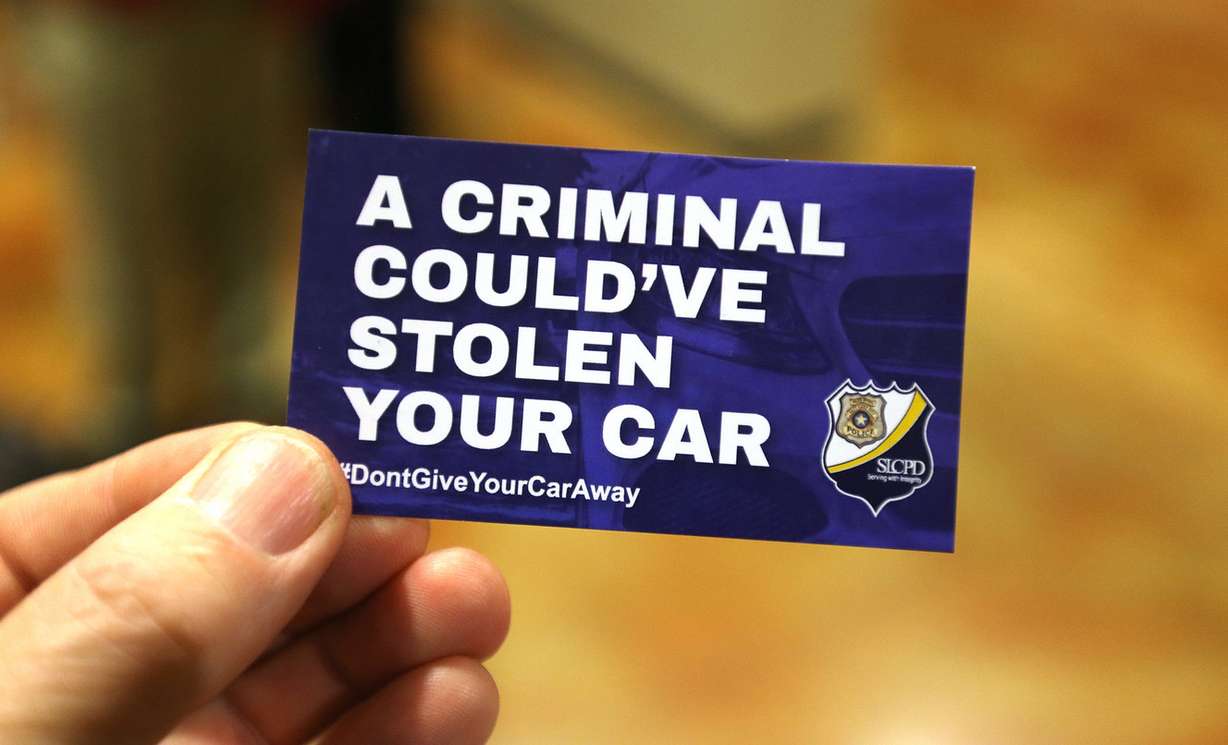 The majority of those cars left running were also unlocked. Only a small few had the doors locked with the vehicle still running. But even in those cases, it's easy for a thief to break a window and drive off, Heiden said.
Between Jan. 1 and Jan. 19, 2015, 72 cars were reported stolen in Salt Lake City. Of those, 25 were left running and unattended, Heiden said. From Dec. 4 to Jan. 3 of this year, 202 vehicles were stolen in the city. Fifty-nine of those had been left running, she said.
On Jan. 6, a car left warming up in the parking lot of an apartment complex near 800 W. Elm Tree Place (900 North) was stolen while a 7-year-old boy was sleeping in the back. The car was recovered about 50 minutes later. The boy was still asleep and uninjured.
"There's not many crimes we can totally prevent, but this is one of those we can," Heiden said.
Contributing: Ashley Moser
×
Photos
Related stories