Estimated read time: 2-3 minutes
This archived news story is available only for your personal, non-commercial use. Information in the story may be outdated or superseded by additional information. Reading or replaying the story in its archived form does not constitute a republication of the story.
SALT LAKE CITY — The Church of Jesus Christ of Latter-day Saints recently announced additional information regarding two of its temples.
Provo City Center Temple
On Jan. 4, complimentary tickets were released for the Provo City Center Temple public open house.
The LDS Church will be releasing tickets incrementally due to high demand, so tickets were unavailable throughout the week, but will be available again Monday, Jan. 11, according to the LDS Church.
The open house begins Jan. 15 and runs through March 5, excluding Sundays. On Saturday, March 19, a cultural celebration will occur before the dedication Sunday, March 20.
The temple will be dedicated in three sessions at 9 a.m., 12 p.m. and 3 p.m. The typical three-hour block of church will be canceled, and the dedication will be broadcast to church meetinghouses across Utah.
The Provo City Center Temple is on University Avenue between Center Street and 100 South. President Thomas S. Monson announced the temple in October 2011, and ground was broken for construction May 12, 2012.
To get tickets for the open house, visit this website or call 855-537-2000.
Philadelphia Pennsylvania Temple
The LDS Church secured the Angel Moroni statue on the first LDS temple in Pennsylvania Dec. 30, 2015.
"Mormons in our area have been watching for this visible highlight of the construction period," Elder Milan Kunz, an area seventy and senior church leader for the Philadelphia region, said. "It indicates the temple is nearing completion and it adds a new image to the skyline of the city."
The LDS Church announced plans for the Philadelphia Temple in 2008, and ground was broken on Sept. 17, 2011. The temple will serve about 45,000 Latter-day Saints from four different states.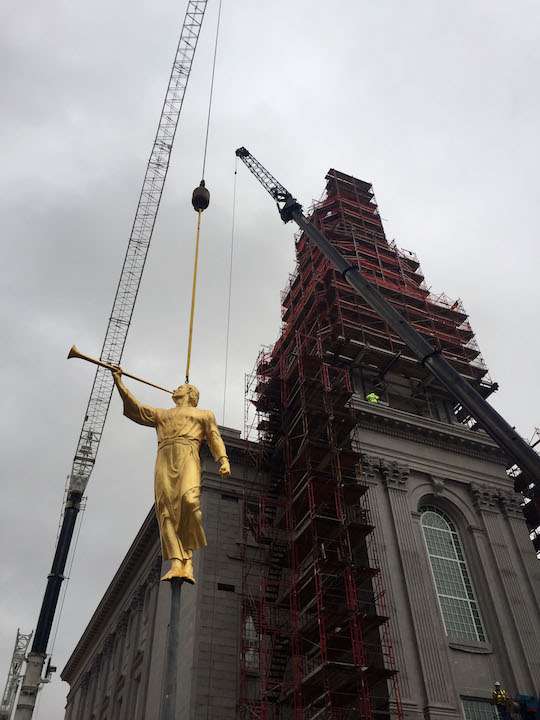 It is expected that the temple will be finished this fall. A church building will stand adjacent to the temple for Sunday worship and congregational activities.
The nearest temples for local church members to visit are in New York and Washington, D.C.
"Once completed," Kunz said, "we look forward to welcoming our friends and neighbors to the public open house, which will be held over several weeks. While our meetinghouses are open to all, following the temple open house and formal dedication, the temple thereafter will be used only by members of the church who are actively engaged in the faith, for sacred ordinances such as marriage."
"Our temples point us to Jesus Christ," Kunz said. "These sacred edifices are houses of the Lord and play a key role in strengthening our faith and commitment to follow Jesus Christ and his teachings."
×
Photos
Related links
Related stories
Most recent Utah stories