Estimated read time: 4-5 minutes
This archived news story is available only for your personal, non-commercial use. Information in the story may be outdated or superseded by additional information. Reading or replaying the story in its archived form does not constitute a republication of the story.
SALT LAKE CITY — The owner of one of the nation's largest gun shows isn't clear on what President Barack Obama's gun control measures mean for people who buy and sell firearms.
But Bob Templeton knows what it means for his Kaysville-based Crossroads of the West shows that have attracted a half million visitors the past year: "Large crowds of people is what I expect to see."
"We've seen that every time President Obama uses the bully pulpit to attempt to advance his agenda of more gun control, it energizes people who own and use firearms lawfully," he said. "But it also brings new people into the firearms hobby or the ownership of guns because they're concerned about the future of gun ownership in America."
Obama rolled out a series of executive orders Tuesday to curb gun violence, including initiatives to expand background checks and strengthen enforcement of firearms laws.
The president also proposes spending an additional $500 million to improve access to mental health care, as well as providing resources for 200 new agents and investigators with the Bureau of Alcohol, Tobacco, Firearms and Explosives, which requires approval from the Republican-controlled Congress.
Central to the president's plan is a broader definition of gun dealers that the administration hopes would expand the number of firearms sales subject to background checks.
Gun show ramifications
Sellers at gun shows and on the Internet often skirt that requirement by declining to get a federal firearms license. But officials said the guidelines would clarify that it applies to anyone "in the business" of selling guns.
But Templeton and other gun enthusiasts said they don't know what that means.
"We're kind of all operating in a little bit of a fog right now trying to determine what he means by this change in background checks," he said. "The devil's in the details here. I don't know what's going to happen in terms of individuals being restricted from selling firearms."
Clark Aposhian, chairman of the Utah Shooting Sports Council, called that area of Obama's plan "hazy."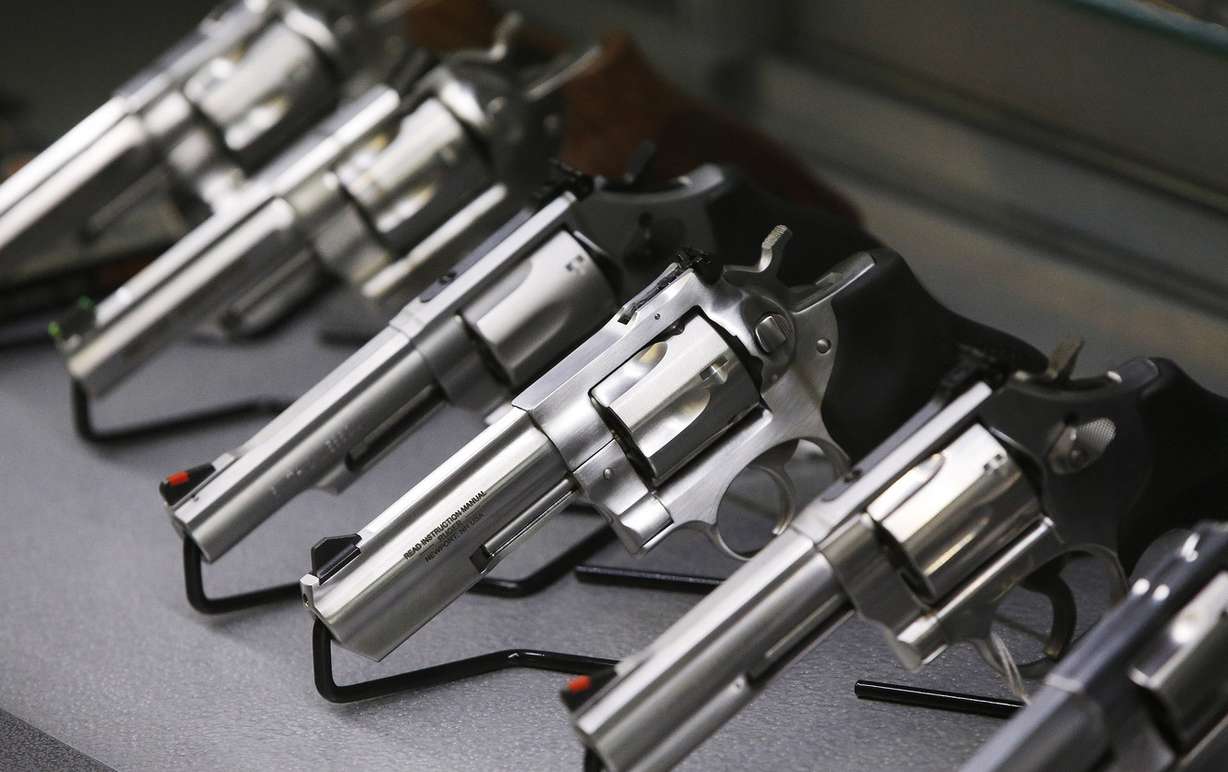 "Does 'in the business' mean that if you buy the gun for $200 and you're going to sell it to your neighbor for $210, that you're in the business?" he said.
Aposhian said he would advise private buyers and sellers to tread lightly to avoid being charged with dealing without a license and face five years in federal prison.
"We don't have a bright line," he said. "When we're talking about firearms laws we need a very bright line."
There isn't a specific number of guns purchased or sold that triggers the licensure requirement. But even a few transactions, when combined with other evidence, could be enough to show that a person is in the gun business, according to the White House.
Courts have upheld convictions for dealing without a license when as few as two firearms were sold or when only one or two transactions took place, when other factors also were present.
The Utah Valley Gun Show makes it clear in its exhibitor agreement that all dealers and vendors that "sell firearms for a portion, or all, of their livelihood must possess a federal firearms license."
'We don't know'
But the agreement also states, "Persons who sell guns from their personal collection, and who do not derive their livelihood from the sale of firearms nor make a profit on sales, are not required to have a FFL."
Whether that's still the case under Obama's executive action isn't clear.
"That's a good question. We don't know," Aposhian said.
Templeton said he hopes the occasional sellers, as well as collectors and hobbyists, would be able to continue to do gun shows.
"Will they be required to use a transfer dealer to conduct background checks? We don't know that yet because we don't know the details of the proposals," he said.
Aposhian said Utah is doing "just fine" with the background system in place.
From October 2014 through September 2015 in Utah, the state Bureau of Criminal Identification had 96,126 requests to buy or redeem weapons. It denied 2,367 of those requests, about 2.5 percent. More than half of the denials were for felony convictions or outstanding warrants, and only 57 were for mental health reasons.
University of Utah law professor Paul Cassell said at least a couple of Obama's executive orders on guns appear "extremely problematic" and that he expects lawsuits over them.
"I think the idea that the president can change the law on gun shows by himself is going to be very problematic," he said. "I think the courts are going to have the final word on whether the president can take all the steps he's trying to take."
There are already laws on the books about gun shows and changing them would have to go through Congress, Cassell said.
"This is quite a bold step in some areas," he said. "I think the president is entering into uncharted terrain here, and I think it raises very significant separation of powers questions about whether the president can bypass our nation's elected representatives."
Contributing: Peter Samore, Jed Boal, Mike Anderson
×
Photos
Related stories