Estimated read time: 3-4 minutes
This archived news story is available only for your personal, non-commercial use. Information in the story may be outdated or superseded by additional information. Reading or replaying the story in its archived form does not constitute a republication of the story.
SALT LAKE CITY — Shoppers darted from one end of City Creek Center to the other, coursing across the skybridge and hoping to snag last-minute gifts for Christmas.
"It's very busy, but it's also a lot of fun," said Hailee Rogers, who is visiting from Walla Walla, Washington, and had most of her family's Christmas gifts shipped to avoid baggage charges with the airlines. She was hoping to find "nothing in particular" on her most recent shopping trip, but also had a list stocking stuffers needed to complete the holiday.
Rogers said she likes to think she's ready when Dec. 25 rolls around at the same time every year, but "there's always something more to get."
"I'm always shopping right up to the day," she said.
Others, like Brenden Wall and his wife, typically plan to get a few items at the last minute. He said the Davis County family gets most of their shopping out of the way long before Christmas, but then likes to take the kids out just before the big day to see what they're still interested in.
"We go out and get a little more at the end," he said, adding that the last-minute items better the chances their kids are happy with their Christmas loot.
With the weather clearing up throughout northern Utah just before Christmas Day and following a couple heavy snowstorms that left many eager shoppers homebound early in the week, more vehicles were out and about midweek, causing already busy thoroughfares to appear more like parking lots.
Slowly but surely, though, people were getting places, rushing in and out and all about, carrying packages and parcels to and from and, for the most part, with smiles on their faces.
"It gets a little hectic when you're waiting around in lines," said Aaron Peterson, of Salt Lake City, who was coincidentally waiting in line to make one of his final purchases before Christmas. He's hoping all the items he carefully selected for friends and family will be happily received, thus negating the need to wait in lines again to return them.
Lines were seemingly part of the Christmas decor, with the Utah Highway Patrol performing crowd control at various state liquor stores leading up to the holiday weekend. Lines there stretched out the door, as building capacities were tested.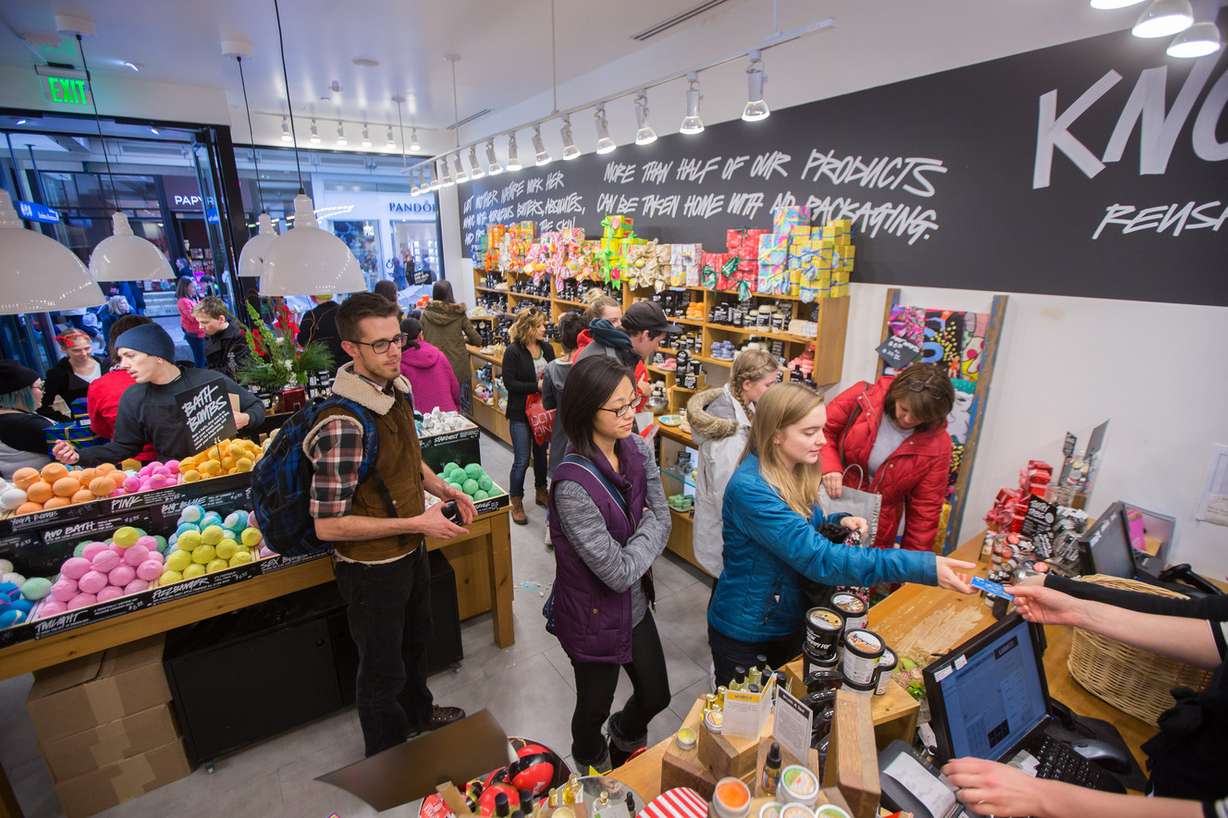 Many retailers kick off the season with Black Friday sales and wrap it all up with low prices the day after Christmas, too. Very few stores stay open on Christmas Day, but the occasional convenience store or pharmacy retailer does post-holiday hours.
Shopping traffic is expected to pick up again early Saturday for consumers returning unwanted or broken items, but also for those hoping to stock up on Christmas items or other after-Christmas sales.
"It's a good chance to get good deals for next year," Peterson said, joking, "if you remember where you hide them away for next year."
City Creek did a good job of pacing Santa visits through its virtual technology line (where elves text when a turn comes up), giving parents and anxious kids a chance to peruse the mall while awaiting their visits.
And the crowds of shoppers — albeit expected this time of year — almost added to the holiday atmosphere, giving reason to the plethora of green and red decor, endless holiday music playing and Christmas-y sentiments hung in nearly every store window.
"It's a happy time of year," Rogers said. "It's fun to be out and about. But also to be with family while doing it."
Contributing: Nicole Vowell
×
Photos
Most recent Utah stories