Estimated read time: 4-5 minutes
This archived news story is available only for your personal, non-commercial use. Information in the story may be outdated or superseded by additional information. Reading or replaying the story in its archived form does not constitute a republication of the story.
SALT LAKE CITY — Two of Utah's most polarizing sports figures said their final goodbyes to the state in Saturday's Royal Purple Las Vegas Bowl, as the University of Utah defeated BYU for the fifth consecutive meeting.
Bronco Mendenhall was coaching his final game at BYU before heading to Virginia to take on his new, higher-paying role as head coach of the Cavaliers.
Travis Wilson started at quarterback for the final time for the Utes before heading home to California to prepare for his life after collegiate sports.
There doesn't appear to be many fans weeping as these two ships set sail for their next destinations.
There doesn't need to be.
That's not to say both haven't left their mark on their respective schools.
Mendenhall, in 11 seasons at BYU, amassed a remarkable record of 99-43, including two conference championships in six seasons in the Mountain West Conference. Since moving to independence, Mendenhall has had the difficult task of building a team to rival the University of Utah for instate supremacy, without the benefit of a conference for financial support.
David Cutcliffe, the head football coach at Duke once told Mendenhall that he had "the most difficult and unique job in all of college football." Between juggling recruits serving LDS missions and having to live up to an honor code unmatched in college athletics, Mendenhall also found a way to win games at an incredible rate.
Most of the time.
Mendenhall's detractors will point to a series of losses over his career as proof that he wasn't the coach best-suited for the lead position at BYU. In 10 matchups between Mendenhall of University of Utah coach Kyle Whittingham, the Cougars have managed just three victories.
With a loss in the Las Vegas Bowl, Mendenhall's bowl record fell to 6-5, without ever reaching a prestigious BCS or New Years Six Bowl game. Fans will recall multiple losses to former punching bag Utah State under Mendenhall's watch, despite multiple wins over Texas, and road wins at Ole Miss, Nebraska, and in a neutral-site game over Oklahoma.
BYU fans now hope to see more consistent play from the Kalani Sitake-led Cougars.
Wilson turned in a familiar performance in his final appearance donning a University of Utah jersey. Despite earning the win, something he's done more than any other quarterback in Utah history with the exception of Brian Johnson, Utah fans were left wanting more. Wilson earned the win by way of seven completed passes on 16 attempts for a total of 71 passing yards.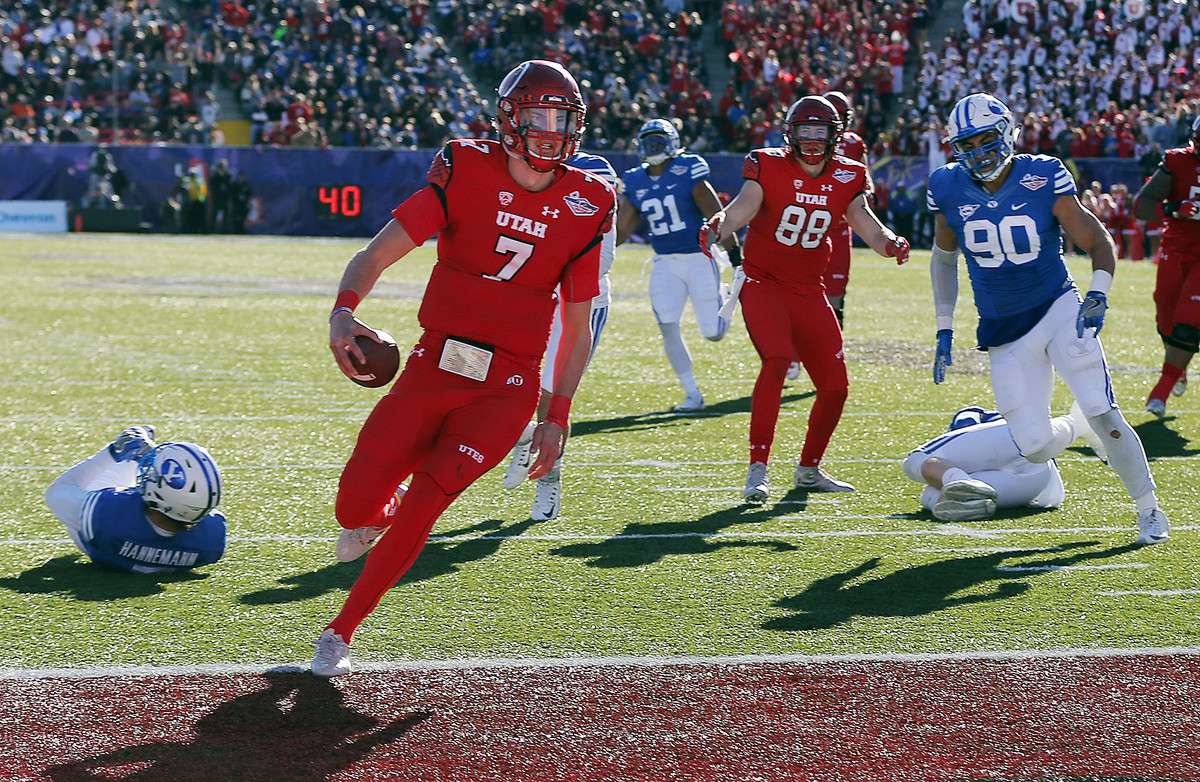 Utah jumped out to a 35-point lead in the game's opening quarter, but managed zero points in the final three quarters, holding off its rival by a touchdown.
Under Wilson's tutelage, Utah won games, but it never appeared to be as smooth of a process as possible.
Don't be surprised if both polarizing figures are remembered more fondly in the future.
Mendenhall navigated a tricky transition into independence with grace and success, always providing hope that BYU would one day belong to a more prestigious conference. It's possible that not all BYU coaches will be willing to bear that burden.
While Wilson never single-handedly won Utah football games, he was the lone consistent figure in Utah's transformation into a Pac-12 South contender. In four years as the team's starter, Wilson played for four different offensive coordinators, all with different schemes and ideas for Wilson's perfect role.
Though it's impossible to define either career as anything but an overwhelming success, few fans are shedding tears at the departure of Mendenhall and Wilson, as BYU and Utah hope to find improvements on the polarizing figures in 2016.
After watching the two go head-to-head in the Las Vegas Bowl, and end their careers in familiar fashion, perhaps its time to bid farewell, in admiration, if not dejection.
---
![](http://img.ksl.com/slc/2556/255612/25561254\.jpg?filter=ksl/65x65)

About the Author: Ben Anderson ------------------------------

Ben Anderson is the co-host of Gunther in the Afternoon with Kyle Gunther on 1320 KFAN from 3-7, Monday through Friday. Read Ben's Utah Jazz blog at 1320kfan.com, and follow him on Twitter @BenKFAN.

×
Photos
Related stories