Estimated read time: 4-5 minutes
This archived news story is available only for your personal, non-commercial use. Information in the story may be outdated or superseded by additional information. Reading or replaying the story in its archived form does not constitute a republication of the story.
WEST VALLEY CITY — With another dominating win Saturday night, the Utah Grizzlies rolled into the holidays in excellent form.
After Saturday's 6-3 win over the Colorado Eagles, the Grizzlies moved to 16-8-2 on the season, good for 34 points and a wide lead in the West division — no team is within seven points of them heading into the holiday season. The team has proven among the ECHL's most potent offensively, leading the entire league in goals per game at 3.5 nightly.
Utah's top two offensive lines are responsible for much of their success on this end. Coach and general manager Tim Branham talked openly in the offseason about his desire to add skill and speed to his group up front, and has clearly done exactly that. The top trio of Charles Sarault, Alex Krushelnyski and Ryan Walters has combined for 29 goals and 65 points altogether, and the (so-called) second unit of Matt Berry, T.J. Syner and Barry Almeida isn't far behind.
"Our top six forwards are dynamite," Branham told KSL. "They're dangerous every time they're on the ice. You've got to be aware of them with their speed and skill, their tenacity."
Special teams were key in Saturday night's win, with the Grizzlies scoring on three of their first four power play chances and shutting down the Eagles' power play conversely. They're still just 16th for overall power play efficiency on the year, though — they've only scored two more goals on the power play than they've allowed on penalty kills. This makes their plus-14 goal differential on the season all the more impressive, as they've done most of the damage at even strength by simply exploiting what's often a noticeable skill gap.
Also valuable has been the team's goaltending, which has been consistent even as the man between the pipes has rotated a bit. Ryan Faragher has been the team's rock, with a record of 11-1-1, a 2.05 goals against average and nearly a 93 percent save percentage, all top-10 figures in the league.
"It's huge. He's just so dialed in and focused in there, it's awesome to see," said team captain Brent Gwidt. "The boys battle for him."
Faragher has seen multiple stints at the next level with parent club San Diego, however, and others have mostly picked up the slack during these periods. Two games over the weekend were Faragher's first couple back after his latest call-up, during which new acquisition Taran Kozun went 4-2 and allowed the team to keep the momentum going.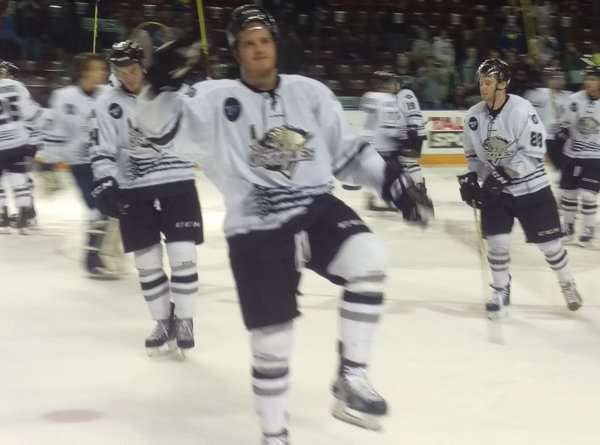 Beyond Faragher, the Grizzlies have mostly avoided losing vital members of their team to call-up assignments, another element that's aided their strong play. A couple of the top forwards have been up and down a time or two, but the foundational group remains in place.
"We've got that core," said Branham. "No matter who comes and goes, the core group makes sure everyone's on the same page. We have really good leadership in that locker room."
That starts with Gwidt, who is in his fourth year with the Grizzlies and was named captain before the season. He plays slightly less at times as a member of the team's checking line, but is the voice teammates look to in the locker room and on the ice. It's easy for the casual fan to diminish the importance of such a thing, but at this level where development and focus are such vital elements, it's huge for younger guys.
True to form, Gwidt had praise for virtually everyone but himself, even after netting his first tally of the season — a big goal to put the Grizzlies up 5-2 and virtually ice the game late. Like Branham, Gwidt spoke about the positive culture and camaraderie the team has cultivated, but pointed to the man behind the bench as the key reason for it.
"It does start with Tim [Branham]," Gwidt said. "Guys that have been here for a while know what he expects, what he wants."
The Grizzlies get a nice week off now for the holidays, with their next game not scheduled until Saturday in Idaho. A group that surprised a few folks with a second-round appearance in last year's ECHL playoffs isn't sneaking up on anyone this time around, but they're as confident as ever and will return from the break ready to continue their strong play.
×
Photos
Most recent Utah stories