Estimated read time: 3-4 minutes
This archived news story is available only for your personal, non-commercial use. Information in the story may be outdated or superseded by additional information. Reading or replaying the story in its archived form does not constitute a republication of the story.
SUNDANCE — A local artist draws from an interesting and unique inspiration for his paintings — a variety of candies ranging from Rice Krispies Treats to gummy bears to Pez to stacks of green Jell-O.
In a lush forest of evergreens in the shadow of the majestic Mount Timpanogos, Sundance artist Kent Christensen works in his home studio and finds inspiration from green Jell-O.
"You happened to catch me on the Jell-O day," Christensen says, chuckling.
On a large canvas, he's busy painting a stack of Jell-O cubes.
Christensen once lived exclusively in New York and illustrated articles for national publications like Time magazine, Sports Illustrated and Business Week. There, some friends knew him as the candy man.
"My friends were into coffee and wine and beer," he said.
Christensen, who is a member of The Church of Jesus Christ of Latter-day Saints, doesn't drink coffee or alcohol. But he said he has a different social lubricant.
"If they wanted to know where the great chocolate was, I knew that," he said.
He said his friends jokingly called it "Mormon heroin."
Several years ago, when Christensen decided to go back to school to the University of Utah to pursue a career in fine art painting, he brought some of his fancy chocolates with him. He was looking for a focus for his art and a professor, Sam Wilson, suggested he paint his chocolates.
Now he makes his living painting sweets ranging from Rice Krispies Treats to gummy bears to Pez to stacks of green Jell-O. There are references to art, like a Spiral Jetty made out of spiral taffy. There are references to religion: mandalas made out of ice cream cones and slices of pie. He painted a reference to the Eucharist. Instead of wine and bread, there's a glass of milk and an Oreo. The letters on the cookie in the characteristic Oreo font spell "Mormon."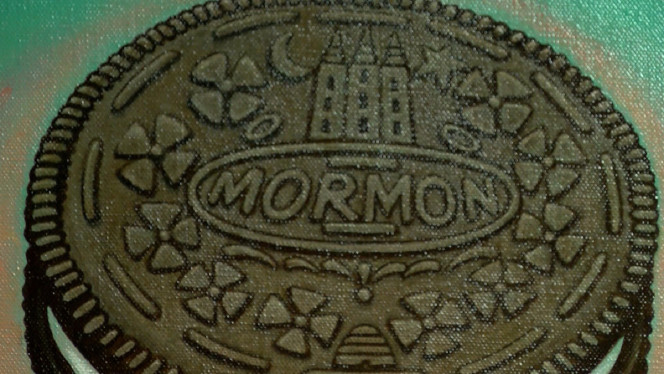 KSL-TV
He also includes subtle comments on consumerism in his candy art. In one ice cream painting, he distorted Botticelli's Three Graces to look as if they'd eaten too many sweets.
For Christensen, his artwork is also about his LDS culture.
"These things (candy and other treats) are not totally specific or unique to Mormons, but I think because we don't do the other stuff, it makes it more of a ritual — a kind of a totem of the culture," he said.
He sells his work not in Utah, but almost exclusively at the Eleven Fine Art gallery in a posh neighborhood of London.
"I get to talk about my culture with people who would never otherwise ask me about my culture," he said. "They're really good conversation starters."
Christensen is currently the featured artist at an ongoing art show that benefits the Susan Parkinson Scholarship at Utah Valley University. The exhibit is located at the AmBank at 3670 North University Avenue in Provo and runs through Feb. 26.
×
Photos
Related links
Most recent Utah stories