Estimated read time: 3-4 minutes
This archived news story is available only for your personal, non-commercial use. Information in the story may be outdated or superseded by additional information. Reading or replaying the story in its archived form does not constitute a republication of the story.
A significant change to Larry Miller Enterprises was announced this afternoon: Larry's son Greg is taking over.
Businessman, entrepreneur, and the owner of the Utah Jazz, Larry Miller is one of the state's most prominent figures. And today, with Miller still in the hospital, his son Greg, humbly announced his new role, as CEO of the Larry H. Miller group of companies.
Larry is one of the most influential businessman in the history of state, a legendary figure in the world of Utah sports as well, and while today's announcement says the change won't affect the management of the Utah Jazz, the question we all have tonight is what part his diminished health is playing in this surprise promotion of his son Greg.
Larry was hospitalized a month ago with what has been described as "complications from diabetes," and he's been conspicuously absent from very public events, like the Jazz draft and the signing of their No. 1 draft pick.
He is also missing the latest biggest deal for the Jazz: the ongoing negotiations with Deron Williams on the mega-million dollar contract extension. However, both sides say Larry has been very involved in those talks.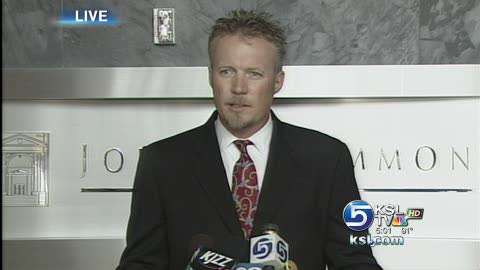 In a press conference today, Greg Miller addressed his father's health. "He is currently doing very well. He's making daily improvements," Greg said. "His primary focus right now is on recuperation and regaining his energy."
Since the age of 12, when he swept the lot at his father's car dealerships, Greg Miller has been a part of the family business, most recently, working for the Larry H. Miller management company and focusing on operations at Miller Motor Sports Park.
"I've been working in this organization since I was 12 years old, and I feel like I've had some pretty tough assignments, and I feel like, that with the help of the people I've surrounded myself with, I've been able to answer the call in every assignment that I've been given. And so, I see this as just being a natural progression of things," he said.
Miller says, the decision has been in the making for the past several years, and not so much influenced by his father's health problems. But he says, his father's time in the hospital has been a blessing in disguise. "He's had a chance to really reflect on what's important to him and what he wants to do with his energy and with his time," he said.
In the press release, Larry miller says: "I will continue to maintain a hands-on role in the company, but my position as chairman of the board will allow me to spend more time outside of the office with my wife, Gail, and our family, as well as devoting more time to our philanthropic endeavors."
It isn't clear exactly what role Larry will have in his new position of chairman of the board, or what day-to-day contact he'll have with the Larry Miller Sports and Entertainment Group -- which includes the Utah Jazz, Salt Lake Bees and the Miller Motorsports Park.
The timing of this statement has stunned many in the Miller empire, even though Greg Miller has been in line to step up for a long time.
Miller says Larry Miller will keep his office, and have a critical voice in the direction of the company.
"He will have that as long as he's alive, as far as I'm concerned. And I hope that's for a long, long time."
E-mail: syi@ksl.com
E-mail: tkirkland@ksl.com
×
Related links
Most recent Utah stories