Estimated read time: 4-5 minutes
This archived news story is available only for your personal, non-commercial use. Information in the story may be outdated or superseded by additional information. Reading or replaying the story in its archived form does not constitute a republication of the story.
SYRACUSE — Having a child in the hospital can be stressful, and at times lonely. A Syracuse mother whose daughter spent six months in the neonatal intensive care unit knows those feelings all too well.
Now she's using her experience to give back.
Standing at her closet door looking up, 3-year-old Whitney Wescott smiles while showing off her dresses.
"I have this one, this one, this one, and this one," she said in a quiet whisper.
Like many girls her age, Whitney also loves stuffed animals. "I like Elsa," she said.
And she loves her blanket. "It's super special."
Whitney's blanket, worn from years of being clutched by her little hands, is "special" because it was with her in the Neonatal Intensive Care Unit for the first six months of her life. Whitney was born at 32 weeks after doctors discovered a condition called hydrops fatalis — fluid surrounded both of her lungs.
"The mortality rates were 99 percent. Almost every case was fatal," said Samantha Wescott, Whitney's mother.
Whitney spent five weeks at University Hospital, and then moved to Primary Children's Hospital where she was cared for by specialized doctors and nurses for the next five months.
"It was rough. I had a 4-year-old and 2-year-old at home too. Then all of a sudden I'm at the hospital for 40, 60, sometimes 70 hours with a sick baby," said Samantha Wescott.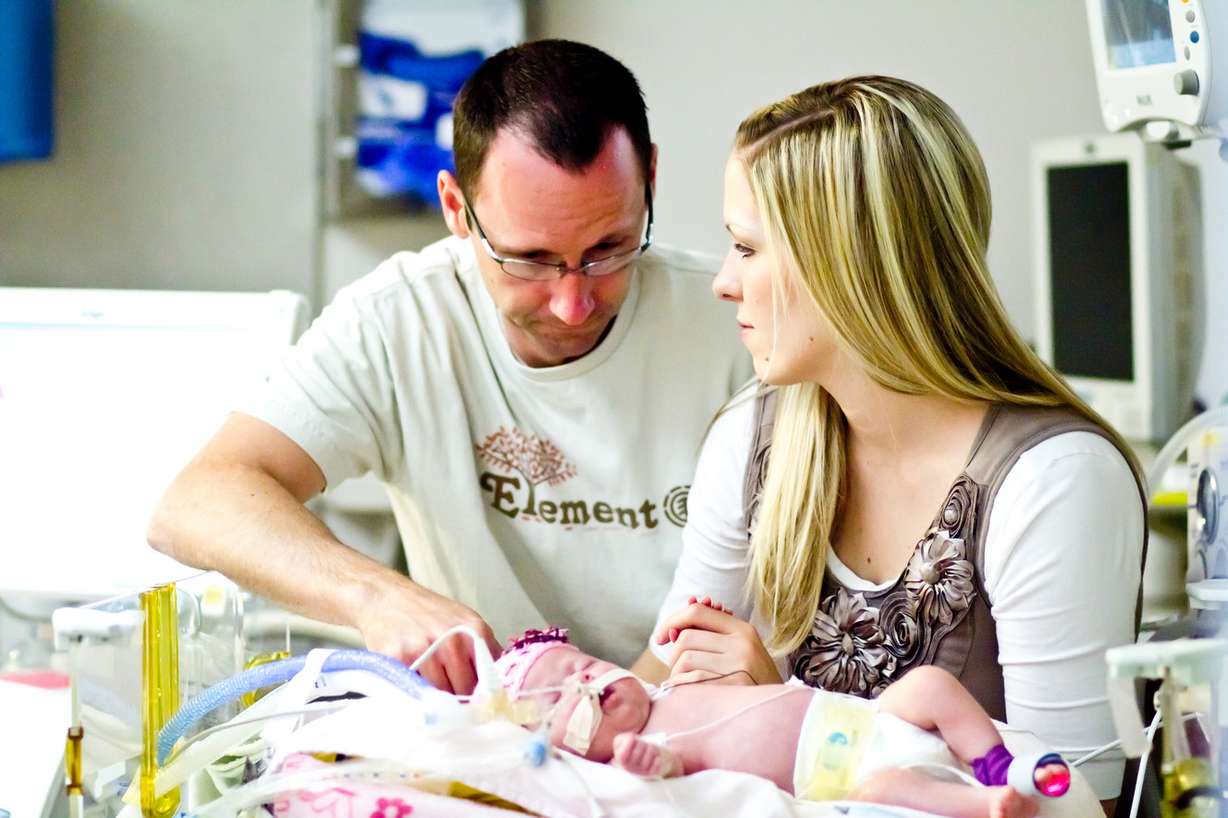 The Wescotts were told five times during those six months that Whitney may not survive.
"I just thought, I can't. I can't give up on her," said Wescott. "They called her the miracle baby; she was just a rock star."
Looking back at those six long months, the Wescotts credit the hospital staff, family, friends, and members of their LDS ward with getting them through.
"I basically just farmed out my kids. So many people helped us get from one day to the next," said Wescott.
That generosity inspired the Wescotts to give back to other NICU families.
"December 2013 was our first year…we didn't have her in the NICU for Christmas, and I just thought, I know what these families need. They need care packages," said Wescott. "They need toothbrushes, and lotion, and hand sanitizer, things that when you're spending 12 hours a day in the hospital you need to take care of yourself."
Samantha Wescott, a stay at home mother, went to work gathering donations for gift baskets.
"I just called and got rejected, and so many people thought you could be a scam artist, you're not with any company, and you're just an individual. And I am just very persuasive, I don't take no for an answer," she explained.
In 2013 Wescott gathered enough donations for 36 baskets. In 2014 she gathered enough donations for 54. This year, "We have 105 baskets we're shooting to put together. And we're not just taking care of Primary. We're taking care of four local hospital NICUs," Wescott said.
The Wescotts deliver the baskets the week of Christmas when families in the NICU often struggle with spending the holiday in the hospital.
"As we dropped them off, they just said, 'These are for me? Gosh, I don't even know you,'" Wescott said.
---
As we dropped them off, they just said, 'These are for me? Gosh, I don't even know you.'
–Samantha Wescott
---
"I think this is a way for her to heal in a sense, a way for her to give back to people who helped her," said Kyle Wescott, Samantha's husband.
Right now the Wescott home is filling with donations: CDs, treats, personal care items, an angel ornament for each family.
"I thought, even if these families don't know me, it's nice to get a gift basket that says hey, we love you, we're thinking about you, and just know there are people out there that love and support you and you're in our prayers," Samantha said.
Her can-do attitude and example has made the NICU basket project successful.
"There's no harm in just trying," she said.
It has also inspired others to help. This year, about a dozen volunteers lined up to assemble baskets and deliver them. She hopes to continue the project for many years to come.
"Because we got our miracle we're obligated to do something in return, because not every family gets their happy ending with their NICU babies," she said.
How you can help
The Wescotts have a GoFundMe account to gather donations for gas cards to put in the baskets of families that travel to and from the NICU each day.*
*KSL.com does not assure that the money deposited to the account will be applied for the benefit of the persons named as beneficiaries. If you are considering a deposit to the account, you should consult your own advisers and otherwise proceed at your own risk.
×
Photos
Most recent Utah stories