Estimated read time: 3-4 minutes
This archived news story is available only for your personal, non-commercial use. Information in the story may be outdated or superseded by additional information. Reading or replaying the story in its archived form does not constitute a republication of the story.
SALT LAKE CITY — The powerful storm that walloped the Wasatch Front with heavy snow and freezing temperatures overnight drove hundreds of homeless inside Monday to weather the storm that was expected to continue Tuesday.
Catholic Community Services, Weigand Homeless Resource Center was filled with people Monday morning.
"We've opened up every possible nook and cranny for people to come in and get warm and dry," said Danielle Stamos, CCS spokeswoman. The nonprofit agency was expecting large numbers for meals at St. Vincent de Paul Dining Hall.
"We hope to serve as many people as possible a warm meal to keep them healthy and warm today," she said.
With the increased numbers of people seeking help and shelter, donations of toilet paper, toiletries, coats and warm clothing are being sought by Catholic Community Services, Stamos said.
The Road Home's new Midvale Center housed 81 families Sunday night, including 175 children, said Celeste Eggert, director of development and community relations.
In total, 1,165 people were in shelter at the Road Home's Midvale, downtown facilities and in overflow at St. Vincent de Paul Dining Room.
By comparison, the Road Home sheltered 961 people on Saturday night.
Room for anyone in need
While the shelters are busier than usual, anyone who needs a place to stay may come to the facilities for help, she said.
"The word is still come to us if you need shelter, especially families. We've still got room at Midvale. Anyone in need should not sleep outside. They should come into shelter," Eggert said.
The Road Home has great need for warm clothing to assist clients, she said.
Searching for the unsheltered
Meanwhile, Volunteers of America - Utah outreach workers were out in force looking for unsheltered homeless people or those who camp in tents and other makeshift shelters.
Frostbite is a big concern, said DeAnn Zebelean of VOA-Utah. Outreach workers checked the feet of every client they met Monday and provided them with dry socks, she said.
"Today is a crazy day but we prepare for this. We have people on the street every day so it helps us to know where to look for people to check up on them," Zebelean said.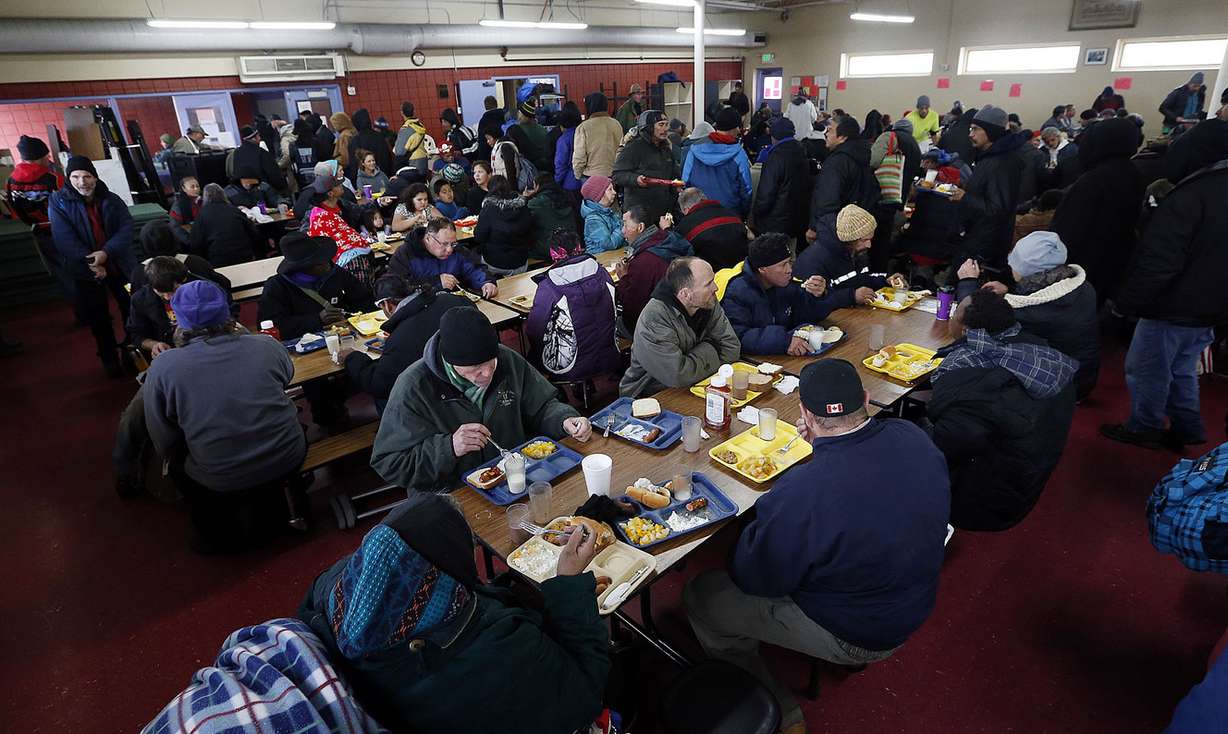 Volunteers are working hard to encourage people to come into shelter, she said. Outreach teams were in regular contact with Fourth Street Clinic teams to assist people they encountered who needed medical assistance, Zebelean said.
City Library, which has many regular users who are experiencing homelessness, was "no more busier than usual," said communication manager Andrew Shaw.
"I think most people are staying put today," he said.
Salt Lake City libraries closed early because the storm was expected to hit hard in the late afternoon and the library system didn't want to put employees at risk driving home on icy roads, Shaw said.
Donations
Donations can be made at the following facilities:
The Road Home, 210 S. Rio Grande Street, SLC
Catholic Community Services' Weigand Homeless Resource Center, 235 S. Rio Grande Street, SLC
Volunteers of America - Utah, 435 Bearcat Drive, SLC
Fourth Street Clinic, 409 W. 400 South, SLC
×
Photos
Most recent Utah stories