Estimated read time: 3-4 minutes
This archived news story is available only for your personal, non-commercial use. Information in the story may be outdated or superseded by additional information. Reading or replaying the story in its archived form does not constitute a republication of the story.
A teenager from Draper is in a coma because he was given the wrong dose of a pain medication. Eighteen-year-old Jessie Scott was given what was supposed to be a safe teaspoon of the drug. Actually it was a potentially lethal dose.
Jessie Scott is now at the HealthSouth Rehabilitation Center as his family and therapists do everything they can to stimulate his senses. He's been in a coma since April 30.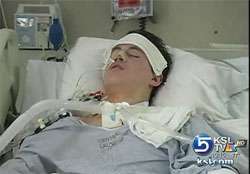 The high school graduate with a 4.0 grade point average is a far cry from where he was 75 days ago. At University Hospital, Wayne and Laurie Scott were told to gather their family.
"If you've got family, now's the time to call them up and let them pay their respects," Wayne Scott said. "So we made a bunch of calls, and the family responded."
Jessie's organs were failing. He was on a ventilator. One lung had collapsed. Physically and mentally, he was shutting down. All this happened within hours after he was given one teaspoon of prescribed oxycodone hydrochloride to help him sleep a bit and relieve pain from a strep throat. What happened?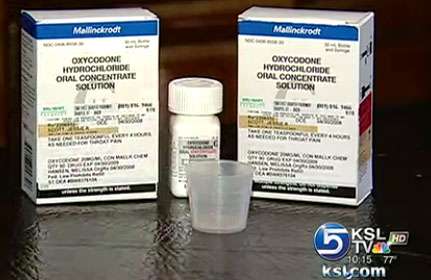 The prescription was filled at the pharmacy. The label clearly indicates one teaspoon every four hours, and that's exactly what Laurie did: She gave Jessie one teaspoon in a cup.
But instead of five milligrams, attorney David Olsen says, "The dosage she gave was 20 times what was ordered. [It was] 100 milligrams instead of five. That's because it was undiluted."
What Laurie had in her hands was a liquid concentrate that, according to Olsen, was suppose to have been diluted at the Wal-Mart pharmacy where the prescription was filled. The Scotts still can't believe it happened. Wayne Scott said, "This is obviously a horrible mistake."
Laurie Scott said, "This shouldn't have happened. It was needless. It was senseless and it's changed lives forever, not just Jessie, but there are other people who love him and his future."
Laurie trusted what she gave her son, what had been filled, was correct.
"I always ask questions. I've always medicated him his whole life. I'm the caregiver and it makes it extremely difficult," she said.
After 16 days in ICU, Jessie moved to intermediate care for another four days, then to HealthSouth for intensive therapy.
Wal-Mart Corporation issued the following statement to KSL News: "This is a very sad situation. Our thoughts are with this young man and his family."
There are signs Jessie is responding. For example, the eyes! His family sees response in them.
How much damage is done? How much repair will the brain pull off? Doctors don't know. But this 18-year-old is strong, and so is his family.
Wayne Scott said, "His brain is still very plastic, still very elastic, and we're hoping and praying that it can find ways around those areas to connect back up. That's our hope."
There was a dramatic turn of events this weekend. For the first time, Jessie spoke, though the words are limited and intermittent. We will continue following his story in the weeks and months to come.
E-mail: eyeates@ksl.com
×
Most recent Utah stories