This archived news story is available only for your personal, non-commercial use. Information in the story may be outdated or superseded by additional information. Reading or replaying the story in its archived form does not constitute a republication of the story.
SALT LAKE CITY — Early next week, two veterans of operations Enduring Freedom and Iraqi Freedom will undergo surgery at the Salt Lake Veterans Affairs Hospital that could change their lives.
Bryant Jacobs and Ed Salau will be the first in America to get a percutaneous osseointegrated prosthesis, or POP, surgically implanted into a residual limb.
"I'm stoked. I can't wait," said Jacobs, of Herriman.
Eleven years ago Thursday, he was severely injured when a roadside bomb blew up his vehicle in Iraq.
Doctors saved Jacobs' legs, but after a decade of challenges, he had his right leg amputated two years ago. When he exercises and sweats, he said the prosthetic leg starts to loosen and rub the skin raw on the remaining stump.
"I've had open sores that whole time," he said," just stuff like that that impedes life, like putting on jeans."
With the prosthetic, patients can also experience discomfort, phantom limb pain and frequent refitting due to weight loss or weight gain. Such problems can make it hard for amputees like Jacobs to wear a prosthetic for more than a few hours a day.
Salau, also an Iraq War veteran, lost his left leg in November 2004 when he was injured by a rocket-propelled grenade. He said his wife loves to walk on the beach back in North Carolina, but that's hard for him.
"It's hard on my socket," Salau said. "I'm going to burn a blister pretty fast because of all of the body motions that have to happen for walking in the sand, so I don't do it a lot."
With the new percutaneous osseointegrated prosthesis, both men will have a rod sticking out of their femur, to which the prosthetic attaches.
"The osseointegration is going to be huge for that reason," Jacobs said. "It's seriously going to be life-changing of all of those little things that add up to be huge in your life."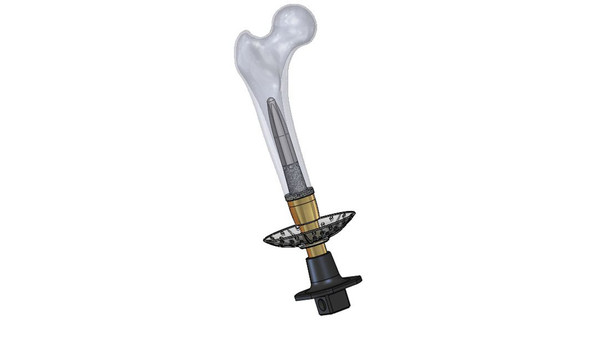 The men went through a series of tests Thursday at the George E. Wahlen Department of Veterans Affairs Medical Center to establish how much energy they expend using their socket prosthetics.
Dr. Laurence Meyer, director of research at the Salt Lake VA, said the surgery will be Monday. During the first stage, doctors will embed a titanium stud in the femur. About six weeks later, they will go back and attach the docking mechanism for the prosthesis.
"Then we will start getting the actual data if it works, and we don't know that yet," Meyer said.
Doctors hope to see as much as a 30 percent reduction in that energy expenditure.
This is all part of a U.S. Food and Drug Administration-approved feasibility study to determine the safety and function of the new implant.
Jacobs said he hopes it changes the world for the nearly 6,000 amputees in the VA system nationwide and civilian amputees in the future.
"I'm more than happy to be the guinea pig," he said.
×
Photos
Related Links
Related Stories