Estimated read time: 4-5 minutes
This archived news story is available only for your personal, non-commercial use. Information in the story may be outdated or superseded by additional information. Reading or replaying the story in its archived form does not constitute a republication of the story.
LAYTON — An investigation into how a patient at McKay-Dee Hospital contracted hepatitis C has expanded to a second hospital.
Davis Hospital and Medical Center is sending letters to 2,369 patients informing them that they may also have been exposed to the blood-borne pathogen, bringing the total number of patients who were potentially exposed to nearly 7,200.
At the center of the investigation is a nurse who was fired from Ogden's McKay-Dee Hospital last year for stealing morphine and Dilaudid, both opioid pain medications.
"It's natural in any public health investigation to expand them as we gather more information," said Angela Dunn, a medical epidemiologist with the Centers of Disease Control and Prevention stationed at the Utah Department of Health.
Investigators expanded the case after finding out that the nurse previously worked at Davis Hospital and Medical Center and that she had been stealing Benadryl from the hospital while employed there, Dunn said.
"She was stealing IV Benadryl, not just tabs," she said. "In terms of risk of transmission of blood-borne pathogens, any IV medication or use of needles can be a risk of infectious disease spread."
The nurse in question was identified by Ogden police as Elet Neilson, also known as Elet Hamblin, 49, of Layton.
Documents from the Utah Division of Occupational and Professional Licensing say Neilson admitted to taking Benadryl from her employer over a period of eight months in 2012 and 2013. According to the report, Neilson sometimes would enter the name of a patient into the medication dispensing machine, cancel the transaction and keep the medication.
The licensing division reprimanded her and fined her $100, according to the documents.
Diane Townsend, a spokeswoman for Davis Hospital and Medical Center, said the hospital doesn't know of any patients who were infected but decided to alert them of the possibility of exposure "out of an abundance of caution." The hospital is sending letters to patients who visited the emergency room between June 2011 and April 2013.
Like McKay-Dee Hospital, Davis Hospital is also offering free testing to notified patients.
The hepatitis C investigation was launched when a former McKay-Dee patient found out he had hepatitis C.
When the Utah Department of Health began investigating how he was infected, officials found out that the nurse at McKay-Dee Hospital had the same strain of hepatitis C, according to Dunn.
Chris Dallin, a spokesman for McKay-Dee Hospital, said the hospital was not aware that the nurse had previously been disciplined for stealing medications at her former workplace.
Dallin declined to talk about the specifics of the case or to identify the employee by name, but he said the hospital undertakes a "rigorous" vetting process for all employees that includes a licensing agencies check, a previous employer reference, drug tests and a criminal background check.
If one of these were to turn up evidence that an applicant had previously been caught stealing drugs, he said, "pretty much, that would be a no."
Several high-profile cases of hepatitis C exposure at hospitals have raised awareness about "drug diversion," the industry's name for when employees steal medication.
In 2013, a traveling medical technician was sentenced to 39 years in prison after 45 hospital patients were infected with hepatitis C. Prosecutors said the technician was injecting himself with syringes of fentanyl meant for patients and returning them for patient use.
In the past 10 years, at least 89 nurses, pharmacists and pharmacy technicians were disciplined by the Utah Division of Occupational and Professional Licensing for stealing medications.
Health care providers struggling with addiction first need to be identified and given help, Dunn said.
But she said communication between hospitals, the licensing division and the health department also needs to be improved so potential outbreaks can be identified earlier.
"Currently, when a nurse or any health care provider is caught stealing drugs, we don't hear about that," Dunn said.
Ideally, the health department would receive reports on all employees caught stealing medications so investigators can check if the employee has any infectious diseases.
To do that, the licensing division needs to get faster at processing investigations, and the health department needs to communicate with them more, Dunn said.
"Those are all going to be lessons learned from this experience," she said.
For now, Dunn and hospital officials are encouraging any patients notified about their potential exposure to get tested.
As of Thursday afternoon, more than 1,100 patients had been tested and none had been found to have the same strain of hepatitis C as the former nurse, according to McKay-Dee's chief medical officer, Christine Nefcy.
In similar investigations, hospitals typically see a 60 percent response rate, Dunn said.
People may not be motivated to get tested because many of them were treated years ago, she said. But she emphasized that hepatitis C often remains asymptomatic for years.
Timeline
May 2002: Elet Neilson is licensed as an registered nurse in Utah.

June 2011: Neilson begins working at Davis Hospital and Medical Center.

April 2013: Neilson stops working at Davis Hospital and Medical Center.

October 2013: The Utah Division of Occupational and Professional Licensing publicly reprimands Neilson for stealing Benadryl from her employer from August 2012 to April 2013.

November 2014: The nurse, who has begun working at McKay-Dee, is confronted with evidence she is possibly stealing medications. She confesses and is fired. At this time, the Utah Department of Health is notified that a former patient at McKay-Dee has tested positive for hepatitis C.

December 2014: The licensing division suspends Neilson's license after she admits to stealing opioid painkillers from the hospital between June 2014 and December 2014. She admitted she did this approximately once per week, according to licensing division documents.

January 2015: Neilson is indicted on charges of attempted possession or use of a controlled substance, a third-degree felony, in 2nd District Court. Around this time, the licensing division puts Neilson on probation for five years.

May 2015: Neilson pleads guilty to an amended class A misdemeanor.

September 2015: The Utah Department of Health informs McKay-Dee Hospital that the nurse tested positive for the same strain of hepatitis C as the patient. McKay-Dee officials begin collecting a list of other patients who may have come into contact with the nurse.

October 2015: McKay-Dee sends letters to nearly 4,800 patients informing them that they may have been exposed to hepatitis C.

November 2015: Neilson surrenders her license after a sample tests positive for alcohol, a violation of her probation. Around this time, Davis Hospital and Medical Center sends letters to nearly 2,400 patients informing them that they may also have been exposed to hepatitis C.

Sources: Utah Division of Occupational and Professional Licensing, McKay-Dee Hospital, Davis Hospital and Medical Center, Utah Department of Health, court documents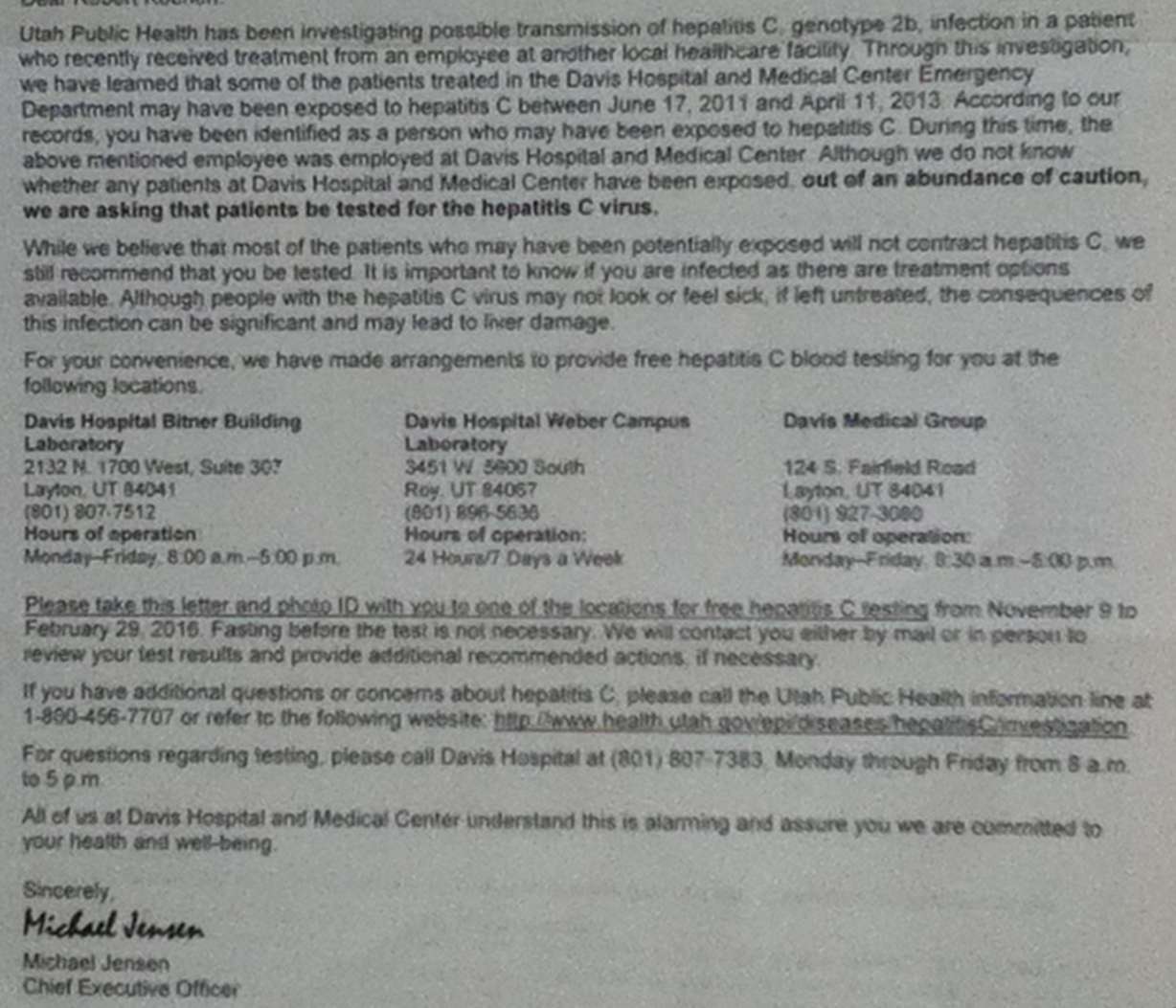 Email: dchen@deseretnews.com Twitter: DaphneChen_
×
Photos
Related stories
Most recent Utah stories