Estimated read time: 2-3 minutes
This archived news story is available only for your personal, non-commercial use. Information in the story may be outdated or superseded by additional information. Reading or replaying the story in its archived form does not constitute a republication of the story.
For nearly 40 years, a huge pile of dirt has been stored in a secret location in the Salt Lake valley. Once a year, it's hauled away and put to good use. John Hollenhorst was sworn to secrecy about the location so he could dig up this very dirty story.
We agreed to rendezvous in an out-of-the-way place, which shall remain nameless if not exactly numberless. Dave Burdett, co-chairman of the Days of '47 Rodeo, says it's "right next to Area 51. We call this 51-and-a-half."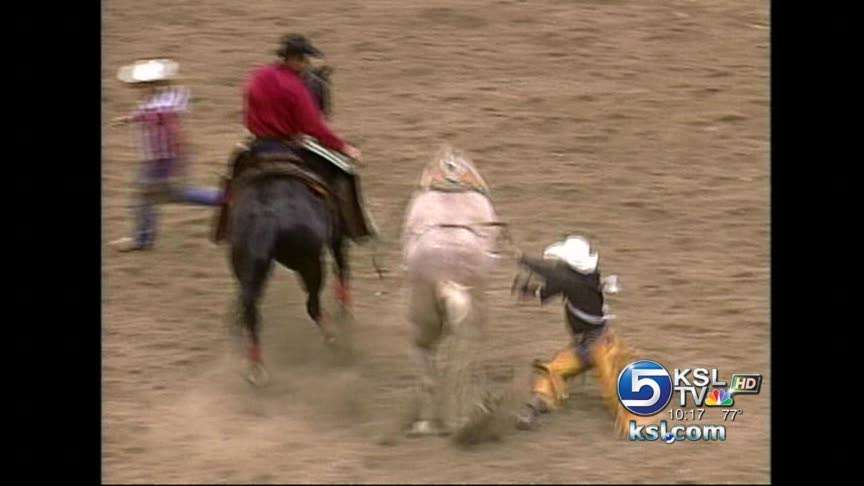 And there it is, the dirt: 600 tons of it. "It is special dirt. It's award-winning dirt. And we don't advertise where we keep it, [or] how we take care of it," Burdett said.
Brad Harmon, chairman of the Days of '47 Rodeo, said, "It's basically what a gardener's garden is to them, this dirt is to us." His hat is a dead giveaway. The dirt is all about cowboys, the kind that do their roping and riding in front of a crowd.
Once a year, the dirt is hauled out of retirement to take its place in the spotlight. Next week it will be spread six inches deep for the Days of '47 Rodeo. "I've got to the point where I want to protect it for the heritage of it. I mean we've had it since 1971," Harmon said.
Almost every world champ of the last four decades has ridden on it. "This dirt has seen everything. It's seen three or four gorings in its time."
The dirt is basically unchanged since '71. It's a compromise mix of sand and clay that's won numerous awards. It's a little firm for good footing and a little fluffy for soft landings.
Harmon said, "We also have to worry about our crowd and making sure we don't get dust."
There's one ingredient that gives the dirt a little extra pizzazz. It's what the cowboys call "guacamole." It comes from a horse. "I don't think it's bad for it. The worst thing about that is when it's fresh and a cowboy lands in it," Harmon said.
Every few years, they clean the dirt using screens to filter out impurities. "Like old tobacco cans and back numbers from the cowboys, and things like that. We get a lot of horseshoes out of it," Harmon said. For luck, they could leave them in, but that might make the nation's best dirt a little lumpy.
Come Monday morning, a parade of dump trucks pulling trailers will haul the dirt to the Energy Solutions Arena. It will take at least 170 round-trips, and the dirt will be used for just one week.
E-mail: hollenhorst@ksl.com
×
Most recent Utah stories