Estimated read time: 2-3 minutes
This archived news story is available only for your personal, non-commercial use. Information in the story may be outdated or superseded by additional information. Reading or replaying the story in its archived form does not constitute a republication of the story.
PAYSON — Female missionaries for The Church of Jesus Christ of Latter-day Saints now have a new selection of fashionable modest clothing to choose from, thanks to three innovative women.
It's not always easy finding cute outfits that also meet the dressing standards for sister missionaries, especially for those living outside of Utah.
Stacie Proctor, a Utah woman with a background in modeling and pageantry, is addressing those issues with her new company, She Traveled.
Along with California resident Deborah Kingdon and Nevada resident Mabel Alarcon, Proctor recently launched She Traveled, which offers skirts, tops and accessories.
"I think being a woman, and having been a younger woman recently, we have a real desire to present ourselves well … to be beautiful, to be well-groomed and everything," Proctor said. "And I think that I, from personal experience, found that it was really hard to find clothes that were both cute and modest, and so it felt like there was this choice that I was being faced with constantly, either wear something that I love and I think is darling and sacrifice my standards or keep my standards and feel somewhat restrained."
She Traveled is not just for sister missionaries, Proctor said. It's for anyone who wants to be modest.
The company will release collections inspired by continents. Currently, it features the North American line, which includes a lot of florals, nautical stripes and red, white and blue. They will soon release its European collection.
All of the skirts but one have pockets, something Proctor said missionaries really want. In addition, none of the clothes have to be layered to be modest.
Proctor said what sets them apart is the quality of their clothing.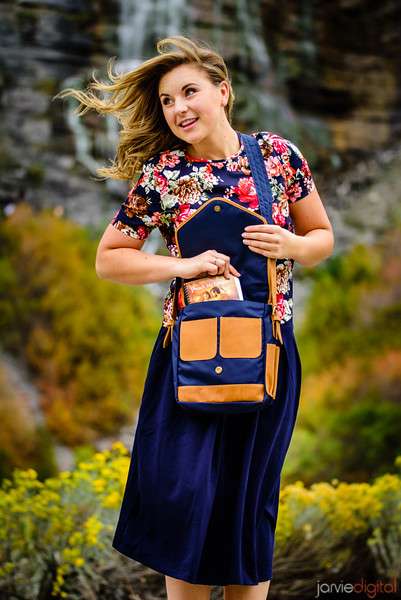 "We're not buying things that are already out there and making them work for sister missionaries, we're designing with sister missionaries in mind," Proctor said. "So it meets a checklist of standards as far as length or not being see-through, not needing to layer, needing to be easy care, needing to stand up to a lot of wear and tear and be super stylish."
The clothing is also designed to feature similar fabrics and color schemes so missionaries can mix and match and have a lot of outfit options even if they only take a few pieces on their mission, Proctor said.
The company also sells a bag designed by a returned missionary, and it's one of its best sellers.
The website links to a blog that features stories written by returned sister missionaries from ways to help future sister missionaries prepare for their missions to inspirational stories.
×
Photos
Related Links
Related Stories