Estimated read time: 3-4 minutes
This archived news story is available only for your personal, non-commercial use. Information in the story may be outdated or superseded by additional information. Reading or replaying the story in its archived form does not constitute a republication of the story.
SALT LAKE CITY — Nearly 10,000 miles from their home in South Africa, members of the Divine Life Society were busy readying a booth for their Hindu nonprofit organization Wednesday in preparation for the Parliament of the World's Religions.
Nine members of the organization traveled to Utah for the largest interfaith gathering in the world, which begins Thursday.
"We attend all Parliaments," said Bala Nadasen, a senior member of the society founded in 1949.
With this trip to Utah, society devotees will add Salt Lake City to their list of Parliaments attended, which have also included Cape Town, Barcelona and Melbourne. Their primary objective is to promote their master's spiritual literature to a larger audience, Nadasen said.
The Divine Life Society will also participate in six presentations during the event, ranging from the practice of yoga and meditation to the universal teachings of society founder Sri Swami Sivananda.
"The purpose is to share our knowledge of Hindu and to sell our books," said Nadasen, explaining that proceeds fund the organization's 500 projects in South Africa, which include schools, nurseries, housing, clinics, computer centers and a hospital.
Elsewhere in the convention center, Tibetan monks of the Drepung Loseling Monastery were preparing to construct a mandala sand painting.
Sand painting is an ancient Tibetan art form. Using crushed marble dyed into multiple colors, millions of grains of colored sand will be painstakingly laid into place on a flat platform throughout the Parliament, said Geshe Loden, a Tibetan Buddhist spiritual leader.
The sand mandala is constructed as a vehicle to help people appreciate the impermanence of all that exists, he said.
The point is to demonstrate that issues that trouble people from day to day are fleeting. Knowing that, people can live lives that are happy and less stressed.
Creation of the mandala will begin with an opening ceremony late Thursday afternoon. At the conclusion of the painting, colored sands are traditionally swept up and poured into a nearby river or stream to carry healing energies throughout the world.
"Nothing lasts forever. It shows that," Geshe Loden said.
Christine Ashworth, a member of First Unitarian Church of Salt Lake City, is among a large contingent of local volunteers helping to make Parliament a success.
Salt Lake City "is a place of faith so it makes sense that Parliament's here. There are people of deep faith here," she said.
Ashworth said she is struck by the beauty of the religious art taking shape in and outside the convention center.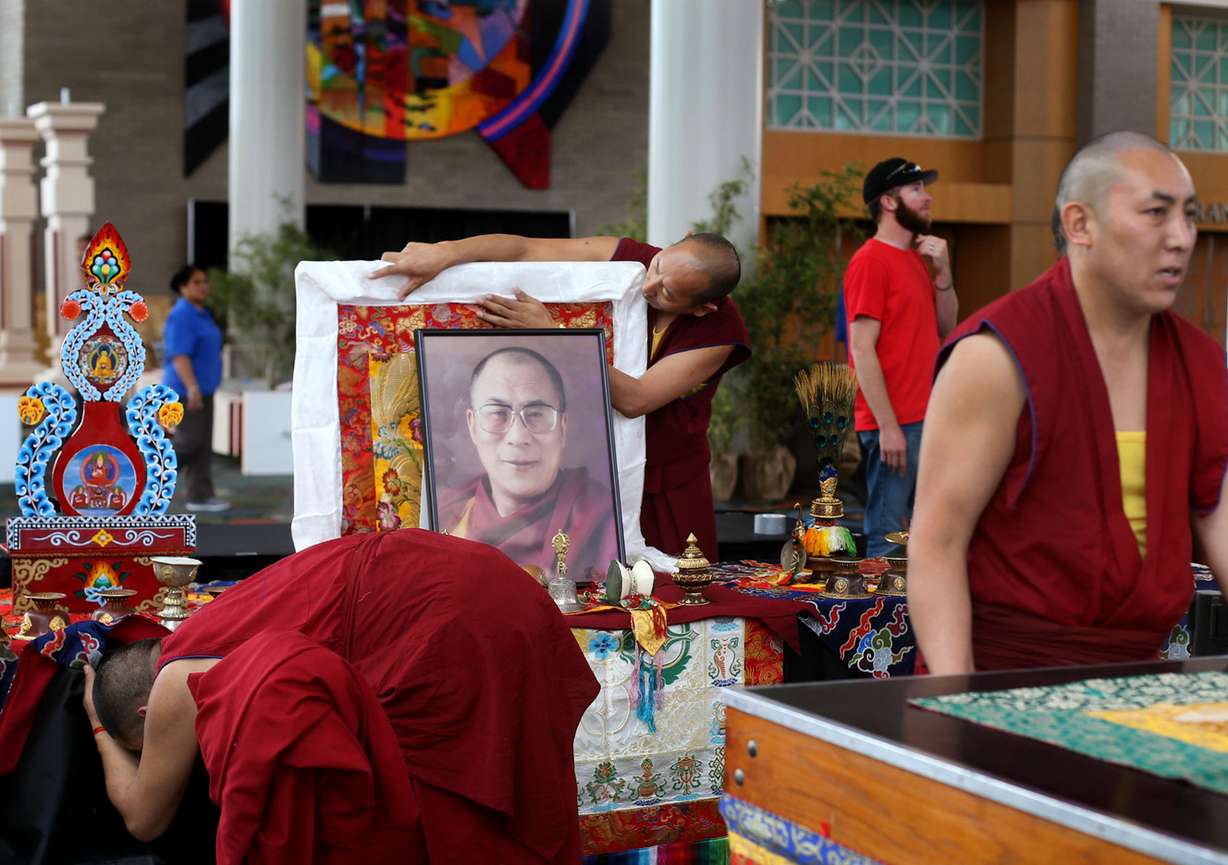 "How can you not be inspired by the idea of all faiths getting together to be a solution?" she said.
One of those artists, Joseph Lawrence Vasile, founder of Peace Flags in the Wind, brought his international traveling art installation to Parliament. The installation includes contributions of some 10,000 people across the globe, among them prison inmates, schoolchildren, people in nursing homes and celebrities.
"This was my carry-on from Myanmar," Vasile said, pointing to an enormous multicolored flag awaiting installation.
The flags have flown at the Dalai Lama Temple in India and the Rosa Parks Museum.
Parliament begins at 9 a.m. Thursday with the Women's Assembly, followed by a full day of plenary sessions and workshops.
The opening ceremony and procession is scheduled for 6:30 p.m. Utah Gov. Gary Herbert, Salt Lake County Mayor Ben McAdams, Salt Lake City Mayor Ralph Becker and faith leaders including Elder L. Whitney Clayton, The Church of Jesus Christ of Latter-day Saints' senior president of the Presidency of the Seventy, will be on hand to welcome Parliament attendees.
Parliament runs through Monday.
Contributing: Carole Mikita
×
Photos
Related Links
Related Stories