Estimated read time: 3-4 minutes
This archived news story is available only for your personal, non-commercial use. Information in the story may be outdated or superseded by additional information. Reading or replaying the story in its archived form does not constitute a republication of the story.
SOUTH SALT LAKE — Nearly 70 years' of alumni gathered at Granite High School Saturday to capture one last memory at the red-brick school they attended.
Participants who graduated between 1940 and 2009 came to the school at 3305 S. 500 East — some dressed in school T-shirts, letterman jackets and cheer uniforms — to take photos before the more than 100-year-old building is demolished.
Alumni representing each class apart from two participated in the event, and alumna Merili Carter took photos of individual classes and decades.
"It went way better than we anticipated, and we had a humongous turnout," Carter said.
Carter said they had a decent turnout from the 1940s, but it was the '70s and '80s that boasted the most participants.
Event organizers set aside a time for students who graduated in the 1930s, which included Carter's great-grandparents, but nobody showed up.
"...For me, it was kind of haunting, because my great-grandparents went there and graduated in the '30s and they … passed away," Carter said. "But to kind of sit there being ready to take photographs and not having anybody show up for their picture, it was just kind of spooky."
Kenny Watanabe organized the event on social media after he and a group of alumni were planning a reunion for all the Granite students who graduated in the 1980s.
When students in the '70s and '90s wanted in on the action, it turned into an all-class reunion that will occur August 2016. Since this could be the last fall Granite High stands, they decided to organize the photoshoot as a kickoff event to the reunion.
"It was pretty emotional, especially with the older classes, when you start talking to the alumni, you find out some things you didn't even know about the school," Watanabe said. "Before, that it was both the junior high and the high school together, and … us and the later decades would have no clue about that."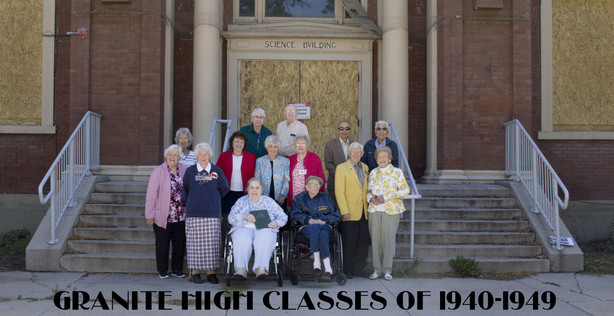 Watanabe said generations of families attended the school, and people were talking about their parents, grandparents and great-grandparents' attendance. Even a few former teachers showed up to the event.
Watanabe mentioned that unlike the former South High School being converted into Salt Lake Community College, Granite High School will be gone.
"...Not just closed, but gone," Watanabe said. "So that's why I think it turned into a little more emotional thing and a little more important event, because in a year, there could be no remnants of our high school."
Granite High School closed due to decreased student enrollment and high costs and may be replaced with 130 homes starting next year.
Former Granite High School students include Ed Catmull, president of Pixar, and the late Elder Neal A. Maxwell, a member of the Quorum of the Twelve Apostles of The Church of Jesus Christ of Latter-day Saints. Former BYU football coach LaVell Edwards coached football at Granite.
×
Photos
Related Stories