Estimated read time: 4-5 minutes
This archived news story is available only for your personal, non-commercial use. Information in the story may be outdated or superseded by additional information. Reading or replaying the story in its archived form does not constitute a republication of the story.
WEST POINT — A Davis County wildfire that led to the arrest of a North Ogden man reached 600 acres Tuesday night, several hours after it appeared the blaze had died down.
The Phrag Fire was 40 percent contained by about noon Wednesday, the Davis County Sheriff's Office said. The fire flared up Tuesday afternoon because of a hot spot toward its north end, said North Davis Fire District spokesman Mark Sessions. It was only about 100 acres in size at the time.
The North Davis Fire District originally estimated the Phrag Fire had spread to 600 acres. However, a GPS measurement Tuesday showed the blaze was much smaller, said Doug Bitton, spokesman for the Bureau of Land Management.
North Davis crews were joined by the Clinton, Syracuse, Layton, Roy, North Logan and Saratoga Springs fire departments. The Bureau of Land Management, the Utah Division of Forestry, Fire and State Lands, and an air crew from Georgia also provided help fighting the fire. In all, the district reported about 60 firefighters and four aircraft were on scene Wednesday morning. That number was down to about 30 by the evening.
Corey Jay Halvorson, 29, was arrested about 3 a.m. Tuesday for allegedly setting the fire. Halvorson, of North Ogden, was reportedly found at the scene by responding firefighters. He was allegedly belligerent with them and tried to stop them from assessing and putting out the blaze.
Halvorson also tried to lock himself in a fire truck, according to a jail report. He was booked into the Davis County Jail for investigation of reckless burning, lighting a fire where prohibited and other crimes.
No firefighters were injured and all livestock in the area were safe, Sessions said.
"(There) was not and should not be any concern for any evacuations from residences," he said in a prepared statement. "They are not in danger."
Bitton was hopeful the fire would be completely contained sometime Thursday.
"Weather conditions throughout the day were and still continue to be very favorable for the area," he said.
Fire managers are concerned about the charred debris of an invasive weed known as a "phragmite reed," according to Bitton. West Point residents reported finding the debris as far east as 650 West, he said.
The weed is difficult to eradicate and can severely clog water systems if it isn't promptly cleaned up, Bitton said.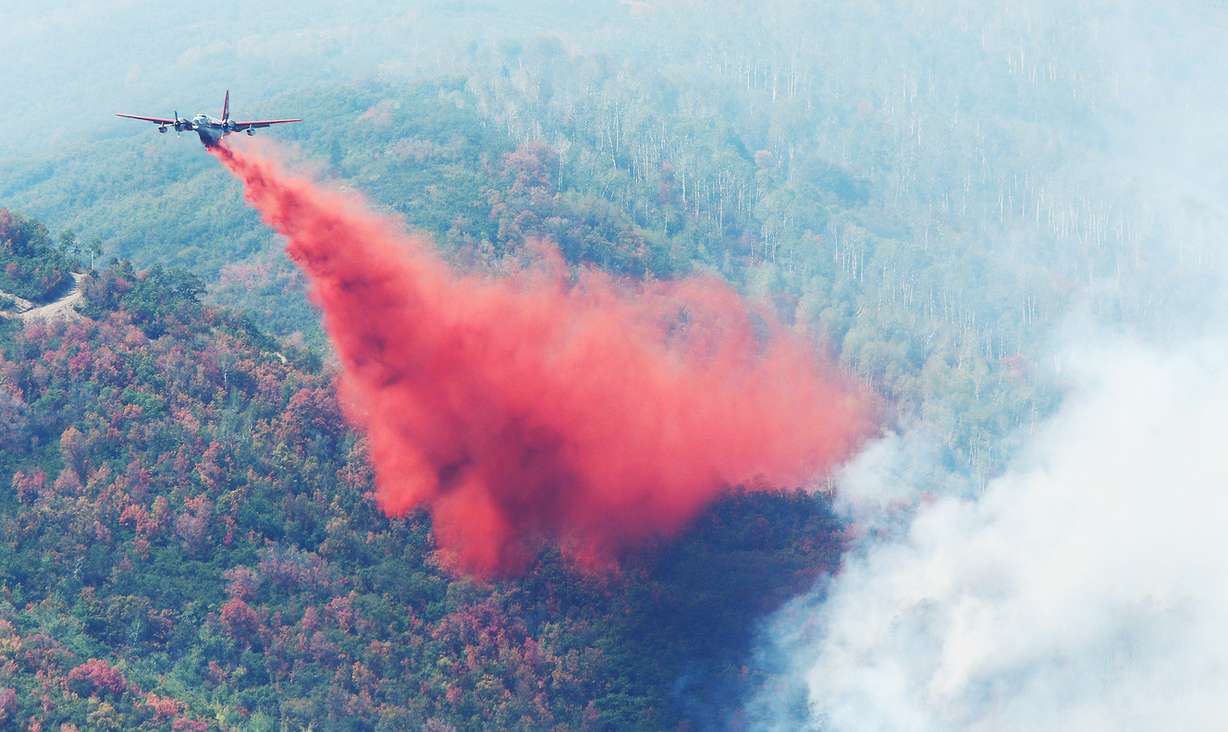 Another human-caused wildfire reached about 720 acres Wednesday evening in Wasatch County, down from 740 earlier in the day.
Fire officials said the Wheeler Fire, located near Deer Creek Reservoir, was about 25 percent contained by the early evening.
A drone was seen hovering directly over a firefighting helicopter Tuesday evening, causing all air operations to be suspended for the day, said U.S. Forest Service spokeswoman Kathy Jo Pollock. The Forest Service says an unauthorized drone near a wildfire can be extremely dangerous to both air and ground crews if it makes contact with aircraft or otherwise malfunctions.
"An air tanker had been on final approach to drop a load of retardant on the west side of the fire, but had to divert and drop the load in another location away from the fire," Pollock said in a statement.
The Wasatch County Sheriff's Office planned to increase police presence around the fire Wednesday and was looking for the person responsible for flying the drone. Anyone with information about the case is asked to call 435-654-1411.
About four helicopters were using water from Deer Creek Reservoir to fight the Wheeler Fire. About 230 firefighters from multiple agencies worked the blaze from the ground Wednesday.
Officials believe the wildfire is human-caused but haven't released information about exactly what may have ignited it.
Protective fire lines were laid around the nearby Canyon Meadows subdivision, but no evacuations were issued. State Route 92 remained closed to through traffic from Aspen Grove to Cascade Springs Drive on Wednesday. Several smaller forest roads were also shut down.
Aspen Fire
A 75-acre wildfire ignited near the mouth of Sardine Canyon in Cache County late Wednesday afternoon.
Firefighters took protective measures to keep the Aspen Fire away from 12 nearby homes, said Jill Parker, spokeswoman for the Cache County Fire District.
The cause of the fire was unknown Wednesday. No evacuations were ordered, Parker said. The fire was on private land, she said.
Oak Grove Fire
The lightning-caused Oak Grove Fire near Leeds in Washington County grew to about 350 acres Wednesday evening.
Nearby Oak Grove Campground was evacuated Tuesday because of the wildfire. Steep terrain made work difficult for firefighters, but no structures were threatened, U.S. Forest Service spokeswoman Marcia Gilles said.
About 115 firefighters and several aircraft were assigned to work the fire Wednesday. One person suffered a minor hand injury, Gilles said.
Crews from the Division of Forestry, Fire and State Lands, the Bureau of Land Management, and the Hurricane and Leeds fire departments all attended to the wildfire Wednesday.
Contributing: Sam Penrod
×
Related stories
Most recent Utah stories