This archived news story is available only for your personal, non-commercial use. Information in the story may be outdated or superseded by additional information. Reading or replaying the story in its archived form does not constitute a republication of the story.
LINDON — Identical twin sisters Kerri Bunker and Kelli Wall were shocked this summer when they learned they were each pregnant with a set of twins due two weeks apart.
And while that's shocking enough, they are both already mothers of one set of twins, they teach at the same school and they married best friends.
The sisters have had a difficult time getting pregnant, and both became pregnant with their first set of twins by in vitro fertilization.
Bunker's 3-year-old fraternal twins, Kole and Hallie, are just 11 months younger than Wall's fraternal 4-year-olds, Madison and McKell.
In June, Wall learned she was pregnant again, but the doctor said it was likely just one baby since her hormone levels weren't high enough for two. The ultrasound proved otherwise.
"To have twins twice is incredible," Wall said.
The day Wall learned she was pregnant, Bunker decided to take a pregnancy test, even though she'd been told the odds of her getting pregnant without medical assistance were slim to none.
The pregnancy test came out positive, and two weeks later, she learned she was having twins as well.
"It was like just one shock after another all summer long," Bunker said.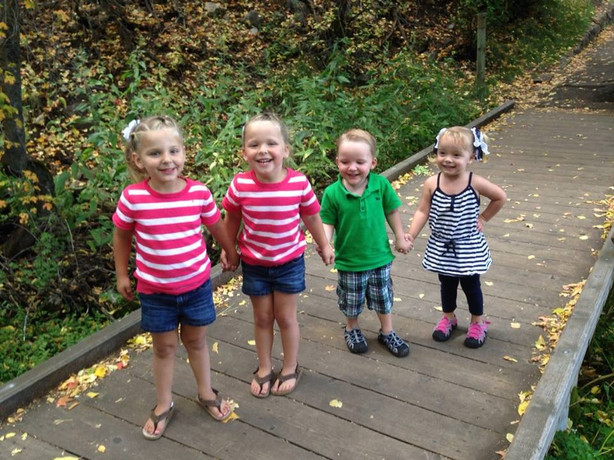 The sisters are nearing the end of their first trimester and are due in March.
"It's a unique story, because I always felt like my twin sister and I had a special bond," Bunker said. "And we've always kind of looked out for one another, and I thought, 'Oh wouldn't that be fun to have our kids experience that same thing.'"
Bunker also has a 2-year-old named Sadie. Come March, she will have 5 children aged four years and younger and Wall will have 4 children aged 5 years and younger.
Bunker and Wall teach third and fifth grade, respectively, at Timpanogos Academy.
The sisters said their principal confused them when they first started teaching and would observe one twin as they were teaching multiple times without observing the other.
They also have had a lot of the same students and used to teach in the same hallway.
Bunker said her fraternal twins share the same protective nature for each other that she and Wall did as identical twins.
Wall said her girls are very different but also similar.
"I think everyone needs a set, just because truthfully there's nothing better than having a best friend with you all the time," Wall said.
×
Photos
Related Stories