This archived news story is available only for your personal, non-commercial use. Information in the story may be outdated or superseded by additional information. Reading or replaying the story in its archived form does not constitute a republication of the story.
CRAZY HORSE, South Dakota — One of the West's most impressive tourist destinations has been drawing crowds for two-thirds of a century. But in all that time it has continued to be under construction. Although it wows most visitors who see it, it shows no sign of being completed anytime soon. In fact, it doesn't even look half finished.
It's the Crazy Horse Memorial, a dream first envisioned by a Polish-American sculptor and a delegation of Native Americans. They planned an enormous statue to honor Crazy Horse, the great Lakota warrior who helped defeat Gen. George Armstrong Custer in the Battle of Little Bighorn.
According to Jadwiga Ziolkowski, CEO of the Crazy Horse Memorial Foundation, the statue honors "the fact that he fought so fiercely for what he believed. He didn't ever sign a treaty."
Since 1948, the massive sculpture — which dwarfs the presidential faces on nearby Mount Rushmore — has been slowly emerging from a mountain in the Black Hills of South Dakota. Right now, only the face of Crazy Horse is recognizable. The rest of his head, his chest and his arms — as well as the mighty horse he will be astride — are still somewhere inside the mountain waiting to be carved. There's no way to predict if it will be finished in a few years, a few decades or — perhaps — a few generations.
The work is already moving to a third generation of the Ziolkowski family. In the 1940s, Jadwiga's father, Korczak Ziolkowski, was an award-winning sculptor working as an assistant on the carving of Mount Rushmore. He began the Crazy Horse project in 1948 and died in 1982.
A promotional video that plays several times a day in the Crazy Horse Memorial visitors center includes old film of Ziolkowski explaining how the project came to life. "I got a letter from this old Indian I'd never met, Standing Bear," Ziolkowski said. "He asked if I'd build a memorial to their people so the white people would know the red man had great heroes also."
Today, visitors pay $11 per person — or $28 for a carload — for access to the visitors center and gift shop complex. That's about a mile from the sculpture. An extra $4 per person buys a bus ride to the foot of the gigantic carving for a look up at the face of the Indian warrior. The project has never accepted any kind of government funding; the costs are paid entirely through visitor fees and private contributions.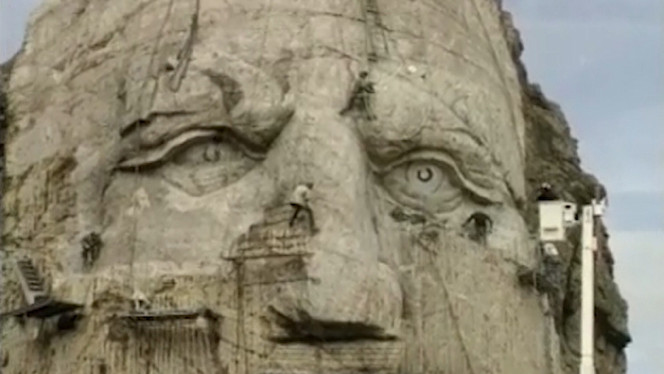 KSL-TV
The face alone is 88 feet in height, measured from Crazy Horse's chin to the top of his forehead. According to the promotional video, "All four heads on Rushmore combined would fit just in Crazy Horse's head, which is almost nine stories tall."
The statue is far more ambitious in design than the four presidential heads on Mount Rushmore because it also will include much of the Lakota warrior's horse. "The horse's head (will be) 216 feet tall, which is huge," said Lauren Ebert, director of media, marketing and public relations for the Crazy Horse Memorial. The horse's nostrils will be 30 feet in diameter, each of them about half the size of George Washington's 60-foot head on Mount Rushmore.
The overall statue — if it's ever completed — will be 563 feet high and 641 feet long. It would certainly be among the largest sculptures ever created.
"I always said I wanted to do something worthwhile with my life," Ziolkowski said in the archival interview. "I decided I would give my life doing this."
Ziolkowski worked on the sculpture alone at first. Eventually he was joined by his 10 children, typically with the boys working on the mountain and the girls working below on supporting activities and catering to tourists.
After Ziolkowski's death in 1982, his wife Ruth took over management. She died in 2014. Today five children and four grandchildren work on the project.
"Now it's the children's generation," Jadwiga Ziolkowski said. "And we're all committed to what we're supposed to be doing."
---
The number one question people ask is, 'When will it be finished?' The answer is, nobody really knows.
–Tour bus driver
---
The visitors center gives tourists a taste of Indian culture. Tourists often join in a snake dance with a Lakota dancer wearing ceremonial clothing. Ziolkowski's idea was that the sculpture would be the centerpiece of an even larger vision: a university, medical training center and museum for the North American Indian.
"He really wanted that to happen," Jadwiga Ziolkowski said. "He felt that by carving the mountain, people would come to see that and that would help with the university cost, the museum cost and the medical center costs. So it's just a way to make the money to keep those things going."
A tour bus driver told his passengers recently, "The number one question people ask is, 'When will it be finished?' The answer is, nobody really knows."
"You know, it's a massive undertaking," said the marketing director, Lauren Ebert. "To put a time-line on it — when you don't know what kind of rock you're going to encounter as you're carving down — just doesn't make sense."
Ever since Ziolkowski conceived the project, he and his family have resolutely refused government funding. Critics say that's why it's taking — seemingly — forever. Some skeptics have even suggested, as one blogger did recently, "Some people claim the whole thing's a scam, with the Ziolkowski family gouging tourists for millions with no intention of making any more progress carving the mountain."
The family points with pride, though, to continued progress since the face of Crazy Horse was completed in 1998. The length of his outstretched arm is apparent; a tunnel has been bored through the mountain as workers begin to open a huge space that Crazy Horse's arm will stretch across. Recent work on the mountain is focusing on his hand and portions of the horse's head that the hand will rest upon.
The project got a big shot in the arm recently with a $10 million matching contribution from Rapid City businessman T. Denny Sanford. That's helping pay for new state-of-the-art equipment.
Family and staff members express a strong belief that the mammoth sculpture will be finished — someday.
"I believe so," Ebert said. "I believe we have enough public support that we really can sustain and move forward."
Even with the sculpture so far from completion, it continues to be a popular stop for travelers. The most common quote from tourists: "It's amazing."
×
Photos
Related Stories