Estimated read time: 6-7 minutes
This archived news story is available only for your personal, non-commercial use. Information in the story may be outdated or superseded by additional information. Reading or replaying the story in its archived form does not constitute a republication of the story.
OREM — Tyler Brown didn't even have time to hang up.
The Utah Valley University defender stepped into a crosswalk in Provo last December following his junior season of college soccer, talking to his mother on his cellphone and casually walking through the intersection as the signal motioned him onward.
In a flash, Brown was on his back. The phone flew from his hand as he flipped over an oncoming vehicle. His mother, assuming the call had dropped, hung up the phone. It would be natural to assume he'd call back later; her son always did.
The next call was one no parent ever wants to receive: Brown was in the hospital, facing surgery for a broken femur, a dislocated patella and a torn medial collateral ligament that threatened to derail his college soccer career before his senior season. After being hit by a motorist traveling about 35 miles per hour who didn't notice the two painted lines at the intersection, the senior who graduated from high school in Garmisch Partenkirchen, Germany, and lived in Ukraine, Macedonia and Uzbekistan, among other places, was facing several surgeries to put a metal rod in his leg and stitch back together his MCL.
"I just thought, 'why was this happening to me?'" he remembered this past week after the Wolverines wrapped up practice at UVU. "I had a great academic year, a great athletic year, and I just didn't know why this was happening."
Brown returned to practice Tuesday, just in time to be named to the traveling squad for Utah Valley's season opener at Massachusetts on Friday and at UMass-Lowell on Sunday. But at the time, he couldn't think about soccer. His sole focus was on the pain of the accident.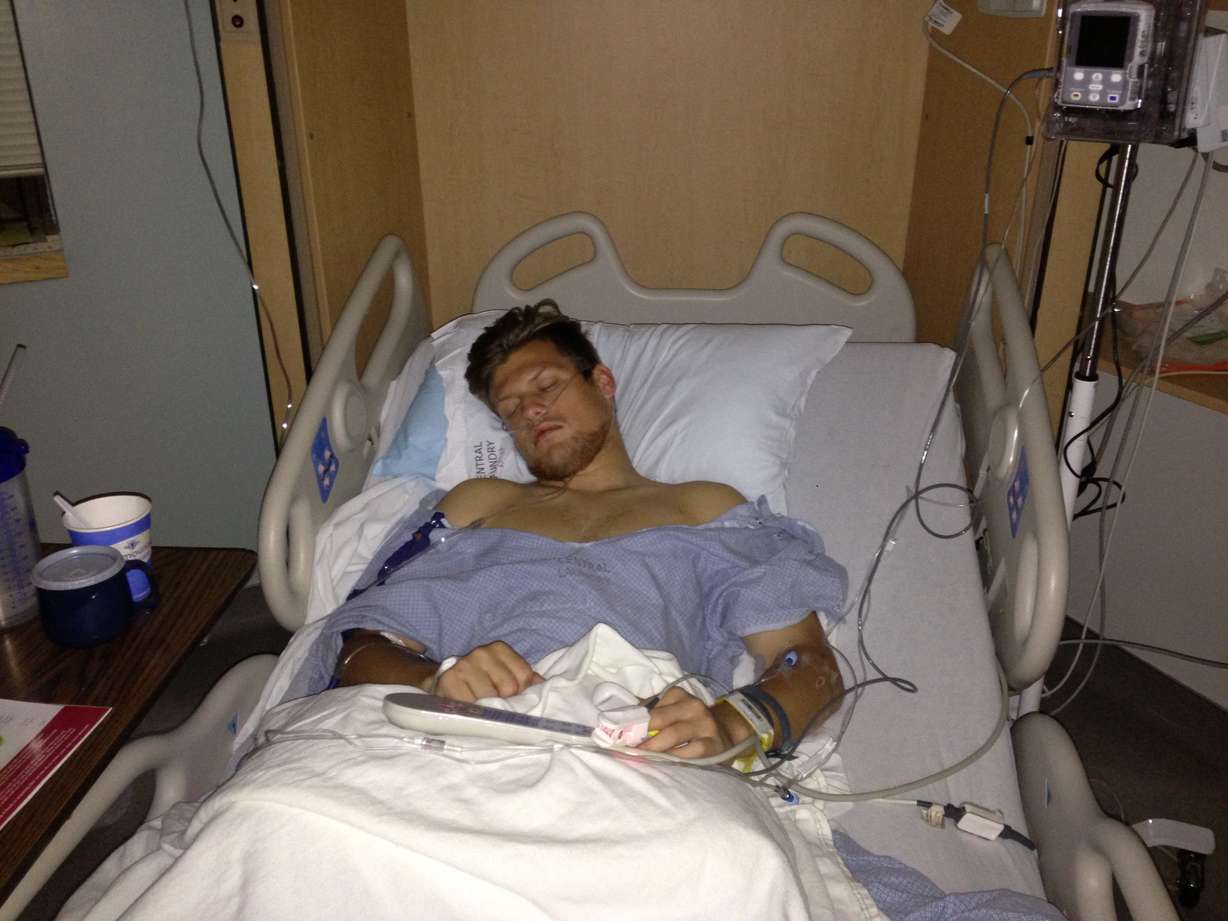 The all-Western Athletic Conference academic selection felt a searing pain in his leg, looked down to see his detached kneecap floating on the left side of his leg, and waited about 10 minutes for the ambulance to arrive and shuttle him to the hospital.
Once the news reached his teammates, the response was immediate. By that night, nearly the entire Wolverine soccer team had passed through Brown's hospital room.
Most of them, according to head coach Greg Maas, knew the defender was lucky to be alive.
"It was very tough news," Maas said. "First and foremost, we were thankful he was alive and that it looked like he was going to recover. But his injuries were pretty severe."
Soccer was the last thing on his coach's mind. The only senior on this year's UVU squad, Brown was coming off a season in which he appeared in all 18 games of the Wolverines' inaugural season in Division I, with 14 starts. The 5-foot-10 defender had high hopes of a future in soccer.
At the time, doctors didn't know if Brown would be able to run regularly again, let alone play soccer at the Division I level. If he tried really hard, he might be able to kick a ball in a year and a half, they told him.
But as the team kicked off the preseason in early August, Brown was there. He had already limped across the stage to accept the Wolverine Athletic Club's walk-on of the year award at the organization's annual spring banquet. He slowly worked his way into shape during the first few days of training, going from barely being able to take a step without doubling over in pain to running full-bore with his teammates at UVU's Intramural Fields in Vineyard.
---
It was very tough news. First and foremost, we were thankful he was alive and that it looked like he was going to recover. But his injuries were pretty severe.
–UVU men's soccer coach Greg Maas
---
"For this young man to persevere through a broken femur, a dislocated and fractured knee and a torn MCL over the past eight months — and get himself into a position where he didn't miss a day of preseason training, and he just got released for full competition," Maas said, "honestly, it's nothing short of a miracle."
When Brown got news that he could return to full-contact play less than nine months after his accident, and with his spot virtually guaranteed on the team's travel squad, he was overcome with emotion.
"I wanted to; I had a desire in my heart to get back on the field and to play with my team again," Brown said after his first day of full practice. "I had to get back mentally and physically again."
The journey wasn't easy. The senior who was born in Washington to a military family still has that rod in his femur and a knee brace for extra support and stability. He has scars to prove the rounds of surgery it took to repair his left leg.
Still, all that is an easy price to pay for the game he loves — and the second chance on life he has been given.
"Tyler personifies perseverance," Maas said. "He's a very committed player, a team player, and a leader by example. He's the first player to put his body in front of anything that he does. He can certainly put the team on his shoulders."
UVU has meant just as much to Brown. After graduating from high school in Germany, he quickly signed with UMass and played in 13 games, averaging 21 minutes per contest. After a two-year mission for the LDS Church to Albania, he transferred to UVU as they began the process of launching their program. He didn't play his sophomore season in 2013, but was on the field when the Wolverines kicked off their first-ever campaign in 2014 — against his former college team, a 5-1 win over the Minutemen for the newly formed side.
Even more exciting, he was playing with his younger brother Mark, who is currently serving a mission. His younger sister Linley is a freshman defender with the UVU women's team, and another sister, Brianne, just graduated from Southern Utah after four years of soccer.
The family, including parents Todd and JoDeen who recently moved to Orem, have been supportive of his soccer career, even as the elder son struggled through rehabilitation.
"His parents moved here as well for his senior year, which to me is very, very special," Maas said. "It personifies their commitment in support for him and his siblings, as well. It'll be nice to have them around, supporting him in his final year here."
After going out in the first round of the WAC Tournament a year ago, the Wolverines hope to improve on a stunning first-ever campaign. After graduating the team's only senior in Cameron Kidwell, the Wolverines will also be looking to replace a handful of players who are currently serving LDS missions.
Related Story
But newcomers have helped ease that burden, including former FC Dallas academy product Aaron Meyer. The youngster played with the Major League Soccer first team during a preseason game against Kaka and Orlando City SC, and he is just one of several newcomers expected to contribute to the squad immediately.
"The first year was just trying to figure out who we were as a team, and now we have all these guys who played in Utah but didn't always like playing with each other — they usually played against each other," Brown said. "Towards the end of the season, we started to find out who we were.
"This year, we kick-started it and it was like we hadn't left at all. I'm excited to be back."
Several teammates echoed that same sentiment. For Tyler Brown, though, just being on the field with guys he has grown to love is special.
"Soccer has been a big part of my life," he said. "The life lessons I have learned at UVU and through soccer mean everything to me. I'm just happy to be back."
×
Photos
Related stories
Most recent Utah stories