This archived news story is available only for your personal, non-commercial use. Information in the story may be outdated or superseded by additional information. Reading or replaying the story in its archived form does not constitute a republication of the story.
OREM — Karson Payton was supposed to be in San Luis Obispo, California, if you believe the decision of an 18-year-old Timpview High School senior.
Four years later, Payton is one of 23 freshmen building the Utah Valley men's soccer program from the ground up.
He made in immediate impact, scoring the first-ever goal in school history. When the moment finally came, though, he just did what he's done since he was a youth soccer player on a miniature pitch.
"I don't really remember all of it," Payton said. "I just remember the ball hopping nicely on the wing, and it came in to me. I took a look up at the goalkeeper, noticed he was going to the back post and I buried it near post."
The Wolverines opened up their account as Utah Valley's first Division I men's soccer team with a 5-1 win over Massachusetts in front of 2,610 fans at Clyde Field on Saturday night.
Payton committed to Cal Poly out of high school, but returned home after an LDS Church mission when head coach Greg Maas and UVU announced the addition of a new team in 2013.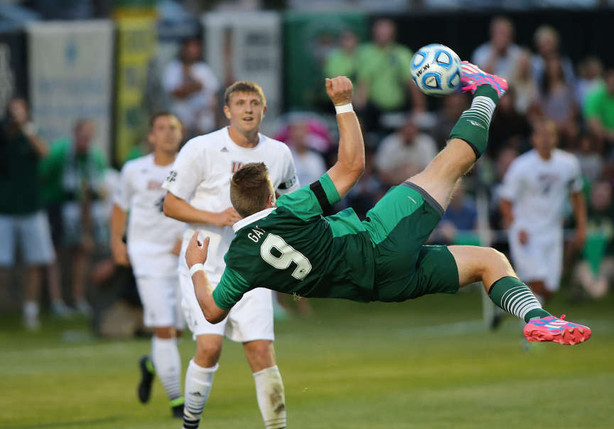 "It's been four years, and I'm just ecstatic to come back to my hometown and play in front of these fans and in front of Real Salt Lake, a team that I want to play for and be here," Payton said. "I love the fans, and I love the program already."
The night was the culmination of two years of work for the UVU athletic department, which was a junior college barely more than a decade ago.
"I'll tell you straightaway, it was a dream come true," said Maas, the team's inaugural head coach. "Today was a lot of hard work by so many people on the field and off the field. To come out and put a 5-1 result on a very respected program was just nothing short of a dream come true for us."
Fans filled the 1,500-capacity grandstand to the brink, then began sitting on blankets, boyfriends and lawn chairs around the perimeter of the field. Saturday night's match set a facilities record with a team picked to finish last in the WAC and a team picked sixth in the Atlantic 10.
Payton opened the scoring with a blast from 15 yards out in the sixth minute to see the home side go up 1-0.
But UMass responded only seven minutes later, equalizing through Mark Morris' header on the right side of the penalty box.
The Wolverines went on a run in the first half, with goals by David Adams, Austin Buxton and a rip inside the left post by Lucas Cawley less than two minutes before halftime.
"We expected a great crowd; there's been a lot of buildup to it. But those 2,600 fans are what certainly motivated this team to continue to play for a full 90 minutes," Maas said. "When we got that first goal, and they came and got the second goal, our guys didn't back down. This crowd got us energized. We have the best supporters here in college soccer. Clyde Field is going to be a difficult place to play for a lot of opponents."
Both teams combined for an offensive showing in front of 2,610 fans on the Wolverines' first regular season Division I game. The Minutemen held an 11-10 shots advantage, though UVU put eight of its shots on frame to UMass' six.
UMass came out flying in the second half, looking to get back into the game. But Matt Gay pulled down a pass in the 62nd minute, beat his defender and slid a shot inside the near post for the Wolverines' fifth goal of the night and a 5-1 advantage.
The Wolverines didn't let up on the visiting Minutemen with a four-goal advantage. Buxton flashed his speed in the 71st minute and tried to chip the keeper, but UMass net-minder Taylor Culp made a leaping save.
For the Wolverines, the program's first regular season match is out of the way. But the season continues, as Payton well knows.
"It is a relief; we've got this game, now we've got to move on," Payton said. "But we can enjoy it for tonight. But five goals? I don't think any one of us expect five goals. I thought we'd get one or two and sit in, but once the chances happened, we completed them and put them in the back of the net. We knew we could do more."
×
Photos
Related Stories