Estimated read time: 2-3 minutes
This archived news story is available only for your personal, non-commercial use. Information in the story may be outdated or superseded by additional information. Reading or replaying the story in its archived form does not constitute a republication of the story.
Alex Cabrero ReportingAfter a week of wondering and waiting, a West Valley woman finally got the news she was hoping for. The man convicted of kidnapping her will stay in prison.
Kevin Blanke won't get another parole hearing until June of 2012. That means for at least six more years, Jennifer Boone won't feel like she has to always look over her shoulder.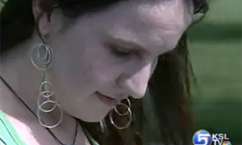 Jennifer Boone: "I got this in the mail yesterday."
Letters in the mail can bring good news or bad news.
Jennifer Boone: "The board makes the followig decision and order."
But the letter Jennifer Boone received Friday brought good news about her bad news.
Jennifer Boone: "It's such a relief because the past several months I've been very nervous."
You see, the man convicted of kidnapping Boone in Kearns almost 10 years ago had his parole hearing last week. And Jennifer just found out this week that Kevin Blanke's parole was denied. He'll stay in prison for at least another six years.
Jennifer Boone: "Oh, that was so exciting. I.. that was great news. I couldn't stop smiling. That makes me very glad."
Especially since she says Blanke raped her. But he never faced rape charges. The statute of limitations in Utah for rape at the time was four years.
He was caught four and a half years later.
During his parole hearing, Blanke admitted the sexual encounter, but he never said he was sorry.
Kevin Blanke/ Convicted Kidnapper: "I don't want to say anything verbally or otherwise that would ever hurt anybody because people have obviously been hurt enough."
Boone helped change Utah's law, increasing the statute of limitations for rape cases to eight years.
But for all she's done to help future victims, she feels in her case there will always be something missing.
Jennifer Boone: "I mean, it's still very hard at times, and it will always stick with me. There will always be times when it's hard, but I'm okay. I'm very lucky to be here. Some people that get kidnapped don't come back alive."
Blanke is also serving time for a second kidnapping involving a six-year-old girl nearly five years after Boone's case.
I spoke with her father this afternoon, and he says he's happy with the parole board's decision.
Both say they'll be at Blanke's next parole hearing in 2012.
×