This archived news story is available only for your personal, non-commercial use. Information in the story may be outdated or superseded by additional information. Reading or replaying the story in its archived form does not constitute a republication of the story.
MILLCREEK — SWAT officers rushing to rescue a woman held hostage by her estranged husband avoided a potential natural gas explosion Saturday by holding their fire even as dozens of shots came their way, police said.
Police say the man — accused of shooting one woman outside the home before taking his wife hostage inside — had apparently cut a natural gas line in the home and turned on the kitchen stove and oven before allegedly shooting his wife, prompting officers to move into the house following a three-hour standoff.
The potential explosion threatened nearby homes and businesses, police said.
"This gentleman deployed tactics that simply were above and beyond the standard patrol response," said Salt Lake County Sheriff Jim Winder, applauding the SWAT officers' skillful efforts and restraint under pressure. "People have to realize the valuable asset they have with their tactical officers here in Salt Lake."
Officers smelled the natural gas as they searched the home for the woman and, fearing an explosion, refrained from shooting back even as they were met by "a barrage of gunfire" from Valentin Dulla Santarromana, according to jail documents.
The officers navigated "several obstacles set up in the stairwell and hallway" and found the Santarromana in the basement, police reports indicate. Santarromana surrendered without incident and was booked into the Salt Lake County Jail for investigation of "multiple counts of attempted murder," Winder said.
The two women shot in the incident were both hospitalized in critical condition Saturday. Police have not released either of their names.
Winder noted that, while sometimes criticized, the SWAT team's specialized training and equipment likely saved lives.
"The tactical team did a remarkable job," Winder said. "Had we not had tactical assets today, I think we would have had additional fatalities, probably law enforcement officers."
---
Had we not had tactical assets today, I think we would have had additional fatalities, probably law enforcement officers.
–Sheriff Jim Winder, Salt Lake County Sheriff's Office
---
Officers had responded to the home, 3313 S. Scott Court, just after 8 a.m. following several reports of gunshots in the area, according to Winder. Police had been called to the home multiple times prior to Saturday's incident as part of an ongoing domestic situation, he said.
"I think this demonstrates the volatility that can occur with domestic situations," Winder said. "What we do know is this couple was involved in a very difficult domestic situation over the course of the last weeks and culminated in today's events. What the specific triggers were will be determined."
Winder said the woman who was shot was not related to the couple inside, but had arrived to try to help and then became a victim. According to the jail report, police arrived to find the woman, 42, laying in the street with multiple gunshot wounds, including one to her head and one to her torso that impacted her spine.
"Clearly, she was a friend of one or both of the parties and came over innocently, we are told, to try and resolve what was an evolving violent situation," he said.
Officers pulled the woman from the roadway to a safe position, then rushed her to an area hospital, according to a Unified police report. The woman's condition was downgraded followed surgery Saturday afternoon to extremely critical condition, Unified Police Lt. Lex Bell reported.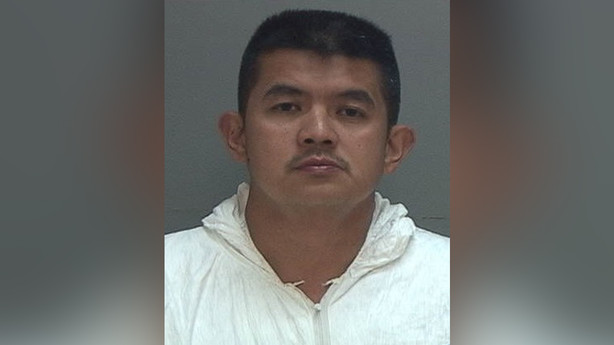 After allegedly shooting the woman, a witness told police that Santarromana then pulled his wife, also 42, into the house and threatened to shoot him if he didn't leave, the report states. No children were in the home at the time of the shooting.
Police surrounded the home and tried negotiating with Santarromana through the three-hour standoff, communicating with him through a lower-level window, police reports indicate. Officers watched as he took cover and heard shots fired, the jail report states.
The gunshots "(forced) the SWAT Team to quickly make entry in an effort to intervene and save the life of the hostage," according to a Unified police release. Santarromana's wife had been shot four times, the jail report indicates: once in the arm, once in each leg, and once in the head. The gunshot to the woman's head exited through her eye socket, the report states, causing a permanent loss of the woman's eye.
The woman is in serious but stable condition. Out of respect for privacy and family concerns, Unified Police has stated they do not plan to release the names of either victim.
A temporary protective order was requested against Santarromana by his estranged wife on Monday but has yet to be served, according to state court records. A hearing regarding the order was scheduled for Aug. 31.
Santarromana has no significant criminal history in Utah.
Winder urged those who may be involved in domestic strife to seek help.
"This, I think, is a lesson to folks when they get into these very difficult situations, one needs to extricate themselves from it," Winder said. "You need to get out of a situation if you feel it getting this volatile. People think they can contain it, and you really can't."
Help for people in abusive relationships can be found by contacting the YWCA, Women in Jeopardy, 801-537-8600, or the Domestic Violence Hotline, 1-800-897-LINK (5465).
Contributing: Wendy Leonard
×
Photos