This archived news story is available only for your personal, non-commercial use. Information in the story may be outdated or superseded by additional information. Reading or replaying the story in its archived form does not constitute a republication of the story.
LEHI — A group of Utah kids are making original comic books as part of a new after-school program that encourages kids to engage in STEM subjects and to create.
The program, Operation Inquiry, was founded in October 2015 and is located at Thanksgiving Point, according to STEM link coordinator Debra Van Wagoner. Funded by the Department of Workforce Services, Operation Inquiry is the local branch of the larger nationwide Maker Ed organization, also known as the Maker's Program.
The program focuses on teaching the participants real-life skills and getting them interested in STEM careers by providing interesting projects and showing them the job possibilities in those fields.
"Our goal is to get kids excited about science, technology, engineering and math, while providing a safe environment and a place where they can make good interpersonal relationships," Van Wagoner said. "Our last goal is to be career ready. While we are learning about and fiddling and tinkering and making these great projects, they learn about who would make this in the real world."
The free program runs year-round with classes Monday through Thursday from 4-6 p.m. and around 80 kids participate, Van Wagoner said. The program participants range in age from 12 to 15 and Wagoner said 80 percent of them are at poverty level or learning a second language.
Each class is made up of around 20 students who pitch a project idea that is voted on. The students have created a variety of products including LED pens, light-up chess boards, robotic gloves that play music and original comic books.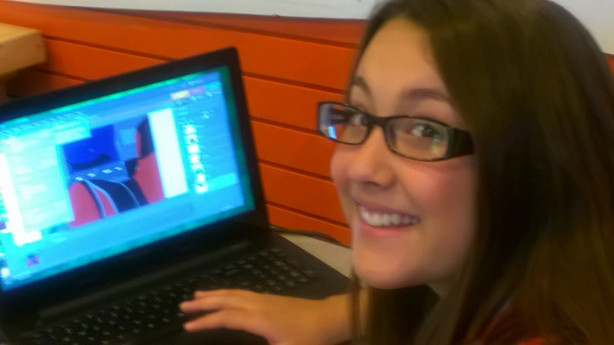 Lehi resident Makayla Erbe, 14, and her younger brother are involved in the program and she decided to join the class creating the comic books. Erbe said she wasn't into comics before joining the program and that it has been an exciting challenge.
"It's a process that takes a very, very long time," Erbe said. "We had to create the stories and then we had to work and create the panels and have the artists work. It's a lot of work."
Erbe said their 18-page, original comic book, "Rejected," tells the story of a man named Kevin who works at a publishing house. Kevin's job is to read the first few pages of each book and decide if it is worth publishing. However, when he uses a stamp to reject several of the books, the characters in the book come to life and become super heroes.
Van Wagoner said the comic books were really creative and she had hoped to sell some at the 2015 Salt Lake City Comic Con, but the organization wasn't able to get a booth. Regardless, she said she is proud of the student's incredible projects.
"These kids are pretty amazing and they work hard," Van Wagoner said. "If you are in this program, you work hard. I'm pretty proud of these kids."
Erbe said the program and experience of creating the comic book has helped her to gain friends and self-confidence.
"I've always kind of been the outcast at school and kind of the one in the corner, and I go there, and I feel appreciated and people listen to me and I feel welcome," she said. "It's been so amazing. … Not only do I love the environment, but I love that they're showing kids that we can be empowered. We don't have to be adults to create these things. I just love that feeling that I'm empowered and I can be successful, even as a teenager."
×
Photos