Estimated read time: 2-3 minutes
This archived news story is available only for your personal, non-commercial use. Information in the story may be outdated or superseded by additional information. Reading or replaying the story in its archived form does not constitute a republication of the story.
The Interstate-80 bridge project is considered the largest and most ambitious highway construction project of its kind in the world, and it's right in our own backyard.
This weekend, the first of 17 bridges goes into place. The first phase will involve seven bridges in the westbound lanes between State Street and 1300 East.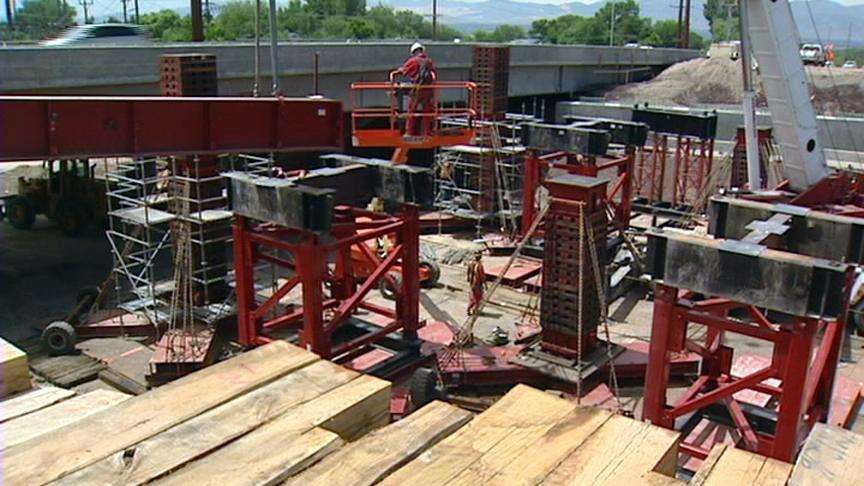 What weighs 3 million pounds and is approximately 120 feet long? Yes, that's roughly the size of each of the seven new bridges that will be put in at a rate of one-per-week beginning tomorrow night.
"I'm obviously a little biased, but my feeling it's like the Olympics for construction and engineering," said John Montoya, I-80 project manager for the Utah Department of Transportation (UDOT).
By the first week of August, seven bridges that you've seen built in the so-called "Bridge Farm" alongside I-80 will be in place, with three lanes of traffic in each direction.
It all begins tomorrow night. The first bridge will be set on a mobile transport unit, which, at one to two miles per hour, will carry the bridge to its permanent home at Highland Drive.
It will take about three hours to get the bridge to the right spot. "Then we'll come back Sunday morning and slide it out, and then lower it, the jacking down process, which we anticipate could take as long as into Monday evening," said Brandon Squire, deputy project manager for Ralph L. Wadsworth Construction.
They'll do it again and again for the next six weeks, no doubt making the process more efficient each time. "This first one, we anticipated it taking the longest. There will be some lessons learned, and we'll make a few changes to how we do things," Squire said.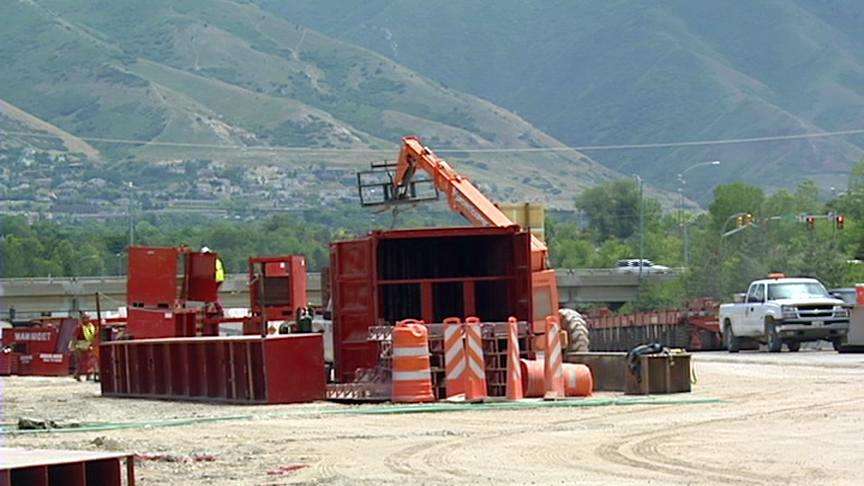 Once the seven bridges in the westbound lanes are in place, work can then start on replacing those in the eastbound lanes. The entire I-80 bridge replacement project should be completed by December of 2009, at a cost of more than $137 million.
It's a unique project that's being watched by highway engineers all over the country. National Geographic is also here to document it all.
It's also expected to be quite the attraction, and spectators are welcome. "We're going to close the 13th eastbound on- and off-ramp; those will be viewing areas where people will be able to watch," Montoya said.
So tomorrow night, 1300 East will be closed at 7 p.m., and the first bridge will start moving about 9 p.m.
Here's the neat part about this whole project: I-80 never has to close to traffic. Lanes will be restricted from time to time, but you'll always be able to get through.
E-mail: kmccord@ksl.com
E-mail: tcallan@ksl.com
×
Related links
Most recent Utah stories