Estimated read time: 4-5 minutes
This archived news story is available only for your personal, non-commercial use. Information in the story may be outdated or superseded by additional information. Reading or replaying the story in its archived form does not constitute a republication of the story.
PARK CITY — As they merge two iconic resorts into the largest ski area in the country, Park City Mountain Resort owners are relying on a familiar look and feel to convince skiers there is only one place they want to be this winter.
Park City's name, next to the swooping Canyons logo (which is now red), will brand the 7,300-acre resort that aims to be unparalleled starting this winter.
"There's only one community. There's only one resort. There's only one place like Park City," Bill Rock, CEO of the merged resort, said to cheers and applause at the packed kickoff event in Park City on Wednesday.
The company's new website, housed under the familiar ParkCityMountain.com address, was simultaneously unveiled and soon the resort's tagline, "One Park City," was trending locally on social media, all carrying the mashup design.
"We went down the road exploring other types of logos, but ultimately we came back to something that we already liked," Marketing Director Davy Ratchford said as he explained the resort's new brand.
The acquisition and union of The Canyons Park City Mountain Resorts last fall by Colorado-based Vail Resorts Inc. ended a tense standoff that began when Vail swooped in to buy PCMR after it missed an April 2011 deadline to renew its lease with Talisker Land Holdings, which owned much of the mountain.
The ensuing three-year legal battle threatened to close PCMR for the 2014-15 season, until Vail cut a deal with Talisker to buy the resort, manage the neighboring Canyons slopes, and eventually combine the two.
Though some of his neighbors have been icy toward the buyout, Park City resident Scott Bridges has been rooting for Vail since it first moved to buy the resort.
"I've been fortunate that I lived in Europe, so I know what a big mountain experience is all about, so I'm hoping that this is part of a bigger plan even still for 'One Wasatch,'" Bridges said.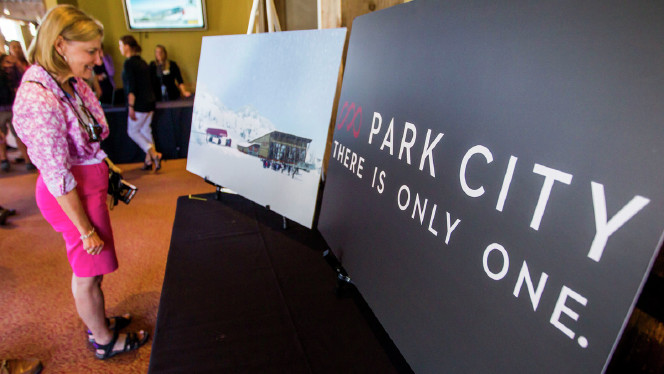 Stacie Scott/Deseret News
After the initial $182.5 million payout to purchase PCMR, Vail resorts has poured $50 million into upgrades at the expansive resort, including the high-speed gondola running from the base of PCMR's Silverlode Lift to Canyons' Flatiron Lift, a new 500-seat restaurant, upgrades to existing lifts and an improved snowmaking process.
In all, the resort boasts 17 slopes, 14 bowls, 300 trails and 22 miles of lifts.
"Any one of those projects at any resort in any given year would be huge, and to do them all at once is pretty incredible," Rock said.
Bridges and his 12-year-old son, Jack, happily sampled food from the resort's new restaurant while his wife, Lois Bridges, took pictures with friends in front a backdrop bearing the new Park City Mountain Resort logo. The family has spent their winters hopping between the two resorts.
"(Jack) has had a pass to both mountains for the past four years, so this is exciting that we can unleash him in one spot and now he has access to everything," Scott Bridges said.
Jack is especially excited for the new Quicksilver gondola, which promises to shuttle skiers between the two areas in under 10 minutes.
---
There's only one community. There's only one resort. There's only one place like Park City.
–Bill Rock
---
The target open date for the resort is Nov. 21, snow permitting, with the gondola running by Nov. 27.
Under Vail ownership, the Park City resort falls under the company's Epic Pass, which includes the slopes at any of the company's dozen U.S. resorts.
Marissa Stanger, who splits her time between Denver and Park City, is an enthusiastic Epic Pass holder who looks forward to bringing her Colorado friends to Utah with her.
"I can ski the Vail mountains in Colorado and then come here and live with (my parents) and ski here," Stanger said. "I've got a friend in Denver who has the Epic Pass already. I've told him I'm going to bring him out here so he can check out Park City."
Park City has become home base for the Stanger family, whose five children all live in different areas but come together to ski each winter. Their parents moved to Park City a week ago, making their meeting point official.
"We moved here because we liked it before all of this happened, and we like it more now," Jeff Stanger said. "Vail runs a classy show."
Contributing: Keith McCord
×
Photos
Related stories
Most recent Utah stories