Estimated read time: 3-4 minutes
This archived news story is available only for your personal, non-commercial use. Information in the story may be outdated or superseded by additional information. Reading or replaying the story in its archived form does not constitute a republication of the story.
CHEYENNE, Wyo — Research out of Wyoming on car-versus-deer collisions gave the Utah Department of Transportation something new to consider.
Corinna Riginos and Morgan Graham tested wildlife warning reflectors on four Wyoming highways where car-deer collisions pose a serious and costly threat to highway safety.
"When we covered up the reflectors with a white canvas bag, basically because we just wanted to neutralize the reflectors, we found that the white canvas bag worked better than the reflectors," said Riginos.
They recorded a reduction in the number of dead deer and a change in deer behavior in those areas.
There were 65 percent fewer deer carcasses in the areas where they put a white cloth bag over the reflectors simply as a control for their test. The reflectors, however, were 32 percent more effective than the posts when they were covered with black bags, also part of the control.
"We certainly didn't expect to find something as simple as a white bag to be even more effective," said Riginos. In their findings, they "suggest that the white bags are more visible or reflective to deer than the red wildlife warning reflectors and are thus substantially more effective than reflectors."
"We don't know exactly why," said Riginos. "Obviously, it's really hard to get inside a deer's head and know exactly what they're thinking."
They theorize the white color might alert the deer, much in the way they alert each other by flipping their white tails in times of danger.
"I think it's something about the moving light, the brightness of it," she said. "Even where we were doing this, the deer ultimately did cross the road, when there were no cars. It just made them more aware of the vehicles and less likely to run into the road in front of a vehicle and get hit."
Steering clear of deer is a big problem in Utah, too.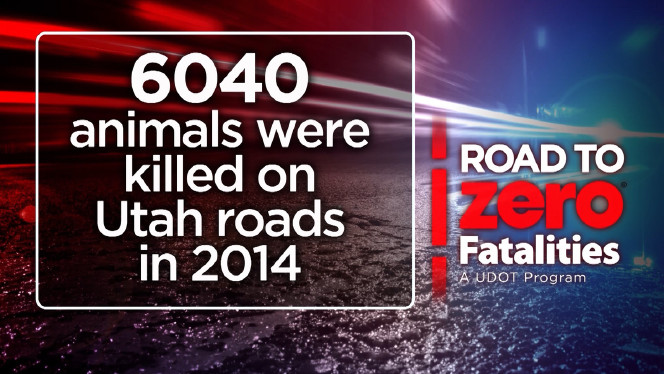 KSL-TV
"I think it's really interesting," said Brandon Weston, UDOT's director of environmental services. "It's good to see new innovations being tested."
He's eager to learn more about it.
"If it proves to be an effective solution, it's something we would definitely be interested in trying," he said.
UDOT tracks areas across the state where the most car-deer collisions occur. US 40 between Park City and Heber City is one of those areas. UDOT built tall fencing along that stretch of highway that funnels the deer into underpasses, and away from traffic. Farther down the road, an electrified mat alerts the deer to stay away.
"The main part of being able to do these things successfully is knowing where the deer are, and where the deer are moving to," said Weston.
Last year, more than 6000 animals were killed on Utah roads — more than 5,500 mule deer and 150 elk. On average, a collision with a deer costs more than $2,500 to repair. The costs soar with injuries to the driver or passengers.
If a white cloth bag on a pole works well, UDOT is willing to try it.
"We're going to continue working to find new ways to keep the roads safer," said Weston.
"It's not a perfect solution," said Riginos, who plans more research. "But, it definitely suggests that we might be on to something good here."
×
Photos
Related links
Related stories
Most recent Utah stories