Estimated read time: 2-3 minutes
This archived news story is available only for your personal, non-commercial use. Information in the story may be outdated or superseded by additional information. Reading or replaying the story in its archived form does not constitute a republication of the story.
PROVO — The National Safety Council estimates more than 400 people will die on America's roads this Independence Day weekend, and nearly 50,000 will be injured.
Those are the highest numbers since 2008. However, the council also estimates 155 lives will be saved by motorists wearing seat belts in crashes.
Utah County Commissioner Greg Graves counts himself among those whose lives were saved by wearing a seat belt. For him, it happened twice.
"I don't remember much of that moment," Graves said of the first vehicle crash 20 years ago.
That spring, he was preparing to graduate from Springville High School when he went for a drive with a friend who had a new car.
As they were headed home from the drive, "we were T-boned by a guy who ran a stop sign," Graves said.
Graves was sitting in the front passenger seat, which took the brunt of the collision. Rescuers had to cut him out of the car.
"Because we were all wearing our seat belts, I'm here and able to tell about that story," he said.
The crash fractured Graves' skull and shattered his eye socket. He spent a couple of weeks in the hospital recovering.
Two decades later, he knows how fortunate he was to survive the crash. He said he thinks about it every day.
"I think about my three daughters, now that I have one that is starting to drive, what I would have missed out on in my life," Graves said.
He's thankful for his family and the contributions he has been able to make to his community.
"I would've missed out on all of those opportunities had I not been wearing my seat belt in that accident," he said.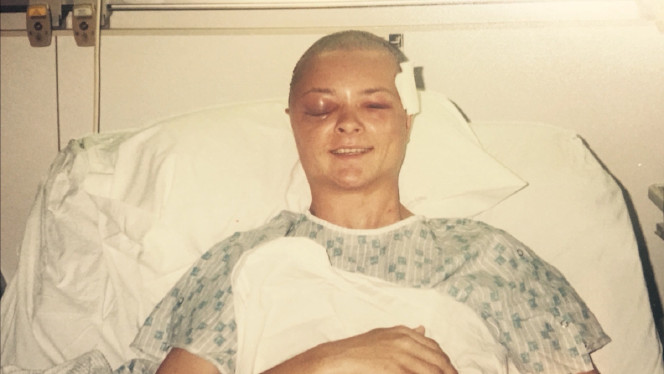 Courtesy Greg Graves
Seventeen percent of people in Utah still do not buckle up. In rural Utah, the number jumps to 26 percent. But those statistics should decline with the primary seat belt law — one Graves did not need to be convinced by.
Two years ago, Graves was nearly killed again when a distracted driver hit him at a busy Provo intersection. The two vehicles were "going 55 miles an hour, and we hit nearly head-on," Graves said.
Because of his seat belt, Graves survived a second crash that was the other driver's fault.
"I had short-term injuries, and side-effects," he said, "but again, it saved my life."
As a boy, Graves said his parents always insisted he wear a seat belt, and he knows the statistics are in his favor too.
Now, in his family, he takes the same approach.
"We are avid seat belt wearers everywhere we go," Graves said. "We are not out of the driveway until the seat belt is buckled up."
×
Photos
Related links
Related stories
Most recent Utah stories