Estimated read time: 4-5 minutes
This archived news story is available only for your personal, non-commercial use. Information in the story may be outdated or superseded by additional information. Reading or replaying the story in its archived form does not constitute a republication of the story.
Editor's Note: Some of the graffiti shown in the video is offensive.BRIGHAM CITY — An effort to document the demolition of the Intermountain Indian School evolved into a labor of love for a local photographer.
Brad Peterson grew up in Logan and was fascinated by the school in Brigham City as a child. When he heard the buildings, which were boarded up and in disuse, were going to be demolished to make way for a new Utah State University campus, he wanted to make sure their history was preserved.
At first he just planned to take preservation photos of the buildings, but when the doors were opened up to him he discovered murals painted by students on the walls inside. He felt compelled to do more.
"You just knew from these paintings immediately the great talent these kids had and what they were trying to communicate and keep alive, which is super powerful," he said. "It's very personal and almost spiritual when you think about it that way. That's what touched me."
After receiving permission from USU and the demolition company, Peterson removed the mural that was in the best condition. With the help of an art teacher from Centennial Junior High School, Melanie Reeves, he carefully pieced the artwork back together, removed graffiti and filled in the bullet holes.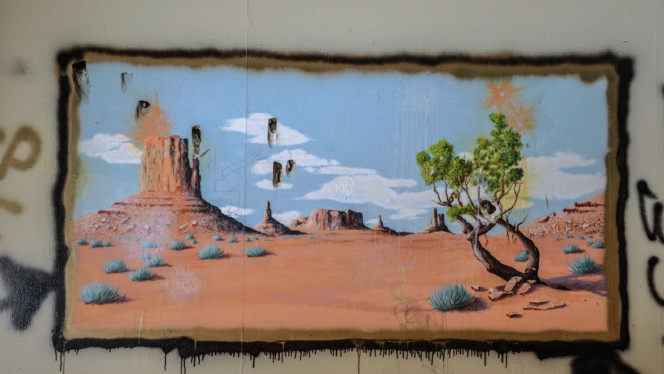 Courtesy of Brad Peterson
The project largely took place in 2013, but the restored mural — along with other artifacts Peterson recovered from the buildings — were displayed for the first time on May 22 at an inter-tribal reunion for alumni of the Intermountain Indian School.
Ronald Geronimo invited Peterson to speak at the reunion after discovering a video of the painting's restoration on YouTube. He reached out to Reeves to thank her for her work, and she in turn put him in touch with Peterson.
"The video was heartbreaking at first, seeing the buildings being demolished, but when they showed the painting being saved from the building and being restored, it was like she was restoring our broken heart along with the painting," Geronimo wrote in an email.
Peterson could only physically salvage the one mural, but he digitally preserved and restored about a dozen more. He removed graffiti from the paintings using photo editing software and printed them on canvas.
Seeing the paintings brought back good memories of the buildings where students lived, Geronimo said. He said the landscape murals were likely done by Navajo students because it shows the landscape of their homes, while the other paintings were probably done by students during the school's inter-tribal years.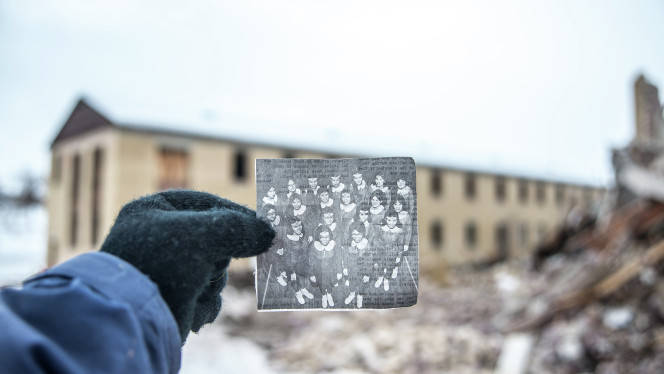 Courtesy of Brad Peterson
"Knowing that a piece of Intermountain was saved gives us a feeling that Intermountain will not be forgotten," he wrote. "Intermountain was our home; Intermountain molded who we are today — lifelong friendships were developed.
"Over the years, I have gone back to Intermountain and every time I go back, a little more of the school is gone," he continued. "Now only a few buildings remain and although it is sad to see, we know that progress will take its toll. But still we want people to know that we were there, we want people to know that Intermountain was something special to us, that it was a good place that produced good people."
The Intermountain Indian School served as a boarding school from 1950-84. At the two-day reunion, alumni shared memories and heard from a former math teacher and chess coach. Geronimo noted that the school's chess team took the state championship several years.
Peterson also had the opportunity to give alumni the artifacts he recovered from the buildings. In the basements he found items like a wallet full of pictures, paint brushes, a carved peace pipe and an old film. He said some of the women particularly enjoyed seeing an incident report journal because they remembered filling out the forms themselves.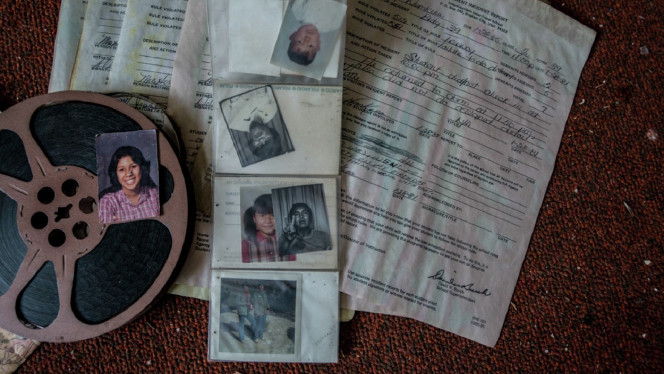 Courtesy of Brad Peterson
The preservation project consumed a significant amount of time. Peterson estimates he took about 12,000 pictures of the buildings, in addition to more than 100 hours of video footage of the demolition. However, he said the effort was more than worth it.
"I'm not a professional restorer. I'm just an artist and photographer that saw an opportunity and felt almost compelled or driven, like I was obligated for some reason to preserve these paintings, and I'm glad that happened," he said. "I'm already starting to see the positive results from this."
Peterson is working with the visitor center in Monument Valley, which was home to many of the school's students, to permanently put the mural and canvas reproductions on display. Those who are interested can order the paintings on canvas from him at cost.
×
Photos
Related links
Most recent Utah stories