Estimated read time: 3-4 minutes
This archived news story is available only for your personal, non-commercial use. Information in the story may be outdated or superseded by additional information. Reading or replaying the story in its archived form does not constitute a republication of the story.
BROOKLYN — A little bit of encouragement can carry a person a very long way.
That's the idea a New York grad student wanted to convey in her thesis project, which was inspired by more than 100 notes slipped into her lunchbox by her mother over a decade ago. She created a website where she posted the handwritten notes, hoping it would inspire others to do the same.
As with many pre-teens, sixth grade was a tough year for then-12-year-old Skye Gould. Along with the usual day-to-day angst, her mom, Stephanie Skylar, worked full time and wasn't able to be there all the time, according to Today Parents.
In an effort to remind her daughter that she was always present, even if she wasn't there physically, Skylar kicked off what the two would call the "Lunchbox Letters" project. She'd hand-write a note to her daughter with little pieces of advice, encouragement and love.
"It was an easy way to interject her voice into my everyday life without being overbearing," Gould told Today. "They were little reminders that what I was feeling was normal, but also that I would get through it."
Over the course of that year, Skylar wrote over 100 letters.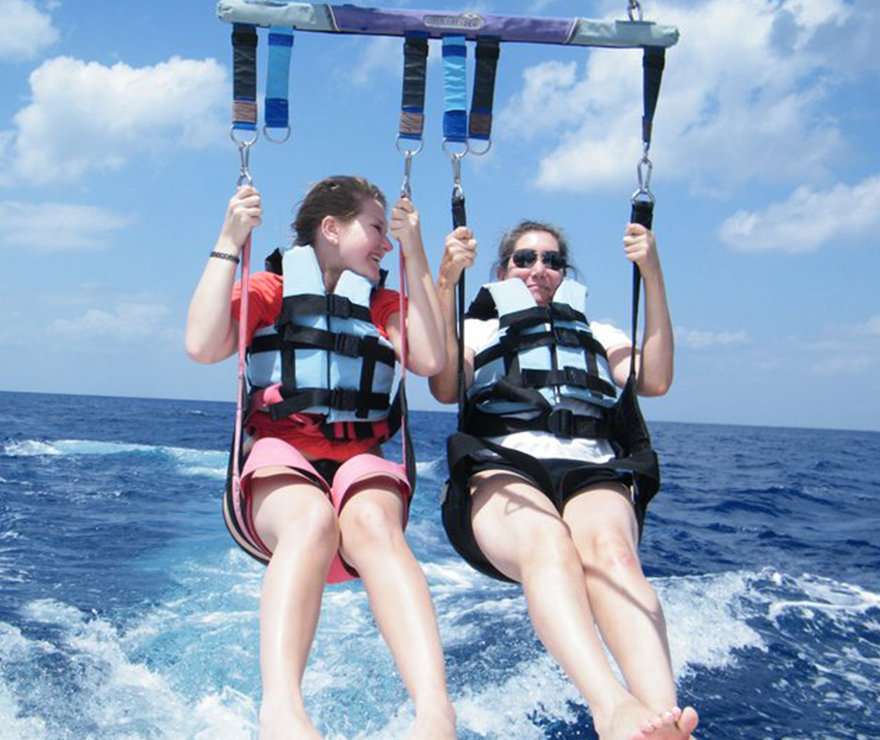 "Don't be quick to judge the girls at school," one letter reads. "It's up to you to look for something good in each one."
"Remember we are a strong family and we will make the right decisions because we stick together," reads another.
When Gould's grandfather grew sick, it was a major point of stress and worry for her. Skylar addressed that pain in one of her letters.
"Love as hard and as strong as you can, even if it means loving someone so much you get paralyzed with fear if something bad happens to them," her mother wrote.
Her daughter held on to every single one and kept them safe in a Sketcher's shoebox, according to her website, "Advice from My Mom."
"This small window of time in my life was very significant," Gould writes on the website. "I was extremely shy; being a confident young woman was never something that came naturally to me. My mom wrote me these letters because she believed in the person that I was always meant to be."
Flash forward 11 years to today. Gould — now a master's student at Ohio University — needed a basis for her thesis on visual communication.
"I had forgotten (the letters) existed, and I came across a book about handwritten letters and I had an epiphany," Gould told ABC News. "I called my mom and she still had them all. I started working on my project and it evolved into a website over the past year."
---
Love as hard and as strong as you can, even if it means loving someone so much you get paralyzed with fear if something bad happens to them.
–Lunchbox letter
---
Gould created "Advice from My Mom" in an effort to inspire other parents and children to open the same line of communication that helped her as a young adult.
"My actual thesis question was, 'Can my story inspire others to share their own?' " she told Today Parents. "I've gotten a lot of amazing feedback since I posted. … I've gotten so many emails from mothers telling me that they either do this for their child, or they're going to start doing it."
Gould, who now works as a graphic designer in Brooklyn, credits her mother for giving her the inspiration all along. The woman behind them says she didn't think she was doing anything extraordinary when she began writing the letters, but realizes now that over the years, her daughter has most certainly taken her advice.
"I didn't want her to fall into the pack with the others," Skylar told Today. "I wanted her to be independent, strong and happy."
×
Related links
Related stories
Most recent Family stories