This archived news story is available only for your personal, non-commercial use. Information in the story may be outdated or superseded by additional information. Reading or replaying the story in its archived form does not constitute a republication of the story.
SALT LAKE CITY — Many children's wish lists include a lunch box or bag covered with cool designs that he or she can proudly carry to lunch each day. What would make that lunch bag even more awesome would be a new one every week, covered in favorite characters drawn by one of the most sought-after animators in the country.
A far-fetched dream, perhaps. However, for three young ladies, it is their reality.
In 2011, BYU grad and professional animator, ("The Simpsons," "The Polar Express," "Monster House," "Surf's Up," "Rio," "Ice Age: Continental Drift," "Epic," "Peanuts") Seth Hippen was charged with the task of writing names and putting notes in his two older daughters' lunch sacks — something his wife, Karalenn usually did.
What may have looked like a boring paper sack, he saw as the perfect blank canvas.
"I couldn't help it," Hippen said. "It was almost October. I love drawing Halloween stuff and here was a blank canvas ready for a Halloween doodle. Karalenn saw what I was doing and officially knighted me, 'Royal Lunch Bag Designer,' a title I gladly took on.
"It can be tough watching your child go off to a new school on their own, so this was a great way to give them a little reminder that they're not alone. It was also a great excuse for me to have some fun."
Lunch Bag Fridays was born. Every Friday, Hippen has a lunch bag ready for each of his three daughters. The youngest just started kindergarten.
---
This was a great way to give them a little reminder that they're not alone. It was also a great excuse for me to have some fun.
–Seth Hippen
---
Inspiration, he said, comes from anything from holidays to everyday life.
"Some weeks I draw something that has to do with what's going on in their life," he said. "School plays, mean teachers and classroom crushes have all been featured. I've drawn things in reference to a conversation we had that week. Some weeks are inspired by their favorite stories and sometimes by my favorite stories.
"Sometimes I just make up a story or a character. There are times the inspiration flows freely and there are times I seem to spend more time figuring out what to draw than the time it takes to draw it. That's when I brainstorm with Karalenn, or sometimes I ask my girls for requests.
"I don't ask them often, because I like to keep it a surprise for Friday mornings. When I have an idea that should be bigger than one lunch bag, I'll spread the drawing across two or three of them."
Not only do his girls get a kick out of their dad's creations, but the doodles also have become quite popular with other students and teachers.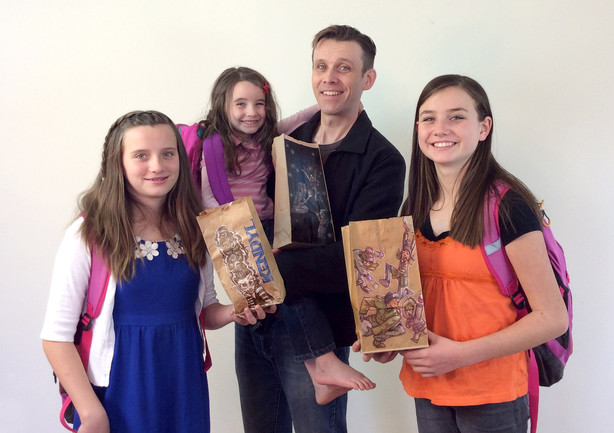 "The first year I think we were all surprised by others' reactions," Hippen said. "Teachers started asking to see them at school every day. Kids that had never talked to my children started coming up to them to see the latest lunch bag. Cafeteria aides would hold up the bags for everyone to see."
One of his daughters started selling them for $5 each, which Hippen discovered when she started making strange requests for different bags.
The Hippens now ask their daughters to bring the bags home each day. They have made quite the collection, even wallpapering the home office with many of the creations.
While he knows his days of drawing on his daughters' lunch bags are numbered, Hippen wants his girls to look back on them with fondness.
"I want them to look back years from now and see that even though I wasn't able to give them everything they needed, I tried my best to be there where I could," he said.
To see more of Hippen's lunch bag creations, search, "Whizbang Bags" on Facebook.
---
![](http://media.bonnint.net/slc/2505/250517/25051768\.jpg)

About the Author: Arianne Brown -------------------------------

Arianne is a mother to six young children. Her down time is spent running the mountain trails of the Wasatch Mountains and beyond. Contact her at ariannebrown1@gmail.com, follow her on Twitter @arimom6 or search her Facebook page, "A Mother's Write."

×
Photos
Related Links