Estimated read time: 3-4 minutes
This archived news story is available only for your personal, non-commercial use. Information in the story may be outdated or superseded by additional information. Reading or replaying the story in its archived form does not constitute a republication of the story.
EAGLE MOUNTAIN — A 16-year-old injured in a rodeo accident April 10 came home from the hospital Wednesday afternoon to a hero's welcome.
Eagle Mountain resident Garth Heap was competing in saddle bronc at a rodeo at the Carbon County Fairgrounds when he was thrown from the horse and his foot got caught in the stirrup, according to Lehi Longhorn Rodeo Team secretary Kellie Jones. Heap was kicked and stepped on during the accident, causing a traumatic brain injury.
Garth, a freshman at Rockwell High School, was transported to an area hospital, then airlifted to Primary Children's Hospital in critical condition. He was put in a medically induced coma, and due to the swelling, underwent surgery to have part of his skull removed.
Garth's mother, Annie Heap, said her son has since undergone an additional surgery and spent almost six weeks in the hospital.
"He was in ICU for 11 days and then he switched over to the neurotrauma unit and has been there for the past 4 1/2 weeks," Annie Heap said.
During his stay at Primary Children's Hospital, Garth received a lot of visitors and support from the community, Heap said. He made an incredible recovery and was released from the hospital Wednesday afternoon.
"He's a very lucky kid, that's for dang sure. We are very blessed," Annie Heap said. "He's just got a fun personality and that's what I was most concerned about is hopefully he would get his personality back, and it looks like he has. Because with a brain injury you never know the extent of the damage, but he seems to be the easy-go-lucky, happy kid that he normally is."
When she heard about his release from the hospital, longtime friend and neighbor of the Heap family, Angie Burgess, decided to throw a surprise, welcome-home party for Garth. She said she started asking close friends to wear blue (Garth's favorite color) and to line the street to the Heap's home with their horses.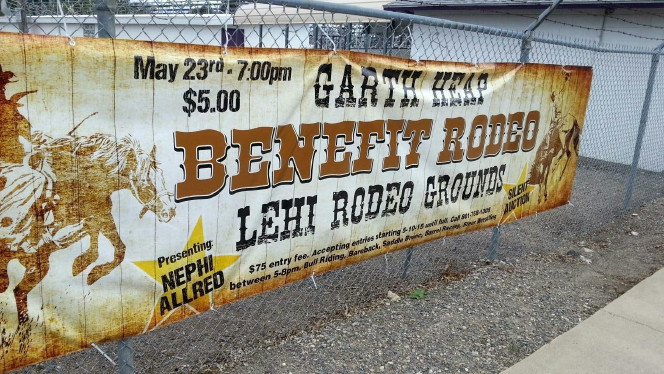 Photo credit: Annie Heap
"You don't see welcome homes on horseback very often," Burgess said. "Garth has been riding horses his whole life… it's just unique to the family. They are a horse-loving family. It's going to be nice for him to see all of his friends on horseback. It'll just be a fun different welcome home."
The word spread and Burgess said she expected 100-200 people at the surprise event at 4:15 p.m.
"This kid is a fighter, I'll tell you what," Burgess said. "It's just a miracle that he's coming home. It's wonderful."
Garth will also be honored at Eagle Mountain's Pony Express Rodeo Friday at 7 p.m. and a benefit rodeo will be held for him Saturday at 7 p.m. at the Lehi Rodeo Grounds, Annie Heap said. All the proceeds from Saturday's rodeo will go toward Garth's medical expenses.
"I feel so blessed that this community has been so amazing for us while we are going through this rough go," Annie Heap said.
She said Garth plans to continue playing high school baseball and doing rodeo when he is fully recovered.
Contributing: Nicole Vowell
×
Photos
Related links
Related stories
Most recent Utah stories