Estimated read time: 4-5 minutes
This archived news story is available only for your personal, non-commercial use. Information in the story may be outdated or superseded by additional information. Reading or replaying the story in its archived form does not constitute a republication of the story.
SALT LAKE CITY — With the upcoming Memorial Day weekend, anglers will have an extra day off work to try to catch a lunker. To help with that endeavor, here are some of the fishing hot spots for this time of year, as recommended by the Division of Wildlife Resources.
DWR officials said the low water levels can cause the water to warm faster than usual, which could create fantastic fishing conditions for cool and warm water fish during Memorial Day weekend.
"As the water warms, cool and warm water fish get active and hungry," DWR warm water sport fisheries coordinator Drew Cushing said in a news release. "They're much more willing to bite. Make plans now to fish during the Memorial Day weekend."
Here are the areas across Utah where fishing conditions should be good during this weekend:
Northern Utah: Mantua, Pineview and Willard Bay reservoirs
The conditions for largemouth bass and bluegill fishing should be excellent at Mantua for the weekend, according to the DWR. Willard Bay should have perfect conditions for fishing for wipers, and crappie and smallmouth bass fishing should be good at Pineview.
When fishing for crappies, you can tip your baits with wax worms, meal worms, gulp maggots, spikes and after you have caught a few fish, some perch eyes or meat also work great for bait.
North-central Utah: Deer Creek and Yuba reservoirs
The fishing conditions are great right now at Yuba as well, and the northern pike are biting. Deer Creek currently has a lot of fat, 14-16-inch rainbow trout, and the reservoir's water levels are high, the DWR said. However, as the water level drops in June, the higher water temperatures will likely slow fishing for rainbow trout because it's a cold-water fish.
Effective tackle for trout mainly consists of paddle bugs, cutter bugs, foxie jigs and atomic teaser tail jigs in white, green or pink. Baits of wax worms, meal worms, nightcrawlers and redside shiners also work well for trout.
Northeastern Utah: Pelican Lake and Starvation Reservoir
Rainbow trout and walleye fishing has been excellent at Starvation this spring, and great fishing should continue at the reservoir through the holiday weekend, DWR said. If you enjoy catching largemouth bass and bluegill, Pelican Lake is traditionally a great place to fish at this time of year.
Jigs, crankbaits, slip-sinkers, spinners and soft plastics are all effective lures for catching walleye, and good bait options include earthworms, waxworms and spikes (maggots.)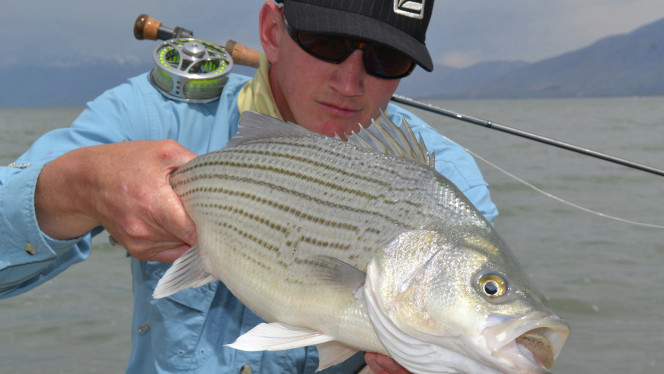 Photo credit: Division of Wildlife Resources
East-central and southeastern Utah: Huntington North and Joe's Valley reservoirs
Wipers and largemouth bass are currently biting at Huntington North and DWR recommends using spinners, spoons, plastic jigs or Rapalas when fishing for wipers. A blue-over-white color pattern is especially effective for the jigs. Several of the wipers recently caught at Huntington North Reservoir were 12-22 inches and one to five pounds.
At Joe's Valley, the fishing conditions for splake and tiger muskies are great. The splake and tiger muskie bite should continue through the holiday weekend before tapering off in mid-June. A fair number of tiger muskies will likely surpass the 40-inch minimum size for harvest this year, DWR said.
However, if you visit Joe's Valley, be aware that low water has closed all but one boat ramp to launching and the gate from Lowy Water to the Indian Creek Campground is still locked.
South-central and southwestern Utah: Lake Powell, Minersville, Otter Creek, Piute, Quail Creek and Sand Hollow reservoirs
Anglers are catching a lot of big walleye at Lake Powell, and the lake is currently producing the biggest striped bass seen at Lake Powell in years, DWR said. During the heat of the summer, the water levels will drop and the northern end of Lake Powell — 6 to 8 miles of the reservoir — will be inaccessible to boats. At some point this summer, low water will also likely force the main boat ramp at Bullfrog Marina to close, leaving only a smaller ramp from which to launch your boat.
If you enjoy catching trout, Minersville, Piute and Otter Creek should also be great waters to fish over the weekend.
Largemouth bass and bluegill fishing should be excellent at Quail Creek and Sand Hollow. Baits like ratsos, rat finkies, shrimpos and nuclear ants in various colors (white, green and red) typically work great for largemouth bass and bluegill.
June 6 is Free Fishing Day in Utah, and anglers aren't required to have a fishing license that day. Many of these fishing hot spots will still have good conditions for that day, and Utah's community fishing ponds will be another good place to fish.
×
Photos
Related links
Related stories
Most recent Utah stories