Estimated read time: 3-4 minutes
This archived news story is available only for your personal, non-commercial use. Information in the story may be outdated or superseded by additional information. Reading or replaying the story in its archived form does not constitute a republication of the story.
PROVO — Universities are known for turning out new inventions, and Brigham Young University is no exception.
The university recently released a list of its five "coolest and most successful inventions of this year." Descriptions of the five inventions can be found below:
Most promising student invention: DextraSense
This software tracks the severity of tremors related to conditions like essential tremor, Parkinson's disease and traumatic brain injury. DextraSense's Web-based application couples with a depth-sensing camera to digitally record the movement of hands and collect data.
About 15 million people in the United States have a movement disorder, but the disorders are frequently misdiagnosed, according to Vykon Technologies, the company behind DextraSense. By tracking and analyzing the tremor, researchers hope doctors will be able to provide better treatment.
"It's kind of like a Fitbit for movement disorders," student inventor Nathan Stanford said in a statement. "We're hoping this takes the subjective nature out of diagnosing these disorders."
Most profitable license: Equol
This skin-care ingredient was licensed to Nu Skin Enterprises in 2010 and continues to be lucrative, making it the most profitable invention of the year for BYU. Equol, a naturally occurring compound found in soybeans, is an active ingredient in the ageLoc skin care line.
Professor Edwin Lephart discovered that Equol stimulates the cells that make collagen and elastin while blocking the enzymes that break them down, which slows the skin aging process, according to BYU.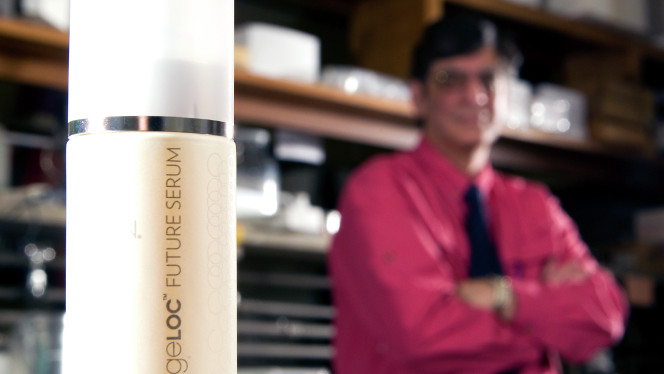 Photo credit: Jaren Wilkey/BYU
Coolest consumer product: Xojo
This protein drink is already on the shelves of retail stores. It was developed by a BYU food scientist and others with the goal of assisting athletes with hydration and muscle recovery, according to the university.
The protein technology found in the drink "delivers the purest protein in the most natural state and conformation recognizable by the human body, leading to maximum rapid protein absorption," according to Xojo.
Best church-related technology: Relative Finder
This app was recently certified by FamilySearch.org and lets the genealogy site's users quickly discover how closely related they are to historical figures and friends.
"We can show how you're related to a couple of thousand people like European royalty, U.S. presidents and LDS general authorities, living and dead, and several other people who we have genealogical information on," BYU professor Tom Sederberg told KSL.com in January.
Since its launch at the beginning of 2015, the app has drawn more than 300,000 registered users, according to BYU.
Photo credit: BYU Photo
Coolest tech: Multi-user CAD software
Described as the "Google Doc for CAD software," this program lets people around the world work together at the same time on computer-aided design projects. The software was created by mechanical engineering faculty members Greg Jensen and Ed Red.
"Currently, multi-user, trans-national engineering and design projects can be clunky as participants wait for others to complete their work," a statement from BYU reads. "Drawing its power from cloud-based computing, this technology could change the way computer-aided design operates going forward."
×
Photos
Related links
Related stories
Most recent Utah stories