Estimated read time: 6-7 minutes
This archived news story is available only for your personal, non-commercial use. Information in the story may be outdated or superseded by additional information. Reading or replaying the story in its archived form does not constitute a republication of the story.
SALT LAKE CITY — Two of Utah's top Democrats are squaring off in a legal brawl that has been escalating since last August.
Salt Lake County Mayor Ben McAdams and his former adviser, now-Rep. Justin Miller, D-Salt Lake City, are firing a hailstorm of accusations of legal misconduct at each other.
And Deputy Mayor Nichole Dunn and her husband, Donald Dunn, are caught in the crossfire.
Miller is facing a potential criminal investigation after McAdams accused him of being unable to account for about $30,000 missing from mayoral campaign funds.
But Miller, who previously worked as the mayor's campaign manager, is firing back. He says McAdams wrongfully fired him in October and is retaliating against him for whistleblowing on alleged government corruption.
McAdams stepped forward in a news conference Wednesday to address the allegations.
"For the last nine months, I have not commented on the termination of Justin Miller other than to say that he has lost my trust and confidence," the mayor said. "I've remained patient and not done so only because this is a sensitive matter involving a former friend and colleague, but also because I believe in letting the appropriate law enforcement agencies do their jobs."
Accusations
McAdams said complaints of Miller's job performance as associate deputy mayor, a position he held since January 2013, began surfacing last spring, and Miller was told in August that his employment at the county would be terminated in November.
Before Miller's work was supposed to end, McAdams said he discovered roughly $30,000 missing from his account, which he alleged Miller was using for "office space used primarily for his private political consulting firm."
But in a notice of claim filed Dec. 17, Miller said he was wrongfully fired after sending McAdams an email Aug. 26 that raised legal and ethical concerns about McAdams moving his campaign offices to a location leased by the public affairs firm The Exoro Group. Miller said the move violated campaign finance laws because Exoro had a $100,000 county consulting contract.
According to the notice claim, Miller also alleged that Donald Dunn had an "equitable ownership interest in Exoro," and had collected other funds from the county "as a result of his relationship" with Nichole Dunn, in addition to involvement in other companies that contract with Salt Lake County.
---
It doesn't matter if it's Republican or Democrat. They're elected officials, and they need to get this matter resolved and get back to the business of the people.
–James Evans, Utah GOP Chairman
---
"As a whistleblower, I knew in August that McAdams' actions were a real possibility," Miller said in an interview Wednesday. "I'm deeply saddened by the loss of a personal and professional relationship with the office, but I feel like I am doing the right thing."
But McAdams said Miller sent his email about Exoro after he had already been sent an email that morning asking him to relinquish all campaign responsibilities, including access to the mayor's campaign account.
McAdams said he referred the matter for investigation after Miller was unable to explain the missing funds in a recorded conversation, which Salt Lake County released to the Deseret News in response to a public records request.
"While turning the information over to law enforcement was a sad moment for me, it was not a hard decision," the county mayor said. "For me and my administration, trust is paramount."
In the released recording, Miller is confronted by McAdams and Donald Dunn.
"Justin, sloppiness is one thing," Donald Dunn is recorded saying. "Stealing is another."
"Go on," Miller responds.
After Donald Dunn and McAdams question Miller about a $24,000 catering check and thousands of dollars more also unaccounted for, Miller said he would show documentation and return the funds, but that he wanted an apology from the county mayor.
"At the very least, Justin, I have very good reason to believe that you have embezzled $24,000," McAdams responds. "Maybe these other ones add up. Maybe you have receipts from these other ones, but I am never going to apologize for wondering why in the hell you wrote yourself a $24,000 check and never fessed up to it."
"OK," Miller replies.
"This is unacceptable. I feel betrayed and stabbed in the back," McAdams adds.
"I'm sorry you feel that way," Miller says.
Ongoing investigation
An investigation conducted by the Salt Lake County District Attorney's Office found Miller's claims to lack merit, said Sim Gill, district attorney. But "in the abundance of caution," Gill said, the matter was transferred to Davis County Attorney Troy Rawlings for further investigation, which is now underway.
Miller said he'd "really like to address" the accusations against him regarding the missing funds, but his legal counsel, attorneys Steven Shapiro and Jaqualin Peterson, have advised him not to. He also said he was not aware of any criminal investigation against him, despite Gill's remarks Wednesday that "all parties were communicated with and properly notified of all issues."
When reporters asked McAdams if Miller's termination was political payback as alleged, Gill instructed the county mayor not to answer due to threat of litigation.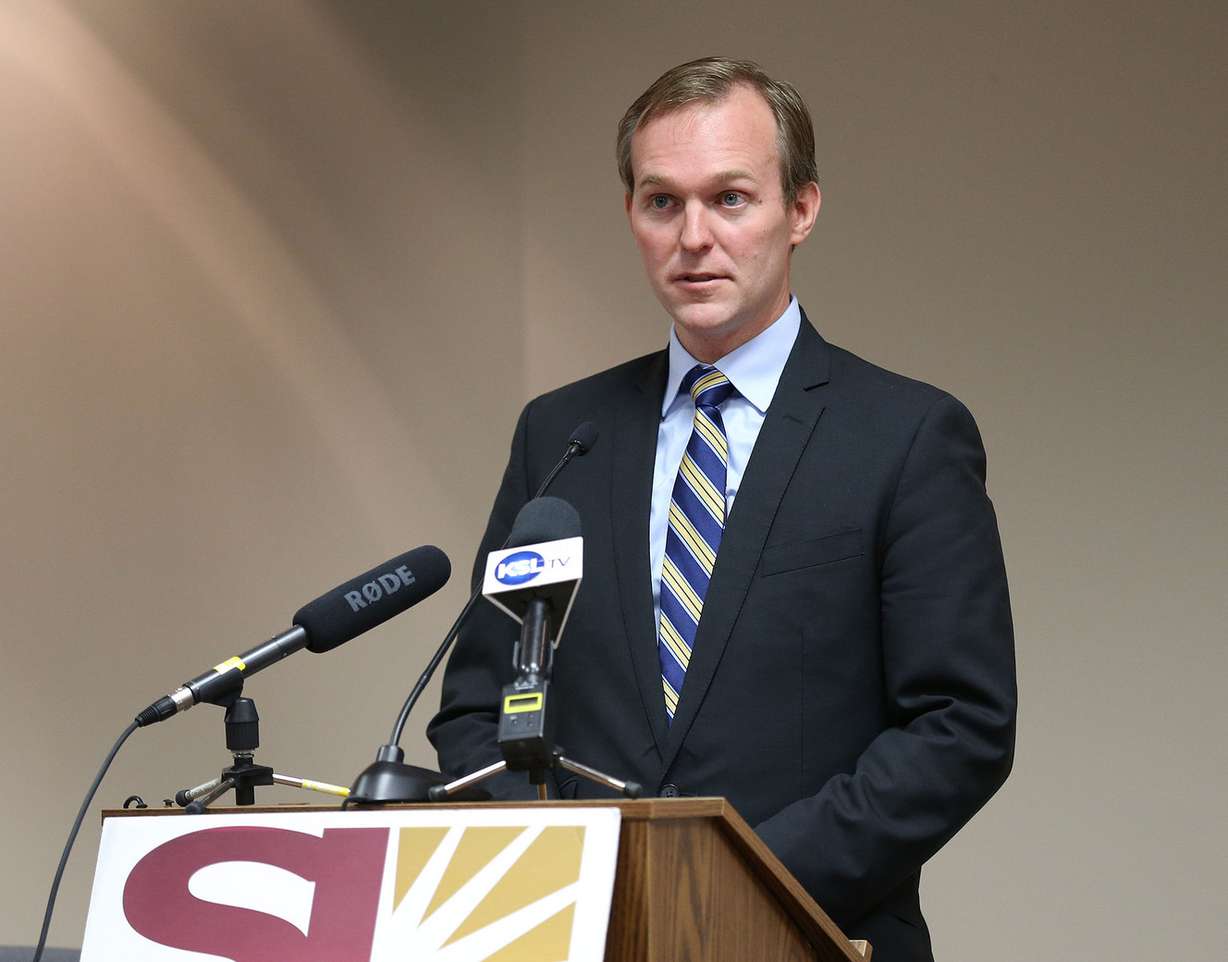 Nichole Dunn was also advised not to comment, and Donald Dunn did not respond to requests for comment Wednesday.
Exoro owner and managing partner Maura Carabello said while Donald Dunn has worked on some projects related to the firm, he was never an employee of or profited from Exoro. She said the firm was awarded a yearlong contract with Salt Lake County through a competitive bidding process.
"There is no financial relationship between the Exoro Group and Donald Dunn," Carabello said. "The merit of our work is going to stand for itself, and political bomb throwing certainly does affect us, but it doesn't speak at all to the truth of our experience with the county contract."
Party implications
Utah Democratic Party spokeswoman Yándary Zavala said Chairman Peter Corroon declined to comment on the matter Wednesday, but House Minority Leader Brian King, D-Salt Lake City, said any conflict among fellow Democrats is not good news for the party.
"I'm always looking for 'Kumbaya,'" King said. "But we'll see how it shakes out."
King said he was not aware of the conflict because it happened before Miller was elected, but as he would for any member of the Democratic caucus, he wishes Miller the best. Above all, King said, the legal process needs time to get to the bottom of the issue.
"It's unwise to jump to any conclusions before we know what the process is going to yield," he said. "I'm withholding any judgement about anything until we see how the facts play out."
Salt Lake County GOP Chairwoman Suzanne Mulet said in a statement released Wednesday it's too soon to weigh in on the situation.
"While I recognize this is a conflicting situation between two high-profile parties, it is concerning, and believe the residents of Salt Lake City deserve transparency —because transparency matters.
"Because of the individuals involved and allegations made, it does leave questions that should be answered," Mulet added. "I look forward to the legal resolution of this matter as quickly as possible."
Utah GOP Chairman James Evans said he doesn't care about the party affiliation of McAdams and Miller.
"It doesn't matter if it's Republican or Democrat," Evans said. "They're elected officials, and they need to get this matter resolved and get back to the business of the people."
Contributing: Lisa Riley Roche
×
Photos
Most recent Utah stories