Estimated read time: 2-3 minutes
This archived news story is available only for your personal, non-commercial use. Information in the story may be outdated or superseded by additional information. Reading or replaying the story in its archived form does not constitute a republication of the story.
SALT LAKE CITY — The city is underway with a project that would make it easier for cyclists to safely connect the ballpark and downtown neighborhoods.
In an effort to make the city more bicycle-friendly and use an underutilized street, Salt Lake City will start work in August on a bike path that will travel along 200 West from 900 South to North Temple.
Currently, 200 West is 90 percent underutilized for vehicle capacity, making it an ideal location to integrate "low stress" bikeways, according to the city. The bikeway is part of the downtown transportation master plan and will nearly intersect with two TRAX stations, South Temple and 900 South. There will also be Four GREENBike stations along the way.
"Across the United States, street transformations that include protected bikeways have been shown to increase comfort and safety for people on bicycles, attract new riders, decrease motor vehicle speeds, decrease fatal and serious crashes for all modes, and improve safety for all roadway users," the city said.
A median would separate the bikeway and sidewalk from the roadway, and planters decorated with murals by local artists will add some character to the street. The city hopes by making biking more accessible to people, it will also encourage more local shopping and eating out.
"The relaxing pace provided by protected bike lanes and an improved streetscape is more conducive to stopping to shop or eat," the city wrote. "Customers who arrive by bike also tend to shop more locally, more often, and often have disposable income because they save money on transportation."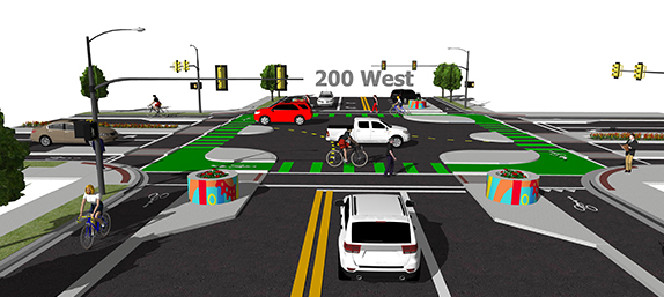 Photo credit: Salt Lake City
Questar is currently replacing gas mains along the road, but construction is expected to wrap up in August, and resurfacing will begin the first weekend of the month. From there, pavement paint and planters will be added. Construction is expected to take about two months, wrapping up in October.
Green and tan paint will aid drivers and bicyclists, hopefully making interactions between the two safer, the city said. Green paint on driveways and intersection approaches will warn drivers and cyclists of possible interactions, and tan paint with white hatching will indicate where cars are not allowed.
At major street crossings like 400 South, 500 South, 600 South and 700 South, the city will install technology that will detect bicyclists in the bikeway and change the light in their favor.
"A transportation system that encourages bicycling and walking can also save money, reduce traffic congestion, build community and improve the overall quality of life," the city wrote in its master plan. "Therefore, the city supports the concept of complete streets, requiring the accommodation of pedestrians and bicyclists throughout the planning process."
×
Photos
Related links
Related stories
Most recent Utah stories