Estimated read time: 4-5 minutes
This archived news story is available only for your personal, non-commercial use. Information in the story may be outdated or superseded by additional information. Reading or replaying the story in its archived form does not constitute a republication of the story.
SALT LAKE CITY — More than 16,000 Utah residents have weighed in on their water future through an interactive survey offered by Envision Utah, picking among five scenarios that contemplate different conservation strategies.
With Utah ranked as the nation's second driest state and facing a doubling of the population by 2050, Envision Utah brought together 400 policy experts to craft probing questions in 11 areas central to quality of life, such as water, transportation and air quality.
Ultimately, the organization is targeting 50,000 people to take part in its "Your Utah Your Future" initiative, and will make the results available this fall.
Robert Grow, president and chief executive officer of Envision Utah, said the preliminary numbers are not being released yet, but the responses from participants make clear their passion on the importance of the state's water resources.
"It is clear that Utahns are willing to do a lot with conservation, that it is important to them, they understand the issues and conservation is a prime strategy they accept," he said.
"But it is really up in the air as to how far that goes. Does it go the point where there is no grass or just a little bit of grass in our parks and yards? The extent of the conservation is what we are watching, to see how people respond."
Water consumption can be reduced in a number of ways such as smaller lots that have water-wise plants, replacement of sod, higher water rates and more efficient watering systems.
Additional water can also be brought "online" via the development of water projects such as new pipelines and reservoirs. Specifically, the state is pursuing two projects that will amplify water supplies in Washington County with the Lake Powell Pipeline, and the Bear River Development project, which diverts water out of Bear River for use along the Wasatch Front.
The scenarios described in "Your Utah Your Future" contemplate different approaches, with one dubbed the "Allosaurus Story," envisioning water use per person decreasing by 25 percent, landscaping at private homes and public open spaces restricted to 30 percent grass and water use discouraged through significantly higher rates.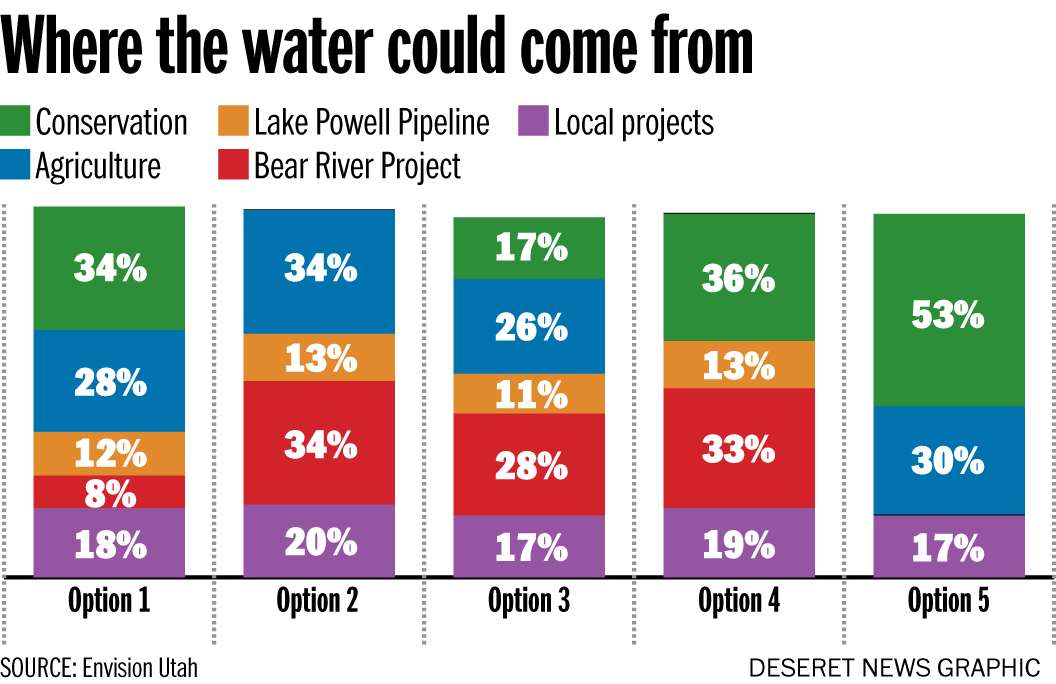 Under Allosaurus, the bulk of "additional" water for Utah's growing population comes from conservation — at 34 percent — followed by 28 percent that would be derived from the conversion of agricultural water supplies.
The scenario also spells out the consequences, with agricultural production that has to decrease by 15 percent and the fact that little water from yards will be available to help buffer the impact of drought or shortages.
Both big-ticket projects are built, but they are delayed significantly because of the water savings.
In contrast, the "Bonneville Trout" story shows that water use remains the same, landscaping practices remain the same and people bear no additional costs for conservation. Both projects are built and combined they provide close to 50 percent of the new water needs. Agricultural production drops by 9 percent across the state, and most of the fruit and vegetable crops are gone.
Under a scenario that contemplates an aggressive 40 percent conservation savings from water use today, very little grass is used in landscaping and open spaces and water rates are significantly higher.
Agricultural production statewide is down 11 percent, and there is no irrigated farmland in Kane or Washington counties.
---
It is clear that Utahns are willing to do a lot with conservation, that it is important to them, they understand the issues and conservation is a prime strategy they accept.
–Robert Grow
---
Under the "Sego Lily" scenario, 53 percent of the "new" water comes from conservation and the big projects are not constructed.
Grow said the questions are designed to be tough.
"Where do you want the water to come from? From agriculture? (Do) you want it to come from new projects? Do you want us to conserve and take it from our own yards at our own homes?" Grow questioned. "Water is the lifeblood of Utah, and we have some really important decisions to make."
People are encouraged to go to www.envisionutah.org through the end of May and take the survey, which is already among the the nation's top three successful public engagement efforts.
"The idea is to have a groundswell of Utahns who want to go a particular direction so you have a mandate for a vision," said Ari Bruening, Envision Utah's chief operating officer.
Contributing: Jed Boal
×
Photos
Related links
Related stories
Most recent Utah stories