Estimated read time: 4-5 minutes
This archived news story is available only for your personal, non-commercial use. Information in the story may be outdated or superseded by additional information. Reading or replaying the story in its archived form does not constitute a republication of the story.
GREAT SALT LAKE STATE PARK — Utah is famous for its ski resorts and five national parks, but it also offers a variety of landscapes and activities within its 43 state parks. If you are looking for a new outdoor area to explore, visit KSL.com each Wednesday morning for the state park of the week.
The Great Salt Lake State Park was opened to the public as a state park in 1978, according to the Utah State Parks website. At 75 miles long and 40 miles wide at one point, the Great Salt Lake is the biggest lake in the U.S. besides the Great Lakes, according to Great Salt Lake State Park harbor master Dave Shearer.
The Great Salt Lake has two public marinas: The Great Salt Lake Marina is located off I-80, about 20 minutes from downtown Salt Lake City and the other is located on Antelope Island off the Antelope Drive Exit of I-15.
This unique state park offers a variety of activities. Here are five you should try this summer.
Swimming
This activity seems obvious due to the fact that the majority of the state park is water. However, many locals (myself included) have never gone swimming in the world-famous Great Salt Lake.
The Great Salt Lake is split in two by a railroad causeway and the south half is about 16 percent salt, Shearer said. The north half has a higher salinity level with about 27 percent salt and is about as salty as the dead sea, Shearer said. The high concentration of salt causes swimmers to float.
"It is a unique experience and yet, it's still very popular," Shearer said. "You can come out here and you can just float effortlessly with no problem."
Shearer said although the lake is full of millions of tiny brine shrimp, they don't bother swimmers and just look like tiny rice kernels floating in the water.
Boat dinner cruise
Gonzo Boat Rentals and Tours began offering boat dinner cruises in October 2014, Shearer said. The 2-hour cruise allows patrons to tour part of the Great Salt Lake while eating dinner and watching the sunset over the water.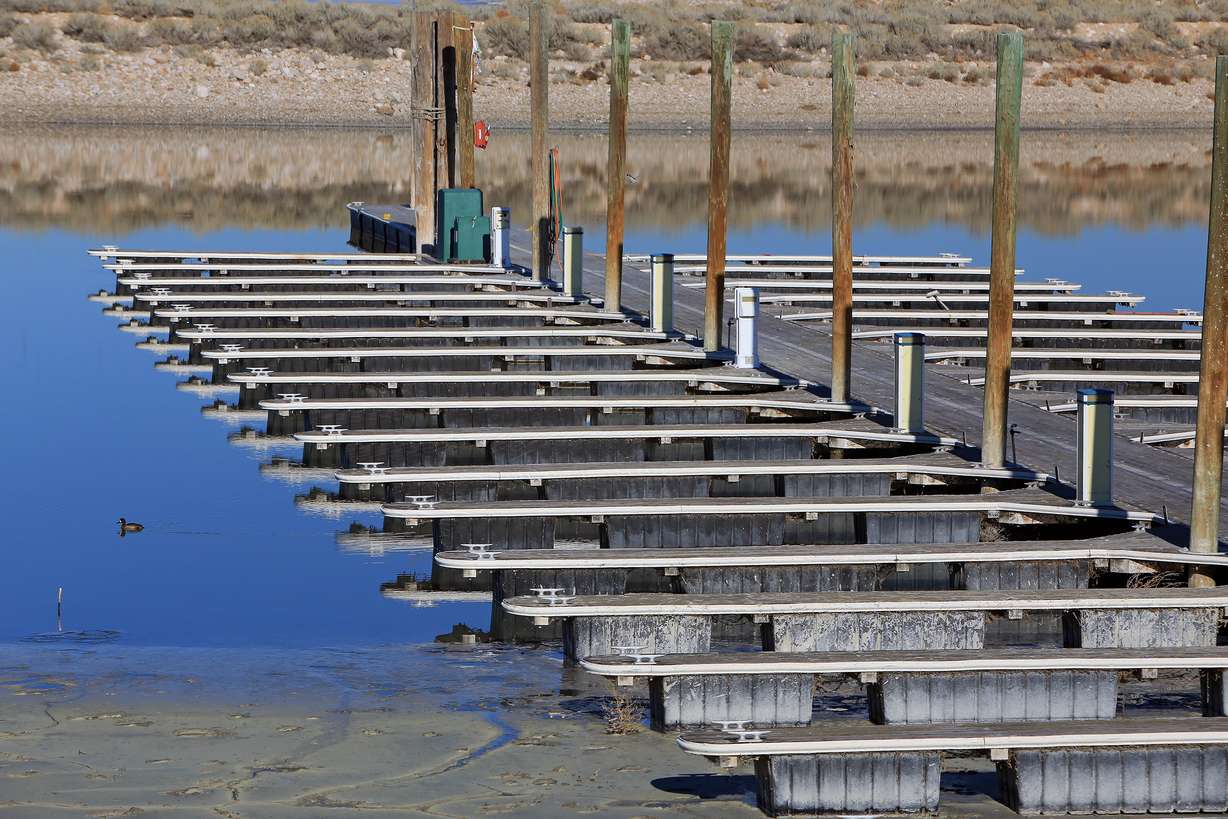 "You get good views of Salt Lake City, Antelope Island, Stansbury Island and wonderful views of the sunset out here, of course," Shearer said.
While the Great Salt Lake often has an odor, it is fine out on the water, according to the Gonzo Boat Rentals and Tours website.
"Odors that are associated with the lake are from bio decay along the shorelines- mostly in Farmington Bay," the website said. "Once you are out on the water west of the island, it smells like the ocean."
Most of the tours leave from the Great Salt Lake Marina. Their tour season runs from May to September and reservations can be made by calling 801-989-7281.
Bird watching
The Great Salt Lake is a major migratory stop in North America for many bird species, the Utah State Parks website said. Thousands of birds stop to rest and feed while migrating to various locations and many nest at the lake before migrating, Shearer said.
Bird watchers can see a variety of species during the spring months including snowy egrets, killdeer, avocets, Canada geese and red-tailed hawks, Shearer said. In the winter months, you can see bald eagles, golden eagles and white pelicans at the Great Salt Lake.
People can also feed ducks at the Great Salt Lake Marina.
Go paddleboarding or kayaking
The Great Salt Lake is also a great place to go paddleboarding or kayaking. Both activities are a fun recreational way to get exercise. If you haven't tried paddleboarding, you should. It's a good way to increase balance and gives a good ab workout.
Gonzo Boat Rentals and Tours also offers rentals for kayaking, paddle boarding and paddle boats.
Sailing
While the water level is currently too low for most traditional sailboats, Shearer said sailing is another popular attraction for the Great Salt Lake. The Great Salt Lake Yacht Club was established on May 10, 1877 and members continue to meet and sail today, according to its website.
However, despite the low water levels, people can still launch at the Great Salt Lake Marina with shallow draft daysailers and paddle boats, Shearer said.
"We are water-recreation based so anything you can do on the water you can pretty much do here at the Great Salt Lake," Shearer said.
What else do you like to do at the Great Salt Lake? Let us know on the comment boards.
×
Photos
Related Links
Related Stories