Estimated read time: 2-3 minutes
This archived news story is available only for your personal, non-commercial use. Information in the story may be outdated or superseded by additional information. Reading or replaying the story in its archived form does not constitute a republication of the story.
Alex Cabrero reportingWhile the federal investigation into last summer's mine collapse at the Crandall Canyon mine has yet to begin, there is one aspect of the tragedy that is starting to take shape, thanks to a Carbon County sculptor.
She's at work on what she calls the most important piece of her career.
If you drive by Karen Templeton's studio in Spring Glen, just outside of Price, you'd never know from the outside that inside is a sculpture being worked on that has taken a lot of people's breaths away.
"It's been a challenge, but a really good one," Templeton said.
Karen Templeton never met Manny Sanchez, but she feels like she's getting to know him.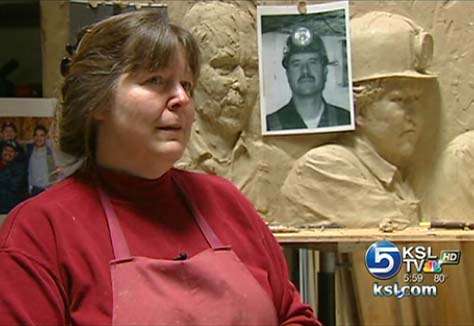 "I am trying to find the person. I am trying to create a sense of that person," she said.
And it's not just Sanchez, but Kerry Allred, Brandon Phillips, Don Erickson and all the other miners and rescuers who died in the Crandall Canyon mine collapse last August.
"These were men with passions and families and plans for Christmas," Templeton said.
Templeton is a portrait sculptor. Her latest project is the memorial for the six miners and the three rescuers.
"I've never done a sculpture that has had this large of an impact on a person, much less a community," she said.
Using a style of sculpting known as bas-relief, Templeton pushes bits of clay together to create an image. She uses photographs families have given her to get a basic outline of each man's face.
Her tools then help carve a life-like image that those family members can't believe they're seeing. Tears are an understatement.
"It's mind boggling. It's soul stopping," Templeton said.
It's also, for some family members, a sense of closure.
"One son came here and said, 'Up until two months ago, I really thought my dad was going to walk out of that mine.' The pain is still raw," Templeton explained.
It's been said, "Time heals all wounds." But for a wound as big as this tragedy, a memorial to always remember certainly helps.
"It's about the child coming back in 10 years or the grandchild coming back in 30 years and coming back and having a face to touch. That's what it's all about," Templeton told us.
Eventually the memorial will be taken to a foundry where it will be bronzed. It will be unveiled during a ceremony in Huntington in September.
To see the sculpture of each person represented on the memorial, view the photo gallery on this page.
E-mail: acabrero@ksl.com
×
Photos
Related links
Most recent Utah stories