Estimated read time: 3-4 minutes
This archived news story is available only for your personal, non-commercial use. Information in the story may be outdated or superseded by additional information. Reading or replaying the story in its archived form does not constitute a republication of the story.
WEST VALLEY CITY — At 83 years old, retired veteran Eugene Ward has no intention of slowing down.
Ward lives in Heber City, nearly an hour from the West Valley elementary school where he volunteers. The octogenarian makes the round-trip drive at least twice a week.
"It's not so bad," Ward said. "I just get to Parleys Summit, and I can coast the rest of the way."
Ward, known to the children of Redwood Elementary School as "Mr. Gene," is a regular volunteer in the classroom of first-grade teacher Marta Welch. He has been teaching children to read for the past year, giving 10 to 15 minutes of critical individual coaching to each student.
"As teachers with up to 30 students, we do our best, but there's no way that we can every day check in with each student, much less sit down and read with them one-on-one," Welch said. "To have a Mr. Gene who is able to sit down one-on-one with them and check in has just been amazing for my classroom."
The children have formed deep connections with Ward, Welch said.
"We have adopted Mr. Gene, definitely, as our classroom grandparent," she said.
Naturally, Ward's role in this capacity far surpasses that of a mere volunteer.
"He makes funny voices, and I get to play with him sometimes when he comes to recess," said Zoee Means, speaking of Ward's habit of joining her classmates on the schoolyard playground.
"Every time I laugh, he laughs back," she added.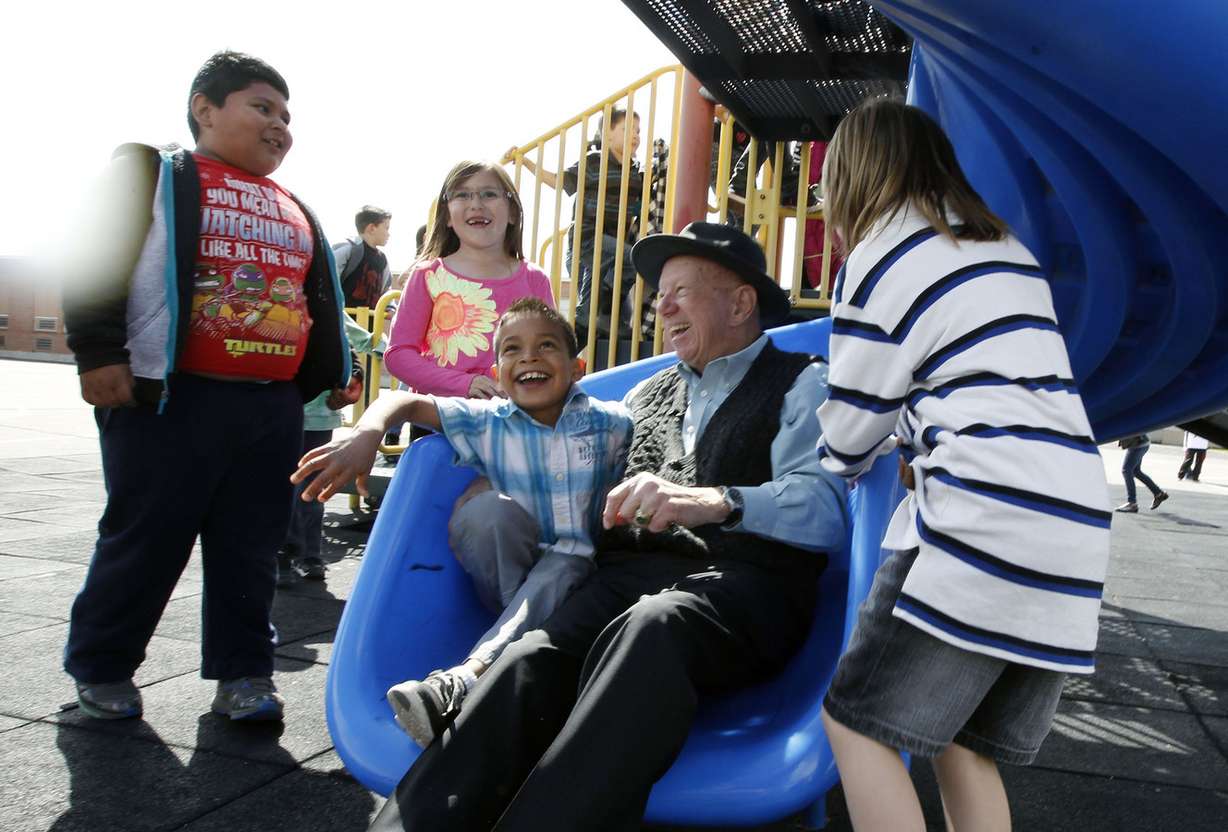 Such personal relationships with Ward have further encouraged children's reading success, Welch said.
"They've become such confident readers because they have someone who is motivating them to reach their reading goals and really cares," she said.
In a Title I school like Redwood Elementary, where nearly all parents work at least one job, the traditional "room parent" is a rare commodity. Increasingly, volunteer grandparents and retired teachers are filling that need.
Redwood has five regular senior volunteers, according to Principal Leslie Bell.
"I honestly think we need to tap further into those members of our community," Bell said. "People who have time to volunteer, who are retired or have some extra time … are such a benefit to our kids in our school."
"We need more senior citizens and retirees," Ward agreed, encouraging all seniors to consider volunteer work.
"The children in these Title I schools are disadvantaged from an educational standpoint," he said. "There's a lot of talent in this population, and unless we help them get started, it's all going to go to waste. Down the road, it's better for the country to help them along and help them get a good start."
Much to Welch's relief, Ward said he plans to keep volunteering in her classroom next school year.
"Every classroom needs a Mr. Gene," the teacher said.
---
Allison Oligschlaeger is currently studying English and Arabic at the University of Utah while completing an internship with the Deseret News. Contact her at aoligschlaeger@deseretnews.com.
×
Photos
Related links
Related stories
Most recent Utah stories