This archived news story is available only for your personal, non-commercial use. Information in the story may be outdated or superseded by additional information. Reading or replaying the story in its archived form does not constitute a republication of the story.
LOGAN — After seven years managing the defense for Utah State's men's basketball and 14 seasons as an assistant to Stew Morrill, Tim Duryea will earn a new title starting this fall.
Head basketball coach.
Duryea will replace the legendary Morrill, who took the Aggie program to new heights as a head coach, including a memorable upset of Ohio State in the 2001 NCAA Tournament.
ESPN.com's Jeff Goodman first reported the hire, and a source close to the Utah State athletic department confirmed it to KSL.com.
The longtime Aggie assistant coach was among at least three finalists for the head coaching job, according to the source. Utah State plans to announce its new head coach later this week.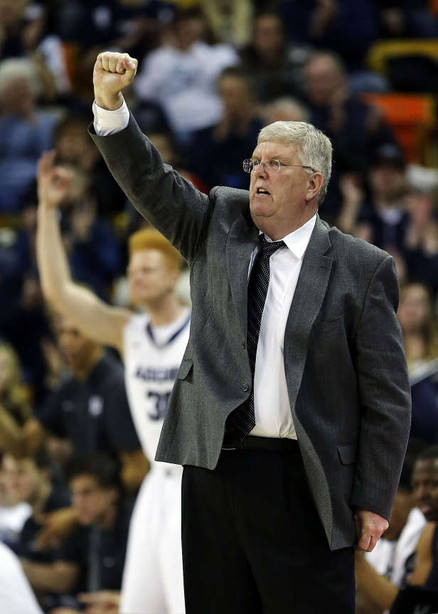 Duryea, who grew up in Denton, Texas, graduated from North Texas in 1988 and came to Utah State in 2001. He was named the team's associate head coach following the 2008 season, and he has been the longest tenured assistant coach in Utah State history.
Morrill has already given his endorsement of the deal, he told the Logan Herald-Journal.
"I will watch with great interest, because it is very important to me they get the right fit," Morrill told the H-J's Shawn Harrison on March 28. "I think the right fit is about 40 paces away (in associate coach Tim Duryea's office). We'll see what happens."
Duryea's defenses regular ranked in the top 10 nationally in points allowed, allowing the fourth-fewest nationally 58.1 points in 2002. The native of Medicine Lodge, Kansas, also worked with the team's post players, where he helped develop the likes of Jarred Shaw, a 2013-14 All-Mountain West honorable mention and Charlotte Hornets summer league signee.
"He wears a lot of hats and wears them well," Morrill said of Duryea in the team's media guide. "Tim is extremely organized, can coach on the floor, and he's also a good recruiter. His loyalty to me and Utah State is appreciated, and I know he will be a very good head coach one day."
Duryea began his coaching career at Colorado State in 1988, and moved to his alma mater in 1993. He spent one season as the head coach of Hutchinson Community College for the 1999-2000 season, following two years as an assistant coach with the Blue Dragons.
Duryea and his wife Angie are the parents of two 19-year-old twins: son Tanner plays lacrosse at Westminster College in Salt Lake City, and daughter Taylor plays volleyball at Dixie State in St. George.
Contributing: Jon Oglesby
×
Photos
Related Stories