Estimated read time: 6-7 minutes
This archived news story is available only for your personal, non-commercial use. Information in the story may be outdated or superseded by additional information. Reading or replaying the story in its archived form does not constitute a republication of the story.
DRAPER — Those riding the FrontRunner through Draper's Vista Station, may notice three modern buildings east of the stop receiving finishing touches.
What are they building?
The three buildings are part of the Draper Pointe office park, a 69-acre development by the Boyer and Gardner companies and constructed by Jacobsen Construction and L&T Construction.
Situated between the IKEA and RC Willey shopping center and the FrontRunner station, the buildings will house StorageCraft, 1-800 Contacts and Progressive Leasing.
StorageCraft will move into a 125,000-square-foot, five-story building on April 1 while 1-800 Contacts waits for its building to be completed by the end of July or early August. Progressive Leasing has leased the largest building — a six-story, 150,000-square-foot tower that will be completed Aug. 1. Some space remains available in the buildings.
"We're obviously very excited for the growth — that's 400,000 square feet of office space that was leased in a year," said John Bankhead, vice president of development at the Gardner Company.
The office park is part of a bigger, four-parcel development called Vista Station, which includes the eBay-owned 200,000 square-foot facility just west of the FrontRunner station.
The southwest parcel bought by ICO Companies, according to Draper's community development director Keith Morey, will be turned into approximately 1,000 multi-family homes. The company is expected to get construction underway on the apartments and townhouses later this year.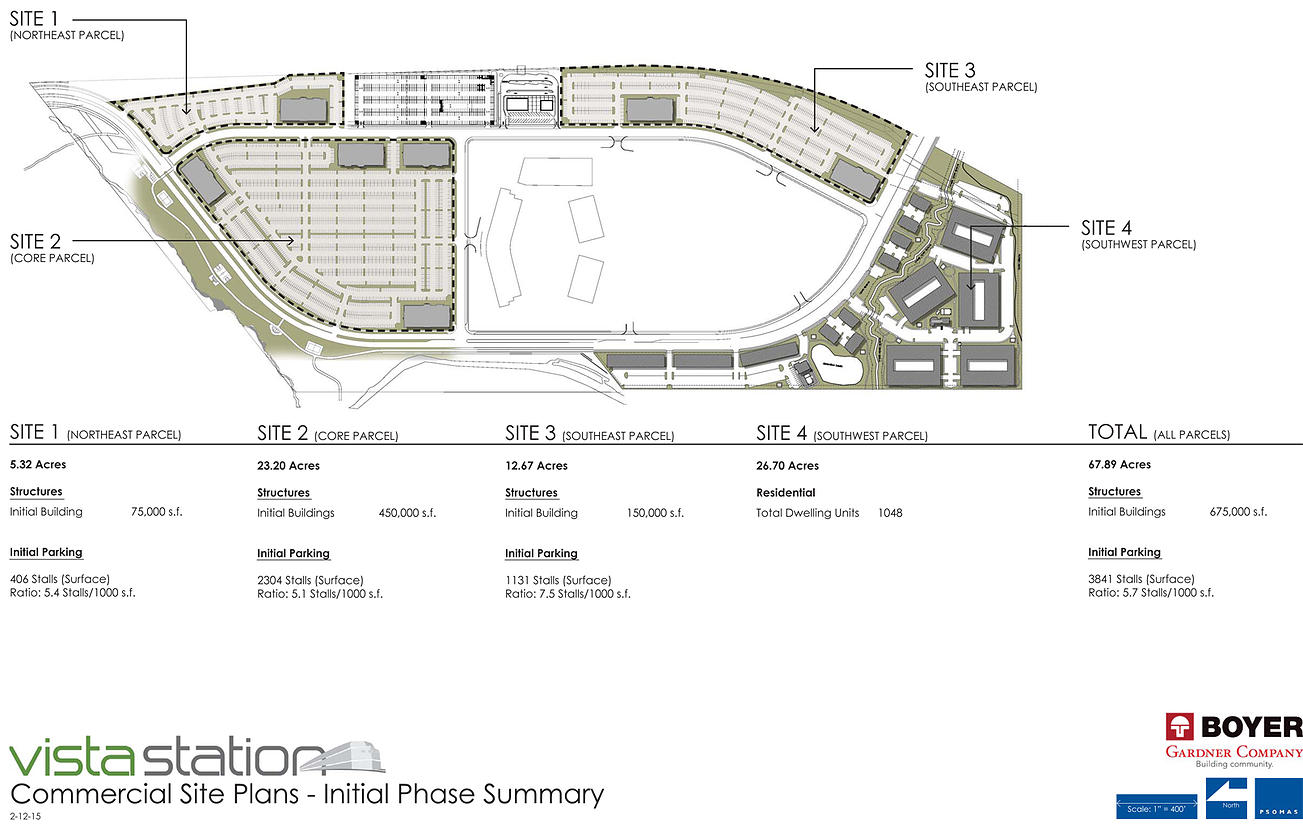 Photo credit: Gardner Company/Boyer Company
How will it affect the community?
"I think from a residential perspective, people are going to see people coming and going to work that weren't there in the past, so they may see some of that as a negative," Morey said. "Having said that, though, these guys are well-respected developers and I think that when they're finished it will be a very attractive park with trails and amenities that people in the surrounding area will benefit from, and landscaping that's attractive. So I think it will be a nice addition to that part of Draper."
The mixed-use development will create pedestrian pathways connecting Galena Park Boulevard to Vista Station Boulevard, allowing people to walk from there to FrontRunner Boulevard and to the station or the west side of the Vista Station development.
Both the developers and the city agree that the office park will bring jobs to a central area that is well-connected to transportation hubs like I-15 and FrontRunner.
"There are some impacts because places like this — that may have been open fields in the past — now have people coming to work," Morey said. "But it also affords people in the area with new opportunities, where maybe they can work closer to home and things of that sort."
Is it part of a bigger plan or trend?
Transportation
---
There are some impacts because places like this — that may have been open fields in the past — now have people coming to work. But it also affords people in the area with new opportunities, where maybe they can work closer to home and things of that sort.
–Keith Morey, Draper City
---
In the area of transportation, UDOT has an interchange on Bangerter Highway in the works for 600 West, which will further connect the area to surrounding suburbs. According to UDOT public information officer John Gleason, construction is slated to begin in summer 2018, though the project could begin sooner if funding comes through earlier.
"Due to all the growth we've had at the south end of the valley, this will provide better access to the businesses and homes out there," Gleason said. "We want to stay on top of that."
Tech and business
In the areas of technology and business, Nate Boyer, a partner with the Boyer Company, said they wanted the development to have complementary uses and serve the needs of the area as it grows.
"As companies come to the state, we're excited to have a hub or a synergistic environment where they can come locate and have their expansion needs fulfilled as they grow — maybe the campus feel," he said.
The Boyer and Gardner companies say the development was created with the technology sector in mind.
"We definitely want to have a well-planned business park, residential area where there's cohesiveness in the design," Boyer said. "We see a big movement of tech companies, both grown in Utah and coming from out of state. So we anticipate the development will be more geared toward tech companies."
Residential and retail development
Morey said he sees more commercial development happening in the area, but he also sees a lot of opportunity for retail and residential development — especially between Draper Pointe and Bangerter Highway.
"There's actually quite a bit of demand right now for apartments and condos and things of that sort. We have multiple applications that we're either reviewing or are underway and in the approval process. Not just around this area, but throughout Draper," he said.
"I think there's a lot of focus on (residential development) because they realize that some of these people who would want to work in these places are of the younger generation that like the prospect of living close to where they work and close to transit because it gives them flexibility to go to work and be close to home and then go off and play in the mountains or do other things."
Morey said developers have been cautious about creating retail space, but noted that as residential density in the area increases, retail developments will follow. Mark Murdock, project manager at the Gardner Company also sees that opportunity.
"I think down the road you'll probably have more retail that could benefit the community," he said. "You'll have more development and more tax-base, which always benefits the community."
Morey points to Vista Station's neighbor, RC Willey, as an example of the demand already there.
"I think the fact that RC Willey built their first store in what, 23 years, at that site and just opened it last year is kind of a reflection of (that)," he said. "There's a demand for that kind of retail in the area. Those kinds of businesses like to be next to each other because there's a synergy."
Have you seen a project that's made you ask, "What are they building?" Email the author or leave a comment on this story as a submission for future articles about large construction projects in Utah.
---
×
Photos
Most recent Utah stories