This archived news story is available only for your personal, non-commercial use. Information in the story may be outdated or superseded by additional information. Reading or replaying the story in its archived form does not constitute a republication of the story.
PROVO — No one ever said getting married was cheap. There's the cost of the ring, the venue, and of course the dress.
For one bride-to-be, those costs started stacking up making her think her dream wedding might be out of reach — until Friday.
In the shadow of Mt. Timpanogos and Y Mountain in Provo, Liz Jensen met her fiance, Jimmy.
About a month ago, Jimmy planned a special evening and popped the question. Liz said yes.
Friday, Liz went to find what she calls the most important dress of her life. She settled on a pop-up shop called Elizabeth Cooper Designs.
"I tried on the dress and I knew it was the one," Liz said. "It had everything I wanted. It was perfect."
The only thing that wasn't perfect was the price.
---
She didn't have a particular bride in mind, and she asked me, 'Which one of them could use the help?'
–Carrie Ling, bridal shop owner
---
Liz is the seventh of eight children, a full-time student at BYU, and she recently returned from a mission for The Church of Jesus Christ of Latter-day Saints.
"My dad has been unemployed for a while," she said. "The cost of things adds up."
But then, somewhere between the perfect dress and the trip to the check-out counter, a woman approached bridal store owner Carrie Ling.
"She didn't have a particular bride in mind, and she asked me, 'Which one of them could use the help?' " Ling said.
It was another bride-to-be who didn't find her perfect dress, but wanted to make sure Liz got hers. She left enough money to pay for any dress in the room.
"I said, 'Are you sure?' Because it's just not the norm," Ling said. "I'm still flabbergasted. I don't know why she did it."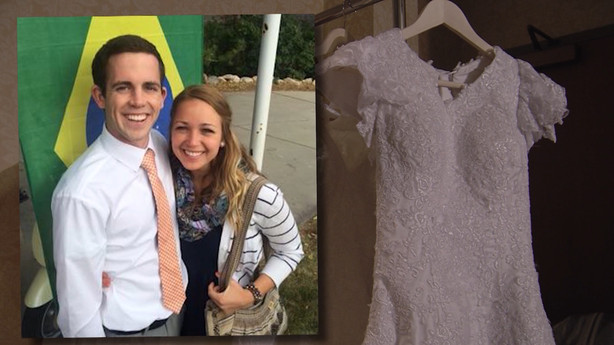 When the store owner approached Liz to tell her the good news, she broke down in tears.
"Who pays for someone's wedding dress?" she said. "It's something I'll never forget."
Liz will never know who her benefactor was. It's a secret the store owner is keeping at the request of the kind stranger.
"The fact there was somebody in the store watching me and seeing how much I loved the dress and taking the time," Liz said, "She didn't even know me."
Now, she hopes this story will let the mysterious woman "how grateful I am and how special she will be to me," Liz said.
The wedding date is set for May 1, and Liz wants this giving stranger to know she has an open invitation to the wedding.
×
Photos