Estimated read time: 2-3 minutes
This archived news story is available only for your personal, non-commercial use. Information in the story may be outdated or superseded by additional information. Reading or replaying the story in its archived form does not constitute a republication of the story.
Editor's Note: KSL does not endorse this activity or vouch for the safety of it. Readers should not attempt this at home.SALT LAKE CITY — In Pixar's beloved film "Up," a man attaches thousands of balloons to his house and floats off into the sky. A recently posted YouTube video shows BYU grad Erik Roner carrying out a modified version of the feat.
While the first video footage of Roner's stunt was released in December, an updated version with more details was added to YouTube by GoPro (the company sponsors Roner.)
Roner's team attached 90 helium-filled weather balloons to a reinforced lawn chair. Then Roner boarded the contraption, armed with a Remington shotgun. Why the shotgun? Good question. Apparently Roner decided that it would be the best way to keep the balloons from taking the lawn chair (along with him) up into oblivion.
As a bevvy of GoPro cameras recorded the action, the lawn chair lifted off and soon approached 8,000 feet.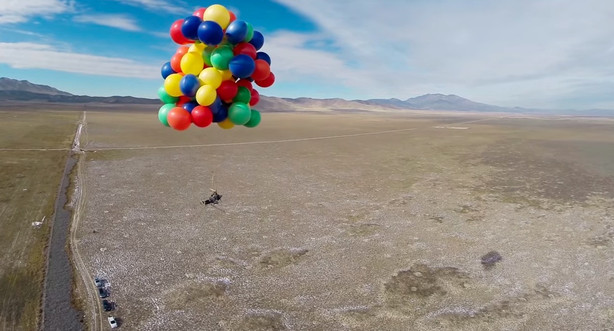 On the way to this dizzying height, several of the 5-foot wide balloons spontaneously exploded. "Woohoo, that's a popped balloon," Roner said in the video. "There's another one. They told me that would be scary, and yes, it is."
When Roner was finished with his ascent, he shouldered his shotgun and unleashed a few shots into the balloons. Although several were destroyed by the blasts, the balloons continued to take him higher.
At this point in the video, Roner reloaded and unleashed more shots into the balloons. Disconnected from the balloons and still seated on the lawn chair, he plummeted back to earth. Roner then ditched the lawn chair and deployed his chute (while still toting his shotgun.)
According to his online bio, Roner attended BYU and played on the soccer team. Following graduation, he has apparently co-pioneered ski BASE jumping, made numerous first descent ski BASE lines and traveled the world as part of the Nitro Circus Crew.
---
![](http://media.bonnint.net/slc/2538/253882/25388238\.JPG)

About the Author: Grant Olsen -----------------------------

Grant Olsen joined the KSL.com contributor team in 2012. He covers outdoor adventures, travel, product reviews and other interesting things. You can contact him at grantorrin@gmail.com.

×
Photos
Related Links