Estimated read time: 3-4 minutes
This archived news story is available only for your personal, non-commercial use. Information in the story may be outdated or superseded by additional information. Reading or replaying the story in its archived form does not constitute a republication of the story.
SALT LAKE CITY — With the ceremonial snipping of a bright green ribbon, the Salt Lake City Public Library System opened a seventh branch in the growing west-side Glendale neighborhood.
The Glendale Branch Library opened Saturday morning after a small ceremony that included speeches from Mayor Ralph Becker, library director John Spears and Salt Lake City Councilman Kyle LaMalfa, who represents Glendale.
Although the 20,000-square-foot library is the largest city branch in the system, it seemed the building could hardly contain all the people present for its opening day. Festivities included arts and crafts, children's science programming and, of course, refreshments.
The library also hosted representatives from other community organizations, including the Sorenson Unity Center and Poplar Grove Community Council.
"This library is all about the community and celebrating the people who live here," said Liesl Johnson, children's services coordinator for the Salt Lake City Library System. "Everything we thought about getting ready for this day was centered around: 'What can we do for this community?'"
---
You'll see we have an outdoor space. That's because the public asked for an outdoor space. They asked for meeting rooms, and so that's why we have meeting rooms.
–Patty Steed, associate director for neighborhood services
---
The Glendale library's focus on community runs back to the project's inception three years ago, when associate director of neighborhood services Patty Steed began making plans for a new branch of the city library. Steed and her team went to several community events to ask west-side residents what they needed in their library.
"You'll see we have an outdoor space. That's because the public asked for an outdoor space," Steed said. "They asked for meeting rooms, and so that's why we have meeting rooms."
Glendale also has a large youth population, and more children under 5, Steed says, than any other Salt Lake neighborhood. As such, the library has over 10,000 children's books and a large "children's room" to be used for story time, arts and crafts activities, and other children's programming.
"We really built this library for children," Steed said.
The library is located just a block from both Glendale Middle School and Mountain View Elementary School, and sits along many children's walks home from school.
Steed said she hopes the building's large street-facing windows will help draw commuting middle school students into the library's visible "teen area," which includes armchairs, computers and a programming room called the "Teen Creative Center."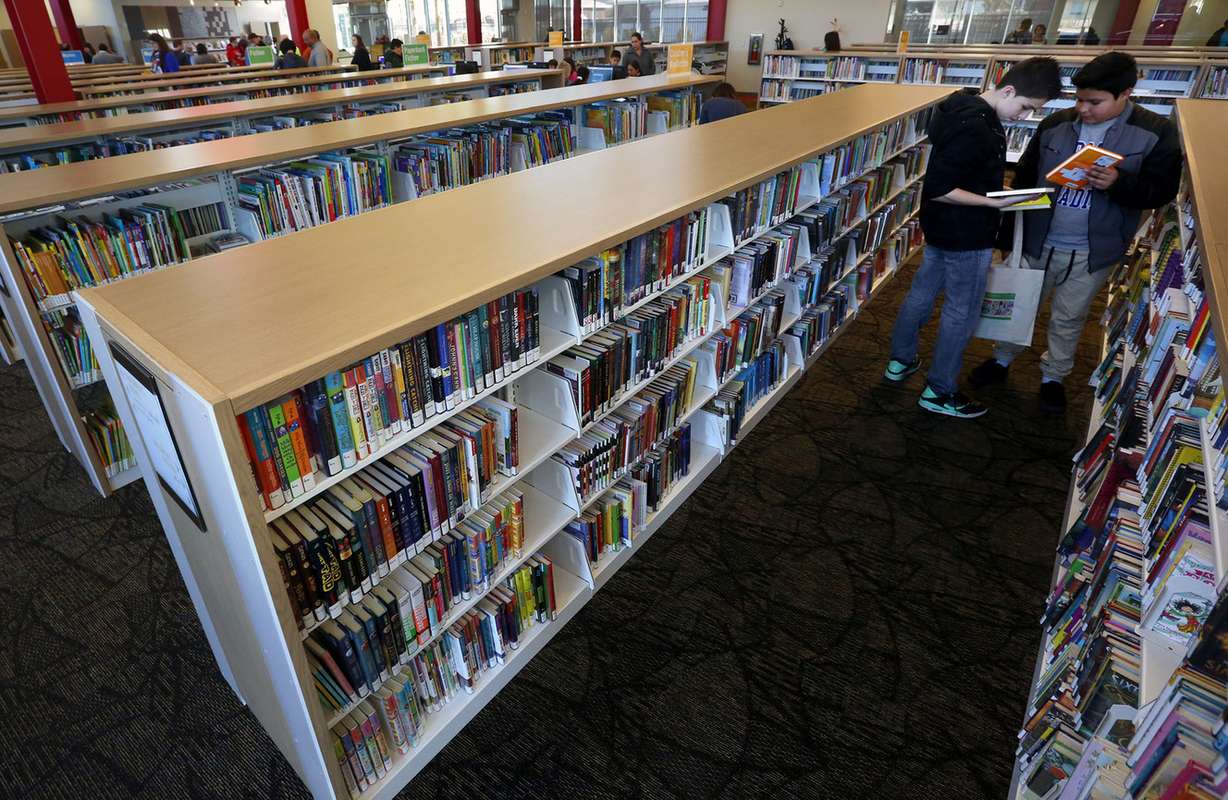 The Glendale Branch should be one of the city library system's busiest, she said, in part due to residents' lack of home computers. She said she anticipates checking out more than 30,000 items each month.
Residents seem eager to make Steed's dream come true. Before the Glendale Branch was built at 1375 S. 1240 West, the closest public library was Poplar Grove's Chapman Branch at 577 S. 900 West. The new branch brings library access within walking distance of many Glendale residents.
Carl and Ruby Smithson have lived in Glendale since 1960 in a home just up the road from the new library building. As an avid library patron, Ruby Smithson said she's looking forward to being able to walk to the local branch.
"We'd always go up to the (Salt Lake City Main Library), but it's so hard to park up there, and they have all those stairs and everything," she said. "We feel so good about this finally being here."
"It's been a long time coming," agreed Sarah Tumpowsky, the Glendale Branch's new children's librarian. "We just hope that everyone enjoys the library as much as we have." Email: aoligschlaeger@deseretnews.com Twitter: allisonoctober
×
Photos
Related stories
Most recent Utah stories